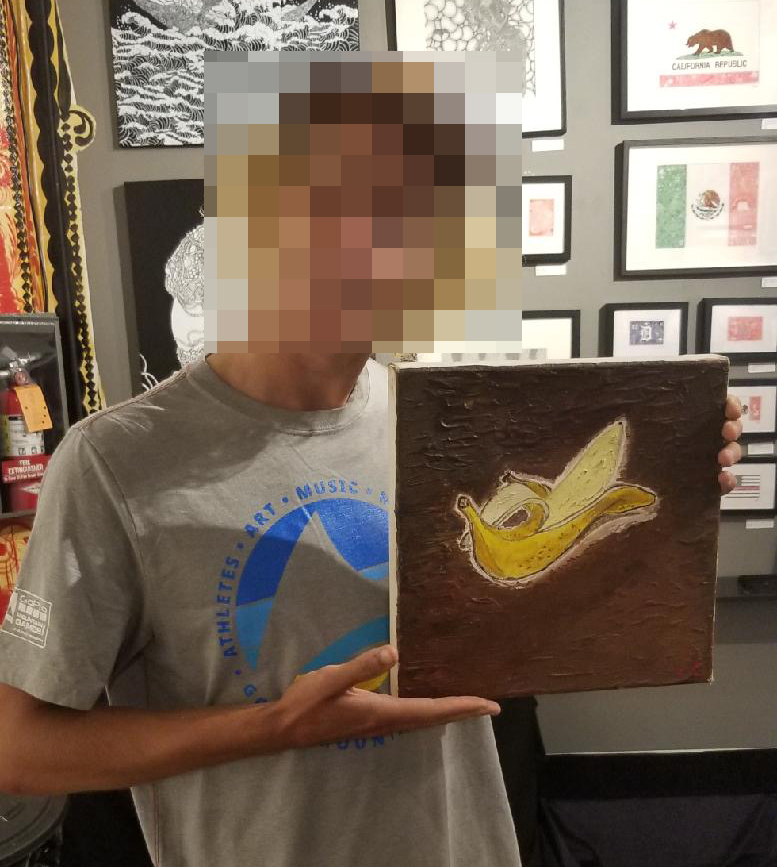 HEY MISTER, WANNA BUY A BANKSY?
In May this year, a Millennial identifying himself as the You Tuber Reckless Ben Schneider entered a Los Angeles gallery and told the art dealer there that he had a Banksy painting for sale. The LA Art Dealer was definitely interested, so Schneider pulled a painting of a banana from his backpack. He told the LA Art Dealer that in December 2018, Banksy had recruited an artist named Frizk to hang the banana painting in the Cincinnati Contemporary Arts Center on one of the Mamma Andersson: Memory Banks exhibition walls. After agreeing to the scheme, Frizk had his posse distract the guards at the CAC and the Banksy was quickly hung between two Andersson paintings. But the museum staff was on it, and the painting was removed after only a few minutes.
On January 1, 2019, Hyperallergic.com published the story, claiming that "the curious stunt in Ohio suggests that the international art prankster Banksy collaborated with a local artist." In the same article, the CAC's communication director, Joshua Mattie, is quoted as saying that the painting was "placed… in the lost and found area where it can be claimed by its owner." Schneider told The LA Art Dealer after he read that, he decided to go to the CAC and identify himself as the owner of the Banksy. After presenting a counterfeit eBay auction receipt for five dollars, Schneider left with the painting.
The LA Art Dealer was interested in purchasing the painting but told Schneider there had to be more authentication before any money changed hands. Fortunately, the painting's originality could easily be confirmed by a department of Banksy's Studio called Pest Control; unfortunately, Pest Control declared the painting and its story completely bogus. When confronted with the bad news, Schneider defiantly told The LA Art Dealer that Banksy would disavow his own pieces if there too many for sale concurrently. But covering bullshit with more bullshit has a way of making the whole pile topple, and after also determining that Frizk had no online identity before his association with Banksy and was probably just a media construct, The LA Art Dealer wisely chose not to buy the painting.
Counterfeiting art is hardly specific to contemporary times. After the Greeks of the Hellenistic Age (4th-1st centuries BC) began collecting the art of previous stylistic periods, inauthentic work was soon being produced to keep up with demand. But what's novel about Schneider is how cunningly he utilized the 21st century concept of "fake news" to his benefit. By inventing Frizk, the non-existent avatar that hung the painting in the CAC, he created a base of believability that Hyperallergic, needing a constant supply of content, could eagerly accept. After that, the story went viral and appeared on a slew of other news outlets and websites. Bingo, instant credibility! Add the shadowy figure of Banksy to the mix and there's more than enough cloudy confusion to make things seem perfectly clear to the right sucker. But what's most 21st century is that, when confronted with Frizk's non-existence and the Pest Control denial, Schneider just retrieved the painting and walked out the door. "If you want to see the painting now," he said nonchalantly, "Hashtag banksysbanana. It's been all over the place."        #banksysbanana