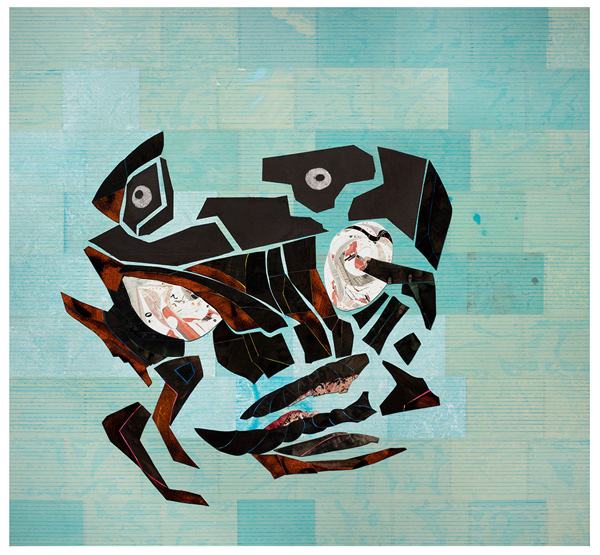 Hauser & Wirth Los Angeles: Ellen Gallagher
There's a lot to learn from Ellen Gallagher's new exhibition. For example, it turns out Herman Melville was an Afrofuturist. And that the Atlantic Ocean is the original abstract expressionist. Also, that it is possible to make a map of something you can never see. On a personal note, I learned that I love—but really love—sea foam green. I didn't before. Gallagher's is a mottled and whispering green that is minty and yet almost like blue. Many of her paintings feature this color of frozen organza and daytime fog. You can taste the salt on your lips when you look at it, and it sets off the copper, ivory, rust, and rich blackness that recur throughout the exhibition. The whole collection taken together suggests a transoceanic journey, with the lost parts and the suddenness of rising islands, and hulking dark ships that slice the water, heavy with weight of the flesh and souls of their enslaved human cargo.
Despite the dreaminess and allegorical salience of the marine stories, it's in the reflective depths and drama of her all-black paintings that Gallagher's physical image-making process is most revealed. The black, unctuous expanses coat and caress an undergirding of thick collaging, showing the lines of an armature in complex ridges, waves, and currents that assert themselves as you move, catching the light like the ocean at night. The most impactful, narrative works encompass all these color profiles, especially the striking contrast of deepening blue with inky black. Often these works, especially the very large canvases, end up being the most cartographic, simultaneously flat like a portrait and receding like a map. On closer approach, deliberately chosen passages from the underlying printed matter offer poetic encouragement toward both readings—character and travelogue.
In fact despite the compositional flirtations with emotive abstraction, the premise of the exhibition is lavishly specific. Gallagher has constructed a network of interwoven meanings all centered around the mythology, literature, scholarship, and pop culture of the Middle Passage—the slave trade routes between Africa, Europe, and the so-called New World. Her references range from Moby Dick to Detroit-based Afrofuturist electro band Drexciya—itself named for an underwater nation said to be populated by the amphibious children of slave women thrown overboard mid-transit—and the academic vanguard examining the hybrid identity of descendants of the Middle Passage experience. At one point, the band bought a star, a conceptual gesture having to do with the symbolism of navigation and the remoteness of both home and the future. In that world, as in Gallagher's, every single thing is a metaphor for every other thing. The power of invisible currents, the purity and deathliness of the white whale, the rootlessness of our hero, the cultural exile of our spirit guide, the buoyancy of an empty coffin, the cold guidance of night skies.
Ellen Gallagher, "Accidental Records," November 4, 2017 – January 28, 2018 at Hauser & Wirth Los Angeles, 901 East 3rd Street, Los Angeles, CA 90013. hauserwirth.com