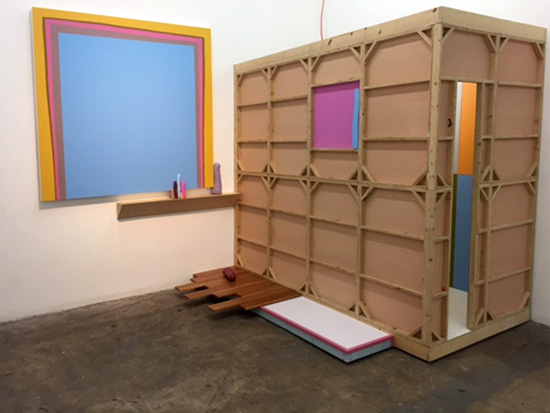 Walter Maciel Gallery: Andy Kolar
Abstract but character-driven, tertiary and bright, super flat and deeply funny, the paintings and sculptural installations in Andy Kolar's "Easy now." speak to conceptual and material concerns in a uniquely satisfying, engaging dialect of modern color theory. The exhibition's main line of inquiry is the mechanisms by which images from the flat pictorial realm can be translated into a dimensional, even immersive, sculptural mode; and Kolar's penchant for simple but vaguely biomorphic monochrome shapes is perfect suited for the experiment.
Kolar is a master colorist, aspects of whose palette defy easy consumption. In seductive flat mattes, he wields dusty chartreuse like a candy coating, along with solar mustard, piquant mint, faded bird's egg blue, iron-rich scarlet, refreshing lavender, fleshy peach, and bruised eggplant. There is a certain quirk to the quality of Kolar's line and shape reminiscent of Carol Bove in its hermetic chromatism and the precision-engineered, almost expressive wavering of its edges. The sculptures feature the same abstract family of forms as appear in the paintings. In both cases they are mostly bundled and/or suspended, literally and pictorially, by a thin red line set at the exact angle to evoke a sense of swinging, playful momentum, offering a dissonant symphony of unique color stories that work together in lively, counterintuitive confluences.
Kolar is as interested in materiality as he is in color theory, probably due to his time as a museum conservator. In a singular quasi-sculptural work for wall and floor, the stretcher bars are converted into an exoskeleton of visible braces with an armature of nuts and bolts. With elements both painted and sewn, Kolar further deconstructs the relationship of canvas to paint in terms of surface, texture, contour, and embodied impasto by other means.
This is articulated in a more extroverted manner in the sculptural installation commanding the front space with its monumental recreational presence. With shades of Martin Kersels' wood-frame and chain-coiled contraptions and Kim Ye's bright, sports-derived sex machines, this work hangs a bundle of large-scale hand-sewn oblongs from a central pulley system with both athletic and industrial overtones. Its charmingly thwarted functionality and warm, well-finished craftsmanship combine with infectiously upbeat color for a wry yet awe-inspiring moment that seamlessly dissolves into a deeper contemplation of the large and small paintings that gave rise to its fundamental forms.
Andy Kolar, "Easy now." July 8 – August 19, 2017 at Walter Maciel Gallery, 2642 S. La Cienega Boulevard, Los Angeles, 90034. www.waltermacielgallery.com