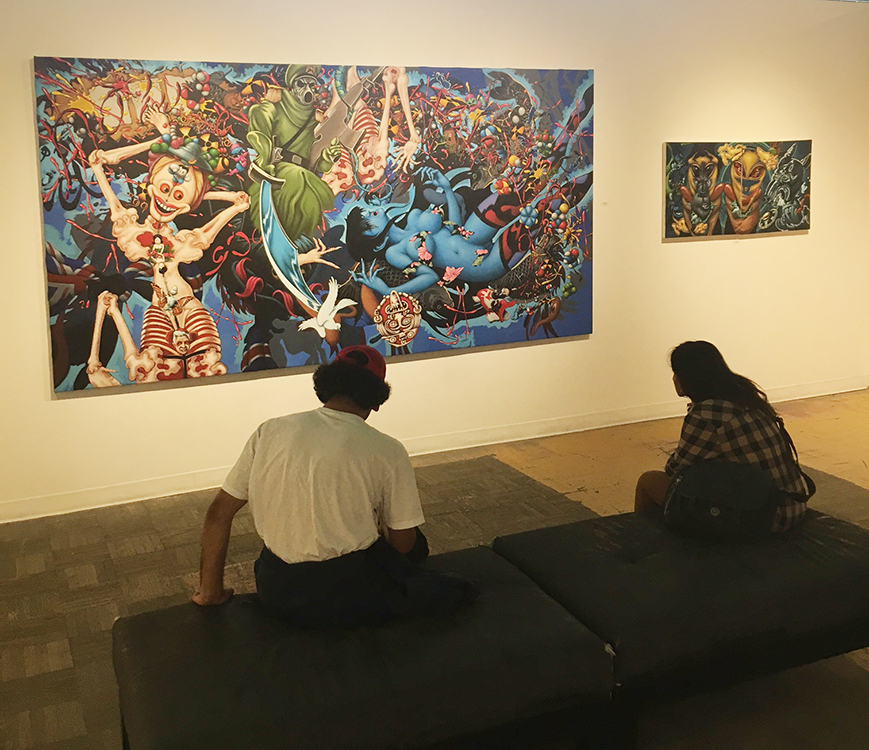 MAKING ART IN A POST-GLOBAL WORLD
Philip Slagter at La Luz de Jesus, May 5 – 28, 2017
Lowbrow began in the early 1980s as an art movement that embraced the attitudes and iconography of distinctly American subcultures, embracing demolition derbies and surfing instead of "highbrow" French Impressionist painting or Italian operas. Although there were like-minded artists such as Joe Coleman working on the East Coast, Lowbrow Art was essentially a California movement that reflected a nascent West Coast "anti-art" aesthetic, as evidenced in the paintings of Robert Williams. Lowbrow Art also contained smart references to '60s and '70s television shows, making it a necessary but unwelcome addition to the definition of  new American art. The popular introduction of the internet in mid-90s expedited the export of the Lowbrow Art values, and soon artists in Europe and Japan were also using elements of these American subcultures.
Philip Slagter's exhibition of new Lowbrow paintings at La Luz de Jesus is an interesting reversal of this type of "cultural imperialism." Although he employs tried and true American Lowbrow motifs such as Tex Avery's famous bug-eyed horny wolf and Preston Blair's classic cartoon hands, Slagter adds elements from Japanese Manga Anime, Thai fables, and other obviously non-Western sources. The resulting mix is heady and alluring, engaging the viewer with its apparent familiarity then busting the whole visual equation open with Slagter's unique alien ingredients. In the painting Djinni for example, the monkey god Hanuman goes mano a mano with Dick Tracy in a Pop Cult smackdown, the characters surrounded by chaotic graphic elements that create a frenzied atmosphere of dangerous ribaldry. It's an aggressive metaphor for East meets West rivalry, a fine display of culture clashing with a humorous twist. But Slagter's pièce de résistance is the massive painting Drowning, a succinct example of his considerable skills as a painter set in an impenetrable narrative that demands long term inspection.
Most of these paintings are dominated by Lowbrow cartoon imagery derived from Slagter's American upbringing; but other pieces are distinctly Asian, the result of time the artist spent overseas. These pieces function as visual reminders that there's more going on in the world than the West's self-ascribed cultural dominance; in some of the paintings the Lowbrow elements seem merely ancillary and hardly necessary to the ultimate story being told. This approach is beautifully encapsulated in the piece Supernatural Magic, where two lower echelon Asian deities busily saw apart a Caucasian Christ as he is fed either jelly beans or narcotic pills, you decide, by a cute li'l cartoon bunny.
Anyway, all the paintings serve as a nice retort to the "Make America Great Again" mantra; and although according to the La Luz press release Slagter "reiterates that he's not a political artist", he throws down a powerful message: it's not through isolation that this country will regain its greatness; it's only by accepting the value and validity of other nations' cultures that such a change can come about.