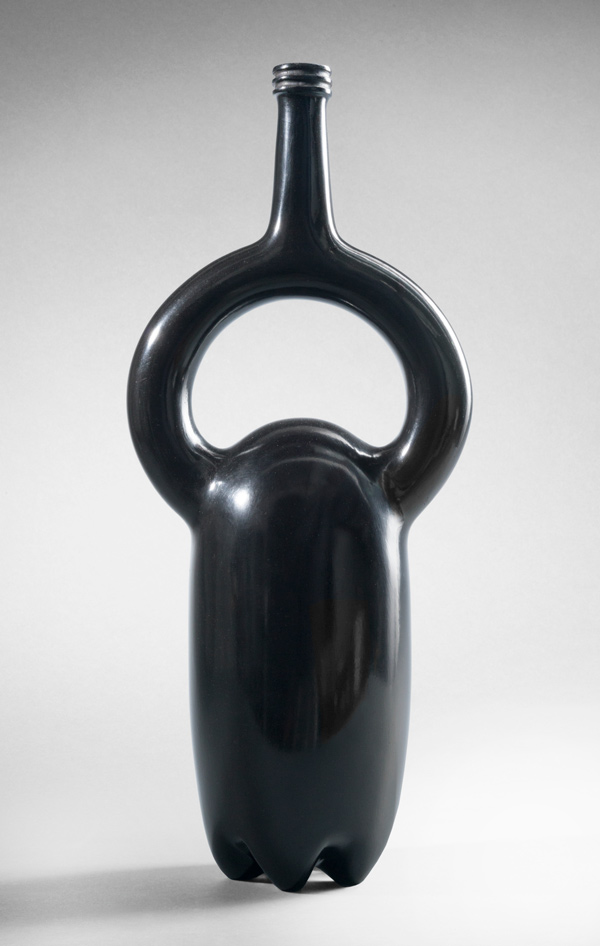 Water Bottle as Contemporary Artifact
Jami Porter Lara at the National Museum of Women in the Arts
Jami Porter Lara stumbled upon both the subject and the medium of her current exhibition "Border Crossing" at the National Museum of Women in the Arts in Washington, D.C., while walking in the arroyos along the U.S./Mexico border in Arizona four years ago. Little did the New Mexico artist know then that she would end up showing this evocative work near the White House, where the sitting president's focus would be on building a border wall. As she picked up shards of ancient Pueblo pots, Porter Lara noticed what has become the ubiquitous modern-day vessel for water, the plastic bottle—and lots of them. The idea soon dawned on her to combine the old and the new vessels using what she calls a kind of "reverse archaeology."

Porter Lara came to this series of work after leaving her job as a pastry chef to attend the University of New Mexico in Albuquerque only seven years ago. She quickly learned the technique of Pueblo-style ceramics, a tradition two millennia old, sourcing local clay, soaking, filtering and drying it. To create the vessel body, she forms clay coils, then stacks and pinches them together. After the clay dries she burnishes the surface with a smooth stone and then fires the vessels in an outdoor pit covered with an aluminum tub. The carbon from the smoke then bonds to the clay and turns the vessels black.

The 25 sensuous ceramic creations included in the Washington exhibition refer to water bottles while also suggesting female bodies and body parts—uteri and fallopian tubes, arched backs, arms overhead, and torsos bending. Stretching and turning, thin and thick, the bottles take on anthropomorphic stances. They also seem to be hybridized, with dual orifices and armatures. Yet they each have the standard bottom of the plastic bottle, a pentagram, and the spiraling threads at the top opening, forms that the artist acknowledges have been represented throughout human history.

Over the last decade contemporary ceramics has enjoyed a resurgence. Matthias Merkel Hess in Los Angeles also had lightning-rod success right out of graduate school from UCLA in 2010. He crafted ceramic readymades of gasoline and oil cans, crates, buckets, jugs, blenders, and anvils, seemingly continuing from where Robert Arneson left off with No Deposit, No Return, his pivotal earthenware beer bottle of 1961.  However, Hess' glazes are thick and colorful, whereas Porter Lara, using a more solemn aesthetic, chose to craft an everyday object unglazed as a revered artifact.

The series is thought-provoking on several levels. A Mexican-American artist, she is appropriating indigenous ancestral arts. Also, through these works she is addressing plastic's porosity, which enables the widespread release of chemicals into the environment. And she alludes to the politically charged climate in which parched immigrants cross the U.S. border at great peril, seeking a better life. That's a lot of discussions to consider when laying eyes on these alluring dark, shiny forms.