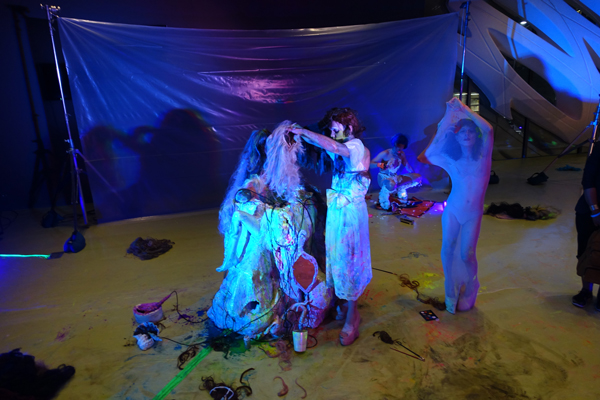 Summer Happening at The Broad
Mutant Salon Saved the Evening
In 1963, artist Allan Kaprow held a "Tree Happening" at George Segal's New Jersey farm. Kaprow's written instructions commanded a crowd holding tree saplings to venture into a field, which had been outfitted with poles bedazzled by tar-paper strips. A leader of these "forest people," whom Kaprow dictated must be a man, began yelling and gyrating to jazz music. The forest leader then bashed the tar-paper poles with his sapling.
Kaprow later explained Happenings as events that abolished the artist-audience divide and existed within "natural time." Also, the players should be amateurs, who never repeated this non-performance.
On June 25, The Broad museum in Los Angeles staged its first "(Non)objective Summer Happening." The divergences between The Broad's and Kaprow's Happenings manifested as soon as red-lanyarded museum employees summoned visitors to queue in a long line. They scanned the patrons' $35 tickets, which entitled us to blue admissions bracelets and, upon carding, red alcohol bracelets.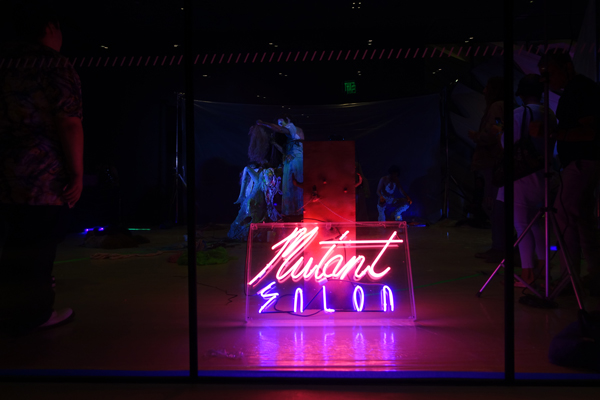 I attended with my friend Chris. We bellied up to the expensive bar then waited on a lawn for the first act, the luminous Narcissister. She would dazzle us on a stage adjacent to The Broad, that Death Star in the firmament of Los Angeles art institutions.
Was this a Happening? Already, there was crowd-control, capitalism, obedience. It was fun, though: Chris and I admired comely men and women wearing exiguous outfits, as well as a dapper person wearing a "Gender is Over" T-Shirt. My favorite dandy was Ariel, a performance artist in a pink body suit with a merkin and nipples, which she accessorized with a capelet.
"I bought it at a Goodwill in Joshua Tree," Ariel said.
But no time for talk—the show was starting at unnatural time, 8:30 sharp. Narcissister is a performance artist who competed on America's Got Talent. She wears masks on both sides of her head, like a gender-interrogating Janus. Sometimes she puts a whole mannequin head on her crotch, so it stares at you during cartwheels. Narcissister enacted the cradle-to-grave life stages by dancing and magically swapping outfits. At the end, she pulled an old-lady mask out of her vagina and put it on her face mid-acrobatics.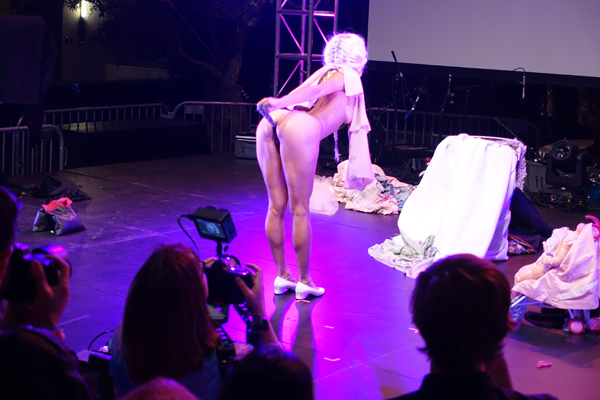 "Did she take something out of her butt?" Chris, alluding to an earlier part of the performance.
"That was amazing," I said, yanking him along. It was time to see Lotic, a DJ spinning "dark beats" on The Broad's first floor, next to a Murakami. Lotic was a cool coryphée who crafted a species of noise jams that sound like aliens arguing. This proved perfect dance music, except that the hospital-bright lighting deterred the crowd from bopping wildly among the valuable Koons.
Even as I tapped my toes, I realized we operated within a disciplinary system demanding passive submission to the Fourth Wall. This violates the spirit of the original Happening, and I felt ready to deem The Broad (Non)objective Happening a (Non)Happening.
That is, until I reached the Mutant Salon.
The Mutant Salon sat in the Broad's bowels, and was indicated by a neon sign. Inside this gallery frothed anarchic behaviors loosely tethered to the conceit of a beauty parlor. Tables strewn with wigs, nail polish and various potions scattered across the floor. In the dimly-lit center gyrated a family of Mutants, who cut up wigs and squeezed their unclad bodies into nylon stockings. At the nucleus of the Mutant makeover extravaganza sat a small circle of folks, one of whom was a naked man wearing a huge nose ring made out of wire and paper. He had tucked in his penis and was making a crown out of Play-Doh and paper.
I sat on the sidelines until I understood that the chaos contained a Kaprovian permission. I approached the circle and looked back over my shoulder to see Chris staring at the room with very wide eyes.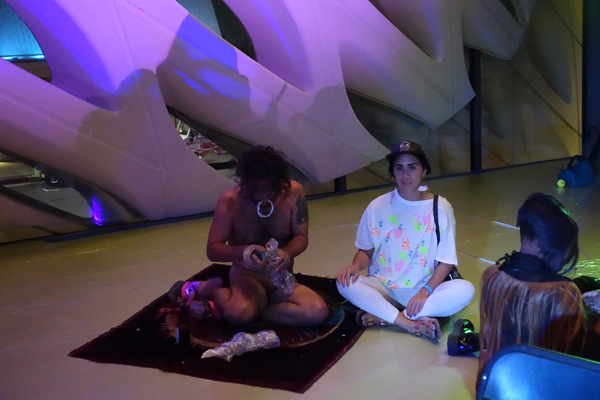 "What's the process here?" I asked the man with the nose ring.
"What?" he asked, and upon my asking several more times he gestured vaguely at the room.
Exactly! I thought. Here was Kaprow's, really Bakhtin's, ecstatic space. Actually, the Mutant Salon proved far superior to the Kaprovian Happening, because Kaprow was a bossy sexist. Here we could create ourselves with nylons, wigs or nail polish. I looked for Ariel. She might like the Mutant Salon. Would I ever see her again? I would soon whisk Chris back out in search of her, and be moved also by the ballads of the band Perfume Genius and the soundscapes of Cindytalk.  
But for now, a Mutant in a stocking tied their legs with rope, and another placed a wig on her pelvis.
"Is this too ironic?" asked the Mutant making the vag-fringe.
This was the second merkin of the evening. I was in heaven.
"It's perfect," I said.
Photographs by Chris Jarvis