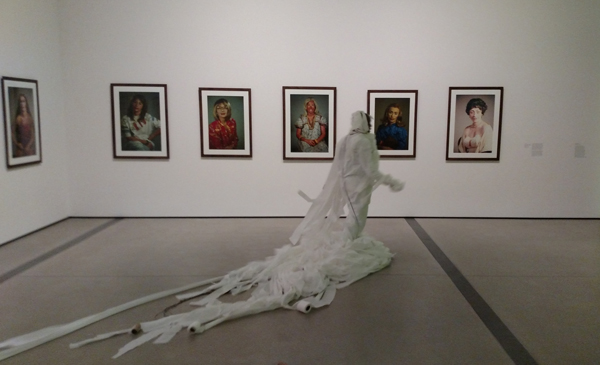 No Beauty in Hell at The Broad
Second Summer Happening Offends but Redeems
In his Aesthetic Theory, philosopher Theodor W. Adorno wrote of art's "double character," that is, the idea that art flourishes when it resists society, and dies if it is swallowed by the capitalist hive-mind. "Art is the social antithesis to society, not directly deducible from it," as the great man said.
At The Broad museums' second (Non)objective Happening, on Saturday, July 30, an antic crowd of Angelenos witnessed both the death of art and its vivid, thrilling birth.
First, the funeral: What on earth is going on with Richard Hell? Hell, the front man for the 1970s bands Television and The Heartbreakers, was downtown New York's punk-rock prince in the ages of Nixon, Ford and Carter. Hell perhaps became most famous for his landmark song "Blank Generation," a scary but exciting cosmic headbutt provoked by youthful failure and hopelessness.
Hell later traded punk for writing, eventually publishing the atmospheric, if woman-hating memoir I Dreamed I Was a Very Clean Tramp (2013), where he describes imposing his "granite"-erectile superfunction on a fungible variety of groupies and artists, e.g.: "[W]hen Kathy Acker wanted me to slap her while I fucked her in the ass, it was hard to work up the motivation, even to keep a straight face. Not that I didn't enjoy it."
But nothing in his former work prepared the audience for the ghastly spectacle that Hell made of himself in Broad's second floor Oculus Hall on Saturday night. Hell took the stage with The Haxan Cloak, who provided occasional musical accompaniment, and read from a "hard-oiled" (contra "hard-boiled") detective novel-in-progress that had less to do with whodunits than with raping women that the protagonist has… just murdered. Hell's leading man (I'm partially paraphrasing here, as I frantically tapped out his words on my phone) is "mythologically muscular." His victim possesses a "pussy… inherited from two hundred million years-gone-by-blond apes," and tells him "you can do whatever you want with me." Hell's hero kills this descended ape—perhaps by stabbing her? I can't remember—and then ejaculates like a champ inside her cooling body.
The crowd was standing room only, but people—you know, women—began to first make stinging eye contact with each other and then speed-walk to the exit. From Hell's jovial delivery, one discerned that he believed he remained ever the cool rebel. But the joke's on him. If society is not just a capitalist hive-mind but also, at its worst, a cauldron of blood-hungry misogyny, then Hell's act proved so directly deducible from it that he did little more than gross out those in search of fresh ideas and beauty.
Lucky for art lovers, Brontez Purnell came to the rescue in the Broad's main lobby. Purnell is a black gay male dancer, punk rocker and zine-maker from Triana, Alabama. Purnell first scattered silver-sprayed objects all over the lobby—a toy plane, cassette tapes, a pair of deer antlers—as well as a hazmat suit and piles of toilet paper. He played a recording of Ronald Reagan pronouncing scary neocon 1980s policy, and commandeered the floor dressed in ripped-up BVDs and plastic eyeglasses. He gyrated; he sulked. People gathered around and just stared. He zipped around for a little while on the skateboard. Then he began to make connections: He broke open the cassettes, pulling out the tape and offering a piece to a somber-looking white male audience member. Purnell wrapped his head with the tape in an increasingly zany act of outreach, which culminated in his putting on the hazmat suit and throwing the rolls of toilet paper to the audience.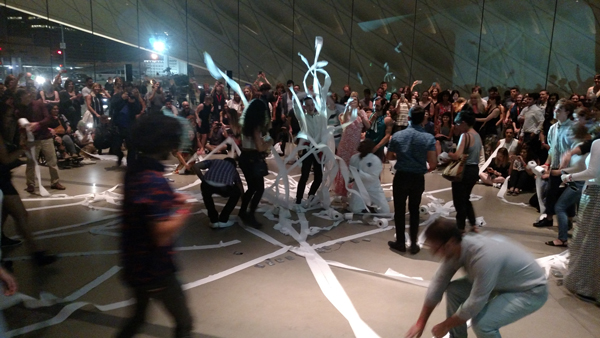 Instantly, the space transformed. "Help me! Help me!" he shrieked, racing about, while everybody rushed to the center of the space. We hurled the rolls in the air, wrapping each other in white streamers. Purnell smushed the toilet paper around his limbs until he looked like the abominable snowman. Dancing in ecstasy, he ran away from the lobby into the Cindy Sherman gallery, hollering. Everybody chased him in a moment of breakthrough glee.
There were other acts that night: Mas Ysa opened the evening with a mélange of danceable techno and witty banter, and Sky Ferreira wasted everybody's time DJ-ing "dark and '80s pop" like Madonna's so-super-dark "Get Into the Groove."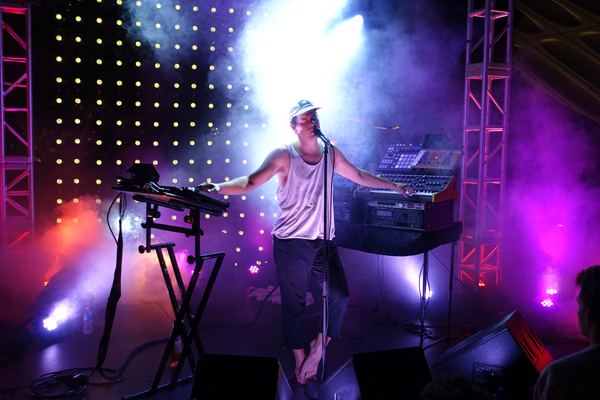 But at the end of the evening, the taste on the tongue was a bittersweet chocolate made of Hell's dumb Thanatos and Purnell's liberation. I would (not happily) endure a lot of Hell to get those few seconds of ecstasy inspired by Purnell's risky, open heart. The looks of real happiness that brightened the faces of Purnell's followers issued from his loving and wacky rebuttal to the world's blankness, hate and fear.
Photos by Chris Jarvis