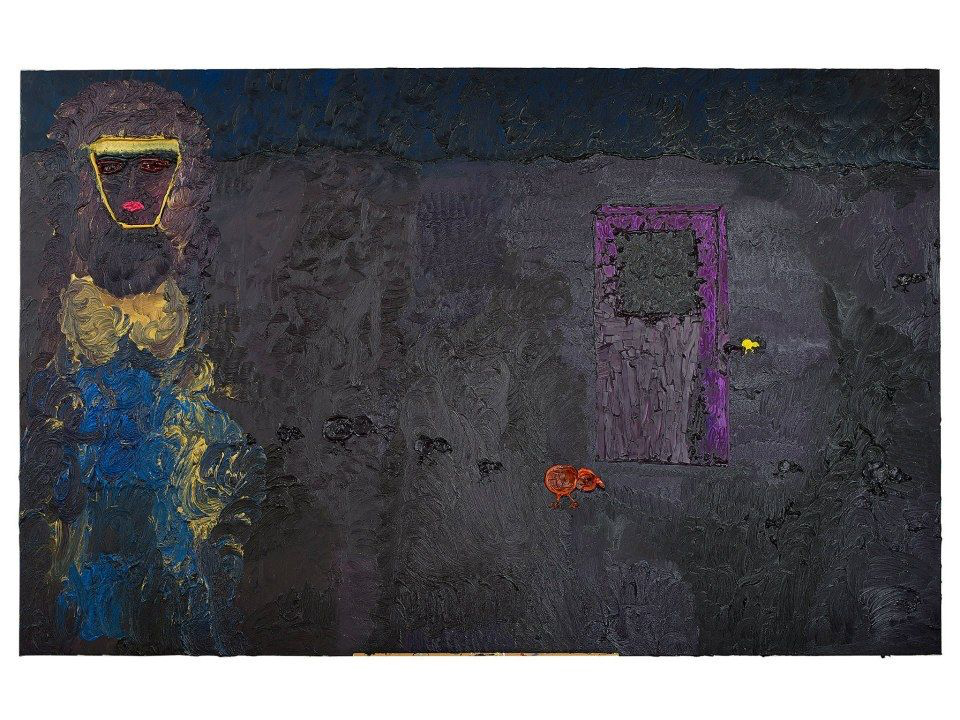 Nicodim Gallery: Ecaterina Vrana
The air in Ecaterina Vrana's exhibition partakes heavily of oil odors. Like many other contemporary painters, she applies copious quantities of paint in various ways, slathering it like Spackle, squeezing it out in toothpaste-like ropes, engraving it, and stippling it into bas-relief blobs. Unlike some who ice canvases with the goal of creating paintings as brightly hued and tantalizing as cupcakes, Vrana channels paint's corporeality into somber scenes whose caliginous atmospheres seem to recede far into space.
Her most captivating paintings feature brushy thickets of dark paint embedded with complexities initially contravened by distractingly vivid characters. These reward close observation. Melancholy, mystery and foreboding escalate as one apprehends each picture's subtleties. Whimsically eerie details like bright blue arrows forming a vortex in Champagne (2016) slowly emerge from tenebrous masses of paint.
Innocuous titles and seemingly childish imagery belie gravity and cynicism. Self Portrait With Watering Can and Goldfish (2015) portrays a scarlet woman standing on a yellow fish while looking down into a silver watering can. Closer inspection of her murky backdrop reveals a cemetery populated by crosses and coffins.
People crying tear-like dots into watering cans affixed to their torsos, with their legs attached to fish, belong to Vrana's lexicon of motifs that also includes snowmen and birdlike creatures. What do these strange symbols mean? It's unclear; perhaps they belong to a personal mythology. Despite her receipt of a degree in painting from the Academy of Arts in Bucharest in 1997, her opaque symbolism and singularly stylized forms seem to delineate a private dystopian fairytale world like that of an autodidact.
Yet a deceptively simple existentialistic sophistication lies at the heart of her work. Aspects of her paintings recall a spectrum of precedents from The Monster Roster to contemporary painters such as Susan Rothenberg, Lily Van der Stokker, and John Walker.
Could the subject in Portrait of Mendel (2016), staring intently in thought or consternation with his face surrounded by indecipherable math problems, be a metaphor for the artist herself as investigator and synthesizer of paint and ideas? 
Though enigmatic, Vrana's paintings are relatable. That they seem best absorbed more intuitively than cerebrally only enhances their cryptic magnetism.
Ecaterina Vrana, June 4-July 23, 2016 at Nicodim Gallery, 571 South Anderson Street, Suite 2, Los Angeles, CA  90033, www.nicodimgallery.com