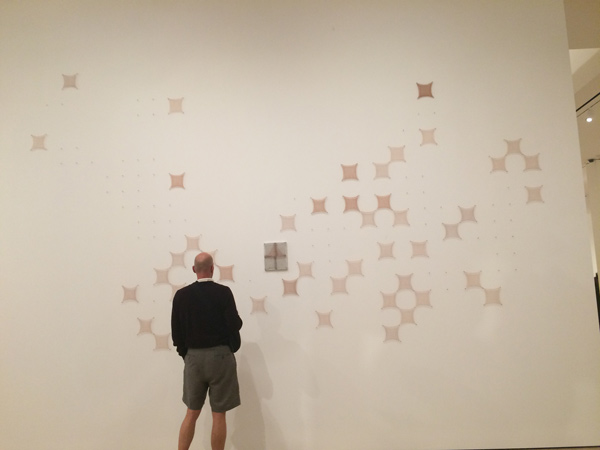 Marisa Merz: The Sky is a Great Space
Hammer Museum
There's a scene in Paul Greengrass's 2007 film The Bourne Ultimatum when former CIA operative Jason Bourne/Matt Damon kills a Moroccan man named "Desh" using a book, what appear to be shampoo bottles, and a towel. The death match goes down in a Tangier apartment, and reaches a peak when Desh grabs a brass candlestick and slashes it at Bourne's head. Bourne, on his back, reaches around and snatches the nearest item he can find—a rather beautiful hardback tome—which he then uses to pummel Desh's face in an grisly feat of literary pugilism. The two men afterward run into a bathroom and Bourne messes around with Prell bottles before strangling Desh with a towel.
The fight scene is obviously a scary metaphor for the way that agents of statism will turn the artifacts of enlightenment into the instruments of extinction. But what's also miraculous about the declined Bourne franchise is how its puppets of imperialism will use anything —pens, magazines, electrical cords, aerosol cans, oscillating fans, vodka bottles —to succeed at domination and murder. Their improvisation and dazzling creativity allows us to look at our tea cups, Chihuahuas, Voltaire biographies, and bottles of acrylic paint (I'm in my studio as I write this list) as the multiply-potentialed raw materials of life and death, if we so care to quicken the world around us with such heightened attention.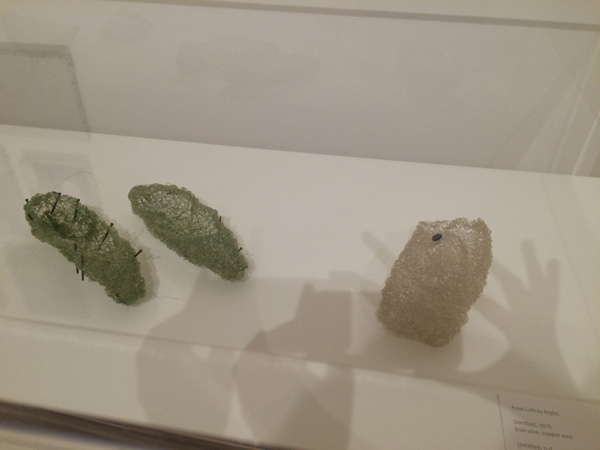 The artist Marisa Merz bears an artistic practice similar to Jason Bourne's, thought with one key difference. Merz, who at the age of 86 won a Golden Lion at the 2013 Venice Biennale and has been recognized with a fantastic retrospective (first at the Met Breuer and now, the Hammer Museum) made her name as the sole female participant in the Italian Arte Povera school. She has worked as a sculptor since in 1965, when she began fashioning massive, painted, jelly-fishish sculptures out of what looks like twisted HVAC tubing and hanging them in her own home.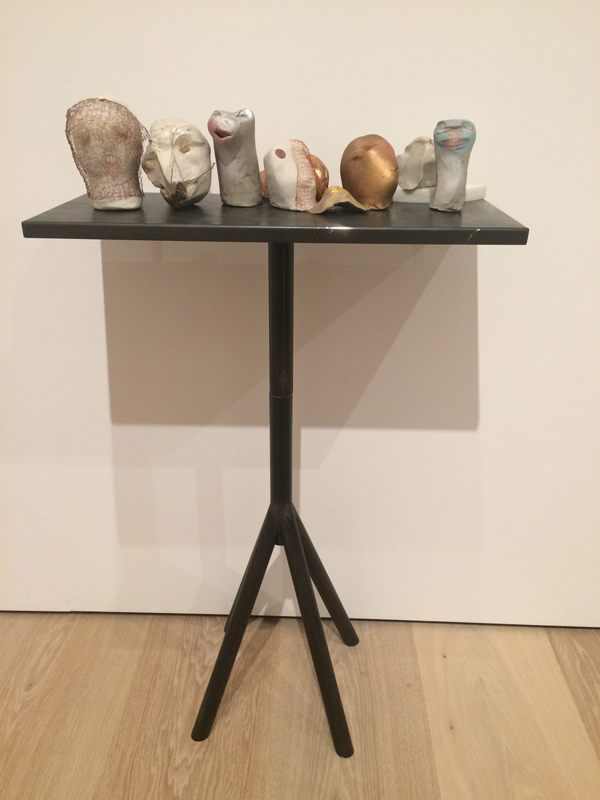 These euphoric repurposings (Untitled, 1966), which today glint and tinkle in the Hammer's elegant halls, seemed a natural entrée to her inclusion in the Arte Povera movement. "Poor art" became a rallying cry for about a dozen artists in 1960's Italy, who found themselves collected in Germano Celant's martial manifesto Arte Povera: Notes on a Guerrilla War (1967). Here, Celant described Michelangelo Pistoletto, Pino Pascali, Jannis Kounellis, and Merz's more-famous husband, Mario, as exiting the "ranks of the exploited" by using "poor" materials like cardboard, coal, cotton, and live animals. In Celant's view, the Arte Povera insurgent bears a magpie bellicosity: He "becomes a guerrilla fighter, capable of choosing his places of battle and with the advantages conferred by mobility, surprising and striking." In their deployment of poverty's ordnances, these soldiers resisted capitalist cliché and mind-control.
Merz, who did not find herself mentioned in this dizzying summing-up, later allowed herself to be counted among these peers, but did not startle her audience with zoos (like Kounellis, with his tweeting birds and snorting horses) or cool, gravity-defying motorcycles (as in Mario's 1975 Accelerazione = sogno, numeri di Fibonacci al neon e motocicletta fantasma).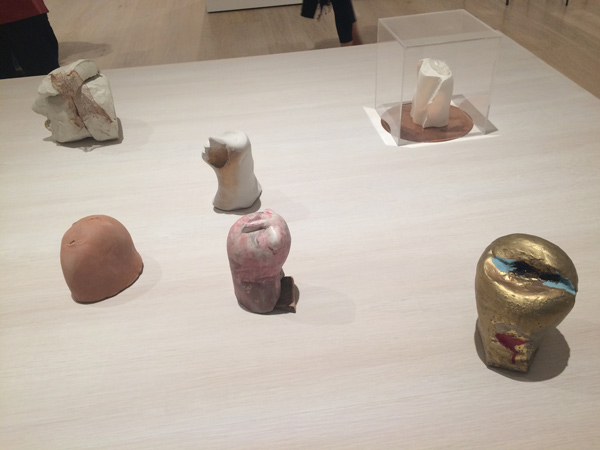 Instead, she went from big to "small." From the godlike HVAC aliens, she moved to knitting small bits of copper wire. Copper wire—you can get ten feet of it for $4.95 right now from Home Depot—conducts electricity, and so is used to transfer energy in items ranging from telephones to air conditioners to railroads. Merz knitted this encouraging substance into stars, scraps, sails, and shoes.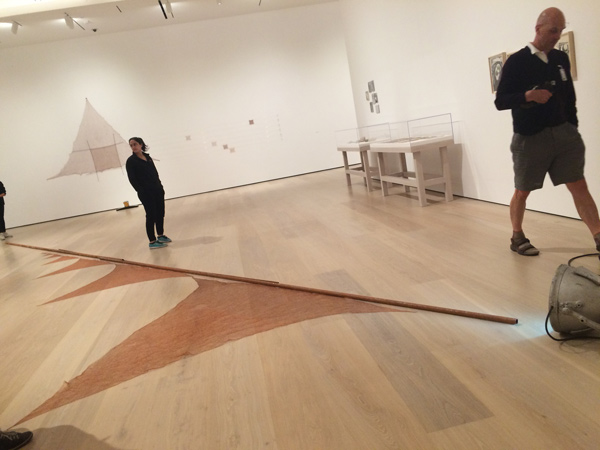 At the Hammer, the small, bronzey squares scatter across a white wall like a stellar constellation (Untitled, 1976). In a vitrine, you can also find small slippers (Untitled, 1975), stitched of this strange fishnet. Merz used to wear these zany huaraches as a kind of performance, perhaps to signal her own queer conductivity, and her talent for transferring power to herself. She also abstracted a ship's sail by stitching together a series of delicate copper triangles, and then placing them on the floor by a metal rod, as well as a klieg light, so that her imaginary trireme's captain won't lose her way as she sails across the wild world (Untitled, no date).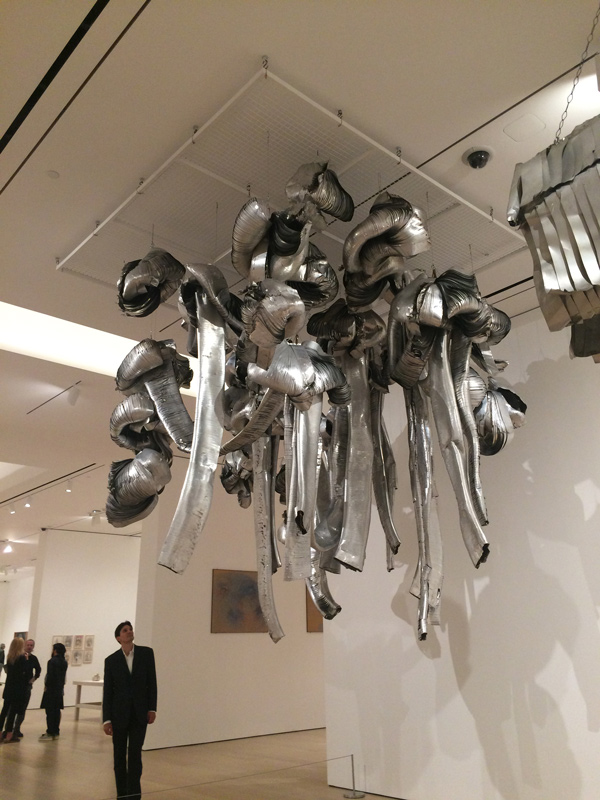 At other stages of her career, Merz took bumps of unfired clay and caressed them into undated little beasts who wear the astonished expressions of hand puppets, or wear copper knit veils to hide their bafflement. Some wear make-up and jewelry made out of red paint and gold leaf. She additionally made sculptures out of bundled canvas, as well as drawings: One paper piece is of a creature who looks like a harpy that didn't make Hesiod's cut, since it's part-bird, blinks awkwardly, and possesses a paraffin complexion that makes it look like it's molting.
Except for this gawky Gorgon, and a charming gold angel who looks like she can't figure out how to fly, the works with frames around them do not hold the power of the weird HVAC sea creatures and knitwork and shy clay mole-people. Merz's work may resemble that of her brothers in guerilla art warfare, but it also recalls that of Louise Bourgeois and the chorographer Trisha Brown: Both of those latter artists transformed small banalities—white sticks, shoulder-shrugging—into compositions that seem negligible at first glance, until the viewer realizes that Bourgeois had crafted a community of the lost (in her Personages), and Brown lifted the unconscious gesture into radiant ritual.
This is why Merz is also like Greengrass's ingenious international assassin, because she grabs at everything and anything in the service of her art – plumbing, wiring, earth. But, here's the key difference: Her I.E.D.'s don't kill and dismantle the forces of empire and exploitation in a Celant's "place of battle." Instead, they detonate into living potential, and show us how to gently remake the detritus we've inherited and collected (whether it be teacups, candlesticks, books, or sexism) into an unexpected world.
Marisa Merz's The Sky is a Great Space runs through August 20.
Photos by Yxta Maya Murray