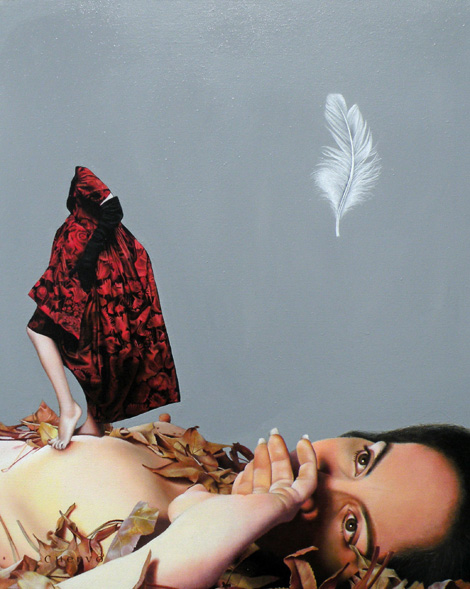 Leonardo Cuervo
Garboushian Gallery / Beverly Hills
Few artists can walk the fine stylistic line between illustration and painting, but Leonardo Cuervo's work succeeds. Walking into "IN FABULA," one experiences adoration and fear: perfect women, shining bugs, all seemingly imbued with an internal turmoil. The works play halfway into fashion—perfect for the exhibition's location in Beverly Hills—and halfway into an elusive dream world.
Cuervo's paintings peer into the subconscious, recalling daydreams and nightmares through his surprising compositions and soft palettes. His images are familiar, like clippings from magazines that a self-conscious, starry-eyed teenager might collect for inspiration, filling his or her wanting imagination with perfectly poised pictures of impossible women, flawless jewelry and poetic pieces of nature—delicate fallen leaves, a solitary white feather, or colorful butterflies. 



Unusual and provocative in style, Cuervo's technical skill in realism is also exquisite. He gives figures and objects in his paintings detail and accuracy, but with such a modern aesthetic they naturally resemble a collage of contemporary magazine ads, though with surrealist and schizophrenic tendencies: women often mismatched with strange mouths, hands, jewelry and out-of-scale insects or fruit. Although he has only lived in the U.S. for two years, Cuervo's larger body of work demonstrates that American fashion photography captivated him much earlier. 
The overall impression of a Cuervo painting feels like a fashion advertisement at times—a creative expression of a fancy perfume or new makeup line. His obsession with model-esque white women seems out of place when they are chopped up into painted pieces or juxtaposed with unrelated objects—but that is where the surrealistic quality of his work shines bright. Every object within his composition has a meaning or purpose, each piece referencing its own allegorical narrative; for example, Antonio and Cleopatra and La Cantilena de Santa Eulalia (all works 2014), but the literary references in his titles can further allude to traditions in Cuban and Latin American poetry and prose. Cuervo seems to also look back to Vermeer, but his detailed realism recalls a bit of Frans Hals and Caravaggio, along with the not-so-subtle influences of Chuck Close and Rene Magritte.



Hosting the first American solo exhibition for this Cuban artist, the Garboushian Gallery emphasizes Cuervo's love of negative space, keeping the atmosphere minimalist, clean and white—perfectly fitting for the serene, dream-like tone of Cuervo's paintings. Though varying in size, Cuervo's works share similar color schemes, themes and styles. The Hours (Dawn, Noon, Twilight, Night) (2014) is one of the most striking; though among the smallest paintings on display, this four-panel work fragments two of the pieces into dissimilar compositions, leaving a pair of small panels seemingly connected by a shared beetle—a symbol of time's passage, life or mortality—which clings to the top of the two works. 
The ethereal qualities of Cuervo's paintings are further explored with symbolic imagery like masks, butterflies and nudity. His purposeful and powerful compositions are chaotic but gentle; there is a calming sense about their bedlam, while the mystifying story embedded in each artwork is an addicting visual riddle for the viewer to decipher.