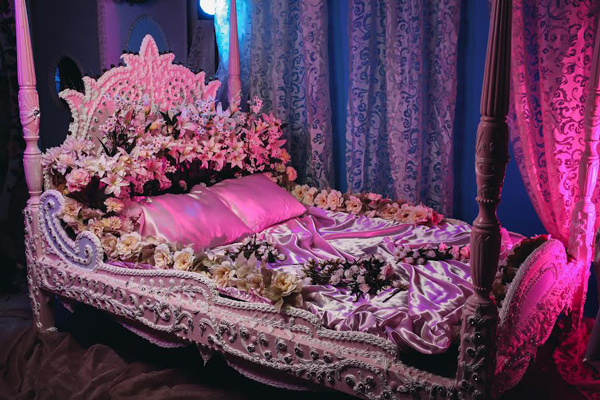 KP Projects: Scott Hove
Known for his immersive cake-like installations, Scott Hove's latest makings offer wry commentary upon the demise of today's political, economic, and ecological landscapes in "Last Ticket for the Beauty Train," a two-part exhibition presented by KP Projects.
On September 1st, viewers got a glimpse of Hove's newest works at the gallery's Chinatown pop-up space. Still on display, the "mini" show's most enticing piece, Infinity Beauty Chamber (2017), stands in the center of the gallery. Sheathed in lace and ornamented with plastic flowers, it beckons visitors to open its door and enter. Comprising tall pillars of white wedding "cake" made from mixed acrylic media and cast plastic cherries, the inside of the pentagon-shaped chamber is lined with full length mirrors, compelling entrants to face themselves from every possible angle, thus forcing the question: What irrevocable damage have we done?
While the Chinatown exhibition houses just three of Hove's works, its counterpart, located at KP Projects' permanent gallery in Hollywood, features a total of 30. Again, viewers are reminded of the many issues that we currently face as a nation. One More Fix (2017), for example, touches upon the pharmaceutical drug epidemic. The sculpture features a prosthetic leg, shoed in a black bondage boot adorned with a stilettoed heel and two crude butcher knives. In contrast, the boot also is festooned in faux frosting and Swarovski crystals as well as a collection of precisely positioned pills including Dilaudad, Methadone, Haloperidol, and Lorazapam.
Similar works include War Party (2017) and Felony Cake (2016). While one features a black chandelier where eight Uzi submachine guns dangle alongside several Swarovski crystals and a disco ball, the latter invokes a sheet cake frosted in chocolate with the caption, "Sorry about your 3rd felony" (2016), scripted in white loopy letters.
There's no denying that Hove presents a dark view. But the fact that he can bring light to today's harsh realities without hitting us over the head is somehow refreshing. Disaster, wars, riots and acts of terrorism flood our daily news feeds. But perhaps if we take Hove's cue and approach our anxieties from a more playful perspective, we just might have a chance to initiate change or at least abide current events with a sense of humor.  
Scott Hove, "Last Ticket for the Beauty Train," through September 30, 2017 at KP Projects' pop-up space, located at 936 Mei Ling Way in Chinatown, and at the gallery's permanent location, located at 170 S. La Brea Ave in Hollywood. www.kpprojects.net.