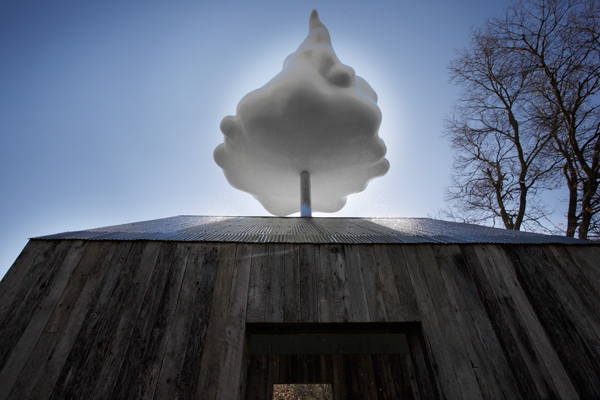 FIELD REPORT: Springfield, Missouri
Matthew Mazzotta's Cloud House
The grassy plains of southern Missouri came into view as the plane prepared to land in Springfield, a small city on the edge of the Ozarks. I grew up in a much smaller town not far from there. Springfield was the big city where Mom took us to buy new school clothes. Upon exiting the airport the muggy air was practically suffocating, and I was immediately transported to the barefoot summers of my youth.

With all my personal baggage (and I don't mean carry-on), I wasn't sure what to expect from a public art installation in the part of middle America that I'm not so sure appreciates contemporary art—or at least the kind I've grown accustomed to after living in Los Angeles for 30 years. Going back "home" is always a bit of a culture shock, fraught with guilt and nostalgia.

What brought me back was an invitation from the builders of a new, forward-thinking development called Farmers Park, a mixed-use project that features explicit gestures toward sustainability, such as restaurants serving local produce and green-living apartments that boast EPA star status.

Cloud House, a sculpture installation by Matthew Mazzotta, the latest public project sponsored by the Farmers Park Artist Residency Project, was what I came to see. On the way from the airport to Farmers Park, where the interactive public sculpture resided, we passed the Battlefield Mall. I thought of the blue velvet miniskirt I bought there back in the '70s.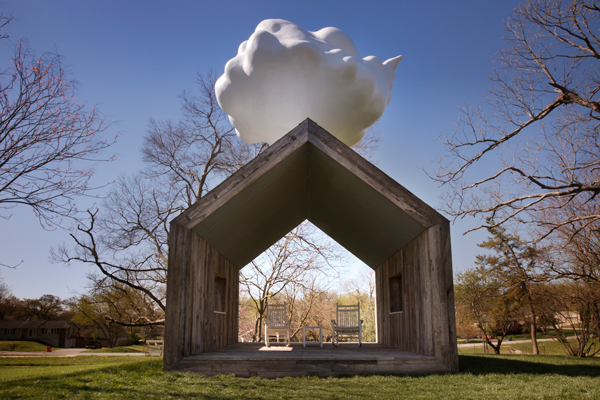 Upon my arrival at Farmers Park, I spied a puffy white blob with scalloped edges, peeking above the treetops, like a 3D version of a child's drawing of a cloud. It stood out against the amazingly azure sky. As I walked toward the sculpture, now in full view, it resembled a small, open, wooden barn-like structure with only two sides and a tin roof—and the cloud of course, perched overhead looking like a giant dollop of soft-swirl. The 20-foot-square structure sits near the top of a grassy hillside on the edge of Farmers Park. Further up the hill is a community garden maintained by local residents.

Cloud House looked like a shelter in a public park and could almost have gone unnoticed, but the cloud sort of gave it away. Since its completion, it has become a staple attraction at the popular Saturday farmers market that draws hundreds weekly from the area.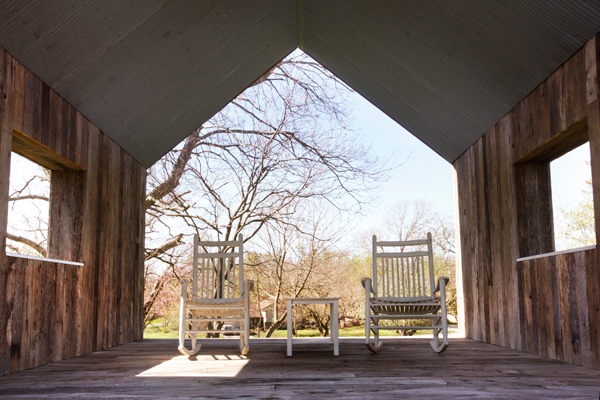 The interactive part of Cloud House consists of two rocking chairs located inside the structure. When one sits in a chair and sets to rocking, the chair trips a device hidden beneath the floorboards that makes the cloud rain. Rain spills out of tiny holes in the cloud, supplied by water pumped into the cloud from a water tank underneath. The rain trickles onto the tin roof, and spills down into the side planters that serve as a windowsill, watering the edible plants—in this case, peas.

I was informed of this activity before I arrived (as newcomers might not be readily aware of the "trick" rain). But the day I visited, the installation wouldn't rain. My host and I rocked and rocked, trying to trip the device, but to no avail. We finally gave up and just sat there for a spell, reminiscing about growing up in the Ozarks. It was peaceful in the shade of the barn with the warm soft breeze. Again, I was taken back to my childhood: a bittersweet combination of fond memories and melancholy. We finally left to get dinner and drinks. It had been a long day.

I'm not sure if it was because it didn't rain, or because of its simplicity that Cloud House disappointed me. It didn't look like contemporary sculpture. It also seemed to me that it would make more sense in the middle of the desert, on the outskirts of Los Angeles. Desert dwellers would be more impressed with the sound of rain. Why would the denizens of rainy Missouri be enchanted or transported by pumped water spilling out of a fake cloud onto a tin rooftop?

It came to my attention that Cloud House was not supposed to rain every time you sat in the rocking chair. When I visited in June, evidently the tank had run dry, as it hadn't rained for a few weeks, and that's why it didn't work. I had gotten a lot of mixed signals. So I decided to go to the source.

***

Matthew Mazzotta was on his way to Wisconsin when I reached him on the phone. He had just finished a project in Denver, and before that he was in Nebraska installing a piece. I got straight to the point; he confirmed that Cloud House was designed to be more in tune with nature. "You can't have nature on demand. It's a rain-harvesting system. If you haven't had rain for many days, the tank will be empty." So basically it rains when it's been raining. "It becomes a barometer for the weather, like, 'Hey, does the cloud house have rain in it?"

Okay, I get that, otherwise Cloud House does become more of an amusement park activity. But why choose to make an interactive sculpture about rain when all Missourians are quite well-enough acquainted with the element?

Mazzotta had a quick answer to that: "The original gist of the project was that a lot of people from that particular area have a certain pride in their agrarian past. There are four different ecological zones that come together in that area." Installing Cloud House on the premises of Farmers Park also played a big part in determining what the sculpture would become. "I'm at a farmers market. Not only do people care about the land, these people at the farmers market don't like this divide between the people that grow the food and who sells it to them."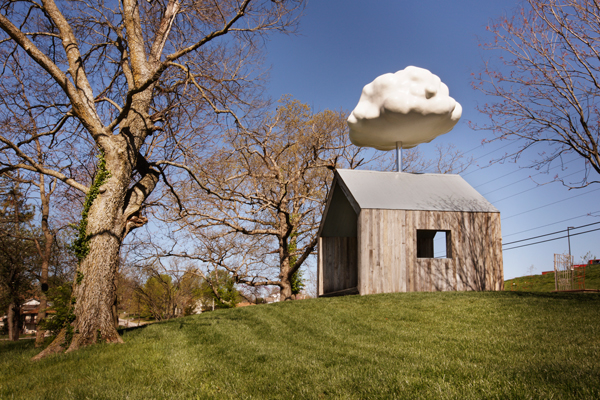 Embarking on his project, Mazzotta embraced the Ozark surroundings and the concerns of the community, and also responded to the green manifesto of Farmers Park. He bought local materials and hired local help. The wood for the barn was purchased from the Amish, a population that has been there for longer than anyone can remember. They carefully selected the marvelous wood, which was of a specific gray-washed variety.

Patricia Watts, founder of ecoartspace.org—a platform for artists who work with environmental issues—brought Mazzotta on for this project. Judging by Mazzotta's past public works, it does seem like a natural fit for the Farmers Park residency program. The artist comes with credentials and many awards, mainly for his environmental concerns. The motto on his website reads: Act Locally, Engage Globally. Mazzotta normally would be a safe bet to come up with something challenging to the community.

But in the end, Cloud House left me high and dry. Since it didn't rain, I felt robbed. Maybe it's because I came all the way from Los Angeles, and the drought we're suffering now didn't help my pessimistic attitude about weather and the impending doom of global warming.

A couple of women had just left Cloud House when I started to approach it again, maybe to see if it would rain. They had rocked the chairs ad nauseam. Sue Smith, a local high school art teacher, said that she had visited Cloud House the previous week and when she sat in the rocking chair, it had started to rain and she loved it. She returned with her sister, hoping to play a trick on her. But this time, no rain. I asked her if she was disappointed, and she said that she wasn't—only that she didn't get to surprise her sister.

"It looked like a thought bubble to me," she said of the first time she visited Cloud House. I asked her if she liked that: "It's cute," she said, "but misplaced."
All images courtesy Farmers Park, Springfield, Missouri.