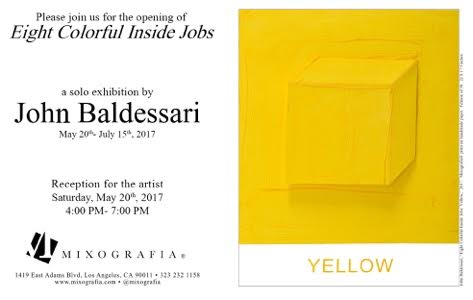 Saturday, May 20, 2017
4:00 pm - 7:00 pm
1419 E Adams BLVD., Los Angeles Downtown / LA Metro 90011
Mixografia Gallery
Presents a Solo Exhibition by
John Baldessari: Eight Colorful Inside Jobs
May 20th – July 15th, 2017
Reception for the artist
Saturday, May 20th, 4pm – 7pm
John Baldessari, Eight Colorful Inside Jobs (Orange and Yellow), 2017. Mixografía® print on handmade paper. Edition of 50. 22 X 17.5 inches.
April 11, 2017 (Los Angeles, CA.) Mixografia is pleased to present a solo exhibition by world renowned artist John Baldessari on Saturday, May 20th, 4:00pm – 7:00pm at 1419 East Adams Blvd, Los Angeles. The innovative printmaker, Mixografia, has had a long-standing collaborative relationship with Baldessari who has made a prize collection of works over the years to present a solo show Eight Colorful Inside Jobs.
Eight Colorful Inside Jobs will consist of over 20 years of collaboration between John Baldessari and Mixografia, featuring over two dozen artworks. Baldessari has utilized the Mixografia printing technique to explore notions of texture, volume and subject.
The new collaboration, also titled, Eight Colorful Inside Jobs, is inspired by Giorgio Morandi, the master painter of still-lifes. In this project, shapes are presented in their simplest form. Dimensionality and the illusion of perspective are achieved through the three-dimensional shape of the paper. Each shape is printed in a solid basic color, revealing large, noticeable brush strokes. On the bottom of the print, Baldessari's iconic font, "WRONG," names the color of each shape.
From the paradoxically flat-yet-three-dimensional Table Lamp and Its Shadow (1994), to the tangible picture plane variation of Stonehenge (With Two Persons) (2005), Baldessari has taken advantage of the process and hand-made paper that the Mixografia has to offer. Sailboat, completed in 2008, emphasizes the possibilities of volume through paper sculpture. Baldessari's A B C Art (Low Relief), Part II:PMBWFDLJ (Pangram), 2009, embraces the model of high and low relief, generating depictions of food, body-parts, toys and sly popular culture references.
John Baldessari, A B C Art (Low Relief), Part II:PMBWFDLJ (Pangram), 2010. Mixografía® print on handmade paper in 32-parts. Edition of 7. 82 X 248 X 1 inches.
In the 1970s, Baldessari had an epiphany and decided he would "not make any more boring art." Keeping this in mind, he began to focus on conceptual art, writing a new chapter in the art world and inspiring many young artists to follow in his footsteps. During a career spanning over six decades, this renowned pioneer discovers his subject matter from a wide variety of appropriated material and found imagery taken from sources the world over. His unique strategies have, in the past, revealed a multiplicity of meaning via chance correspondences and overlapping visual fragments often used to create narrative, explore allegory, allusion, and open ended discourse.
It has been a great honor and privilege for Mixografia to have had the opportunity to collaborate with Baldessari for over 20 years.
For more information, please visit: https://mixografia.com/artist/john-baldessari/
# # #
www.mixografia.com
Facebook: https://www.facebook.com/Mixografia/
Instagram: @Mixografia
Twitter: @Mixografia
For Media Inquiries Contact:
Evolutionary Media Group
Jennifer Gross / Julia Axelrod
323.658.8700
Jennifer@emgpr.com / Julia@emgpr.com