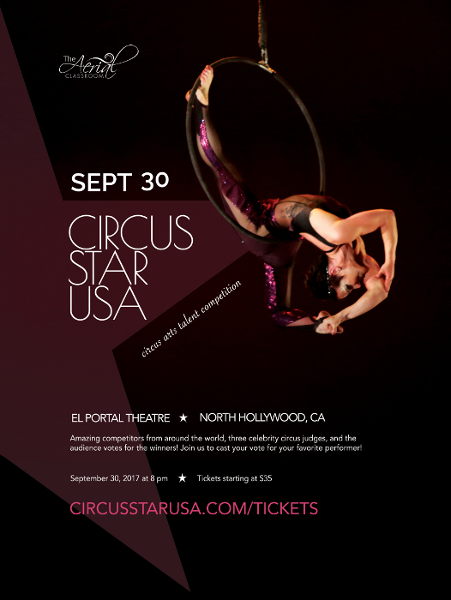 Saturday, September 30, 2017
8:00 pm - 10:30 pm
5269 LANKERSHIM BLVD, North Hollywood CA 91601
Circus Star USA invited talented circus acrobats from around the world to partake in the 4th Annual Circus Star USA Talent Competition. This performing arts competition is open to the public and will be held on September 30, 2017 at the historic El Portal Theatre in North Hollywood, CA in their Debby Reynolds Mainstage Theatre.
This event is the number one circus arts competition in the United States and will host 12 of the best aerial and circus performers from around the globe who will fly into Los Angeles to compete to place as one of the top three finalists. The audience can help vote for their favorite act alongside the three celebrity judges from Cirque du Soleil, LeRêve The Dream, and Cavalia's Odysseo, who will be providing their invaluable feedback and critiques to each act after they've performed.
This fierce competition will feature an assortment of dance arts, and amazing feats of strength and flexibility in the air on aerial hoop, trapeze, straps, and specialty apparatuses as well as classic circus ground disciplines such as contortion and hand balancing.
The goal of this performing arts competition is to help expand and connect the ever-growing circus and performing arts community, as well as offer a place for up-and-coming talent to showcase their performance to industry leaders, peers, and potential clients. Winners from previous years have gone on to tour with world renowned productions and shows such as 2015, first-place winner, Sai'len Jaeger, who recently finished up a seven-month tour performing as an acrobat aboard Norwegian Jewel Cruises. Sai'len just begin a new contract performing in the North American tour of Cavalia's Odysseo. Rachel Gauthier, recently embarked on a tour aboard Norwegian Getaways Cruise Ship in their Cirque Dreams and Steam show after her second-place win in the 2016 Circus Star USA Competition. Ashley Richmond and Steven Beasley landed a weekly gig performing their third-place winning duo trapeze act at Sea World's Cirque Electrique in San Diego, CA soon after they competed and won in Circus Star USA 2016.
In addition to the talent competition, this event features an extravagant and entertaining performance by dancers, stilt walkers, and aerialists from The Aerial Classroom. The Aerial Classroom is a circus school in Los Angeles, CA that produces and sponsors Circus Star USA annually.
Tickets range from $35-$50 for this exciting 2.5-hour event and can be purchased online at: CircusStarUSA.com/tickets
For more information visit: CircusStarUSA.com