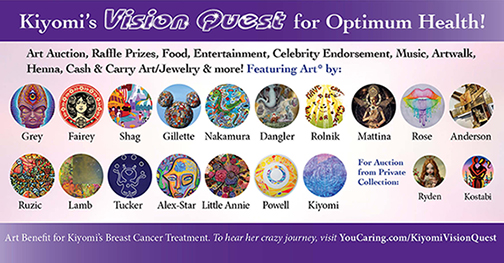 Saturday, September 2, 2017
5:00 pm - 10:00 pm
207 W. 2nd St. , Santa Ana California 92701
Alex Grey, Shepard Fairey, Shag, Jeff Gillette & Matt Dangler are among a growing number of artists stepping up to help a fellow artist raise funds to release breast cancer at "Kiyomi's Vision Quest for Optimum Health" event.
Join us for an EPIC night where you can take home a piece of art or win a raffle prize during Santa Ana's September Artwalk!
Check out the lineup on the flyer. It's the art charity event of the year!
Feeling lucky?
We have high-end raffle prizes worth more than $600! All it takes is one lucky ticket to win.
There will be food, Kiyomi's art & jewelry for sale, entertainment and celebrity endorsement.
Proceeds go to Kiyomi's breast cancer treatment. Everyone and anyone is invited to have fun for a good cause.
To hear her crazy, stranger-than-fiction cancer story, and to find out how you can help, please visit YouCaring.com/KiyomiVisionQuest