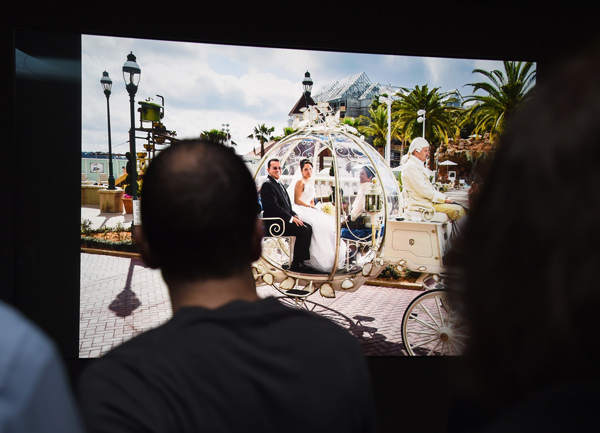 Conspicuous Consumption Indeed
Lauren Greenfield's "Generation Wealth" at Annenberg Space for Photography
I forgot to eat! My stomach grumbled as I mentioned to my friend that I hoped there might be some food at the opening of Lauren Greenfield's "Generation Wealth" exhibit at the Annenberg Space for Photography in Century City.
Entering the building complex—not unlike a mall/maze—my friend seemed to know her way around, pointing us in the right direction. After getting verified for the guest list, we were swept away with passed trays of smoked salmon on toast, falafel balls resting in a puddle of tahini sauce, smoky Vienna sausages wrapped in a fluffy crescent, crab cakes and mushroom tarts. When a tray wasn't at our beck and call, we had at our disposal creamy pate, cheeses, salami, all on a table with breads and fancy crackers. Between bites and gulps, we ran into gallerist and Juxtapoz founder Greg Escalante with LACMA Photography Curator Britt Salvesen. LAT writer Steve Appleford was also there for the festivities. Once we had our way with the food table and free-flowing champagne and cocktails, we embarked on the art in the gallery, where we could actually bring in our drinks… a bonus indeed! Although it was hard to leave the convivial atmosphere in the courtyard where KCRW's DJ Chris Douridas was playing some pretty smooth tunes.
The Annenberg gallery always baffles me. You enter through a hallway that surrounds the interior rotund gallery. In this exhibit, the photos were hanging on both facing walls in the hallway, with gallerygoers moving in the middle, each paying attention to their respective walls of images of the lifestyles of the rich and famous. We ran into film director Nicole Holofcener, when a tray of Vienna sausages was moving in front of a suite of photographs of a woman receiving plastic surgery. We had a laugh as one viewer remarked on the absurdity of it all: fleshy meat being eaten in front of the operating table, so to speak—talk about conspicuous consumption!
Once we worked our way into the center gallery, Greenfield was at the mike, speaking with sincerity and tenderness, even thanking her parents for, well, every good thing that ever happened to her. She also thanked the wealthy for "welcoming us into their world."
And thank you Lauren Greenfield, for allowing us, the viewers, into your world. And by the way, this exhibition is a must see, even without the food and drinks.