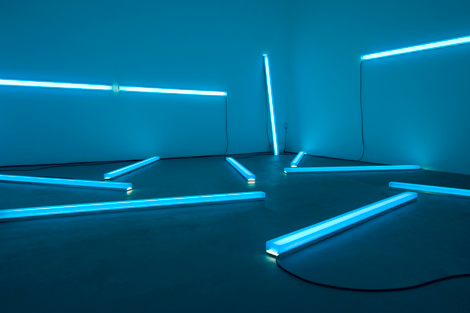 "Colorimetry"
Museum of Art and History / Lancaster
Small municipal museums are hard pressed to coordinate their programming into coherent wholes; if a local museum doesn't fill its walls with a single exhibition, its variety of shows comprise confusing, sometimes clangorous gallimaufries. Lancaster's MOAH has devised an at-least partial solution: schedule a raft of solos, all of which address a particular artistic topic or circumstance. This approach dedicates the entire museum to a theme, one loose enough to allow disparate artists to enjoy exhibitions distinct from one another's but tight enough to allow a contemporary topic to emerge slowly, surely and substantially.
"Colorimetry" is the latest and perhaps most focused of MOAH's solo stack-ups, bringing together bodies of work—or installations, or something of both—by regional artists who share an interest in "the physical intensity of colors." Some of the artists included under this unusual rubric regard color as a symptom of light, while others employ it as a challenge and/or thrill for the eye, while still others regard it as a thing unto itself, a fundamental yet changeable, even malleable phenomenon. Several of Karl Benjamin's geometric paintings grace the entry atrium, heralding the orgy of color within and honoring the much-revered painter and educator as a passed paterfamilias to Southern California's current chromophiles. The other Colorimetrists all work in Karl Benjamin's aura, but their displays speak, even sing to one another, the voices—styles and sensibilities—discrete but harmonious.  


Ruth Pastine enjoys the largest show, "Attraction 1993-2013," something of a survey going back to when she was still working in her native New York. Pastine's paintings, invariably luminous expanses of exquisitely modulated hue, have undergone a gradual evolution, moving from near monochrome to a more elaborate formulation in which color gradations suggest a profound depth of field as they organize into modulated, gateway-like structures. Although "Attraction" reveals Pastine's formal development, it does not trace it; indeed, it is organized so as to afford her ongoing treatment of color its maximum breadth. Paintings from the same period are grouped in sometimes-dramatic installations, exploiting the vertical expanse of MOAH's Main Gallery by "climbing" the walls. You would think such salon-hanging-on-steroids would seriously compromise one's comprehension of Pastine's painting, but to the contrary: not overdone, it allows her art a surprising, illumining proximity, to itself and to the others' color work in the second-floor galleries.  
Those upper galleries feature a version of the Chromasonic Field Blue/Green installation—blue-neon planks arrayed with speakers, issuing sounds related to the neon's wavelengths—that Johannes Girardoni originally presented in Culver City last summer; a large, floor-mounted version of Gisela Colon's blobby, luminous, shine-from-within "Glo-Pods" (2013); several "Roundels" (2013)—bowed metallic tondos on which John Eden has painted abstract heraldries, derived from the symbolic use of color that various countries have used to identify their military aircraft; and, most beguiling of all, a wall-size projection of slowly shifting color shards concocted by Dion Johnson specifically for MOAH, a delicious, languorous swim in color reminiscent of Thomas Wilfred's pre-war "Lumia" suites. Downstairs, another darkened room hosts several large panes of softly lit color, reconstructions of the windows and doorway Philip K. Smith III had originally installed in November 2013 in a renovated shack in the Mojave Desert.