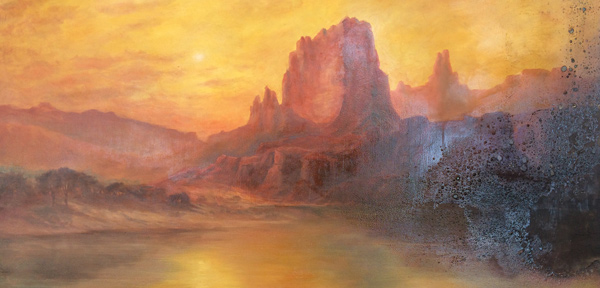 Bermudez Projects: Cody Norris
"Still Remains" is a small but provocative installation of twenty contemporary landscape paintings by Cody Norris in which the artist responds to the epic disfigurations and loss of wild nature due to extreme weather. Employing a neo-fumage technique, Norris' work recalls Wolfgang Paalen and his important painting Verbotenes Land ("Forbidden Land") (1936), a haunting surrealist landscape, considered one of the first fumage painting applications executed almost a century ago.
Norris, however, goes beyond using smoke from a flame to mark his oil paintings, although he does that too. He bravely scorches or chars the paintings surface with a blow torch leaving small blisters and patches of crumbling canvas. These slightly disfigured seemingly early 19th-century landscapes represent a range of diverse ecosystems located in no specific place. And, they are not of the mysterious unconscious painting style developed by the surrealists. Instead, his surfaces represent the harsh reality and severity of our current climate crisis, whereas over the last decade wildland fires have more than doubled.
It makes sense that an artist who was raised by a father working for the US Forest Service would become preoccupied with fire, ignition and suppression. And, that such an artist would become a wildland firefighter who eventually makes paintings about the loss of wild nature.
Norris' interest in exploring the emotional ramifications of loss is reflected in the titles of his recent paintings, which excerpt lines from songs, for example: It's Only Castles Burning (all works 2017) borrows from "Don't Let It Bring You Down" by Neil Young; I Could Not Foresee this Thing Happening to You, from "Paint It, Black" by the Rolling Stones; and When All the World was Green, from the song of the same name by Tom Waits.
The artist, however, is not trying to bring us down with his work; he also posits the question "When we lose a dream, a favorite place, or a relationship, does this always result in a negative balance within us, or can an accumulation of losses result in a gain?" Possibly meaning that after the fires comes new growth or renewal, typically. However, humans cannot ultimately control wild nature, and Norris' paintings remind us of the unraveling of our dependence on nature as a static romantic experience.
Cody Norris, "Still Remains," October 7 – November 25, 2017 at Bermudez Projects DTLA, 117 West 9th Street, Space 810, Los Angeles, CA 90015, www.bermudezprojects.com.