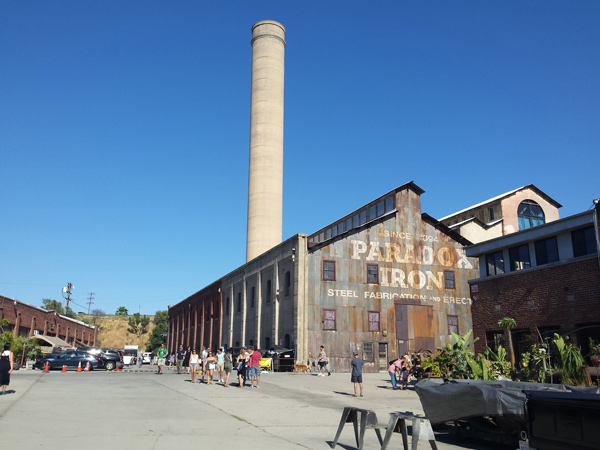 Art Fatigue at its Best
Brewery Art Walk; BBQLA
I've heard of the phenomenon of art fatigue—getting so sick of looking at art that one more derivative Franz Kline-esque painting will turn you into a raging honey badger.
The first two hours of the Brewery Art Walk on Saturday were delightful, browsing studios tucked down dark passageways or in-between succulent plant gardens. After the first leg of the hunt however, we began to seriously wonder if we actually have taste (what is taste?) or is most of this crap?
Then we would stumble upon an artist that wowed us without getting in our faces. Such was the case with Paul Farmer, a North Carolina-based artist cowering in a corner of a hallway next to his work, fingers crossed that nobody would talk to him. Unfortunately for him, we were instantly fascinated by his painting-as-sculpture compositions; paint strips woven together in organic forms. I requested a photo of the awkward genius. In contrast to Farmer's dimly lit hallway, Oskar Sheldon scored a spacious studio with fabulous lighting that complemented his bold, robust paintings of primarily political satire. We were all interested until Sheldon opened his mouth. Aviator shades, a suit, and an obnoxiously full flute of champagne, "Oh yeah, so like, this piece was based on a prolific acid trip… " (Way to tap unexplored territory, dude.)
A pint and an edgier wardrobe ensemble recharged our spirits for BBQLA's "TEETER TOTTER," a group show examining the relationship between the figure and abstraction. Most surfaces in the space were strewn with Lay's potato chips, soy candles in beer cans, and old Easter candy. While perched on a stage overlooking the hot mess of humans below, we observed a guy painting himself three times–we later discovered he tattooed his ass. The absence of dignity at BBQLA was the ultimate cure for the day's art fatigue.