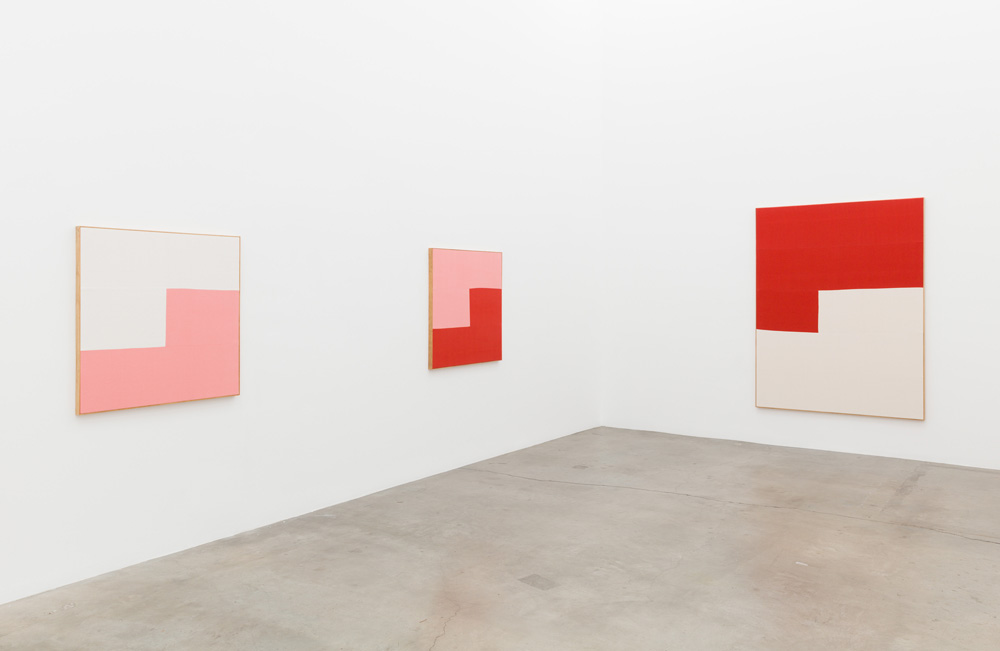 Anat Ebgi: Ethan Cook
Currently on display at Culver City's Anat Ebgi gallery are the familiar, yet intriguing color field paintings of Texas-born, New York-based mixed-media artist Ethan Cook. Taking inspiration from abstract painters such as Mark Rothko and Agnes Martin, here Cook delves into the notion of copying itself. Shakespeare examines the fine line between simulation and the original with his seven hand-woven cloth canvases featuring violet and vermilion squares and rectangles that imperfectly dissect the picture plane. Each canvas is divided between bold and muted hues intertwined in harmony like Yin and Yang or puzzle pieces—elements that, when combined, create something complete and timeless.
Cook's choice of using painting to illustrate his point is an interesting one as the medium can be seen as the traditional embodiment of the "original" and "one-of-a-kind." The artist's companion exhibition text offers this tantalizing quote to posit meaning regarding Shakespeare's central notion of copying, "All men who repeat a line from Shakespeare are William Shakespeare." By symbolically copying the drawn lines of past artists, he is asserting and questioning his place among them. Perhaps Cook is reminding us that no artist lives in a bubble, free of outside influence. This sentiment is also reminiscent of a famed Pablo Picasso quotation, "Good artists copy, great artists steal."
Cook is known for making conceptually probing work, such as fiberglass relief paintings depicting "cutesy" images of children, teddy bears, cherubs, and kittens as well as his circa 17th century Dutch still-life inspired paintings featuring opulent displays of luscious fruit and livestock lifelessly splayed over a tabletop. Cook's work has previously been shown at New York's Chelsea Art Museum and Sadie Coles Gallery in London; however, Shakespeare is his first solo exhibition at Anat Ebgi and his introduction to a broader West Coast audience. Upon first glance, Cook's abstract canvases may seem neutral and derivative, but are actually teeming with well-constructed ideas regarding artistic credit and the image itself.
Ethan Cook, "Shakespeare," November 5 — December 17th, 2016 at Anat Ebgi Gallery, 2660 S La Cienega Blvd, Los Angeles, CA 90034, anatebgi.com