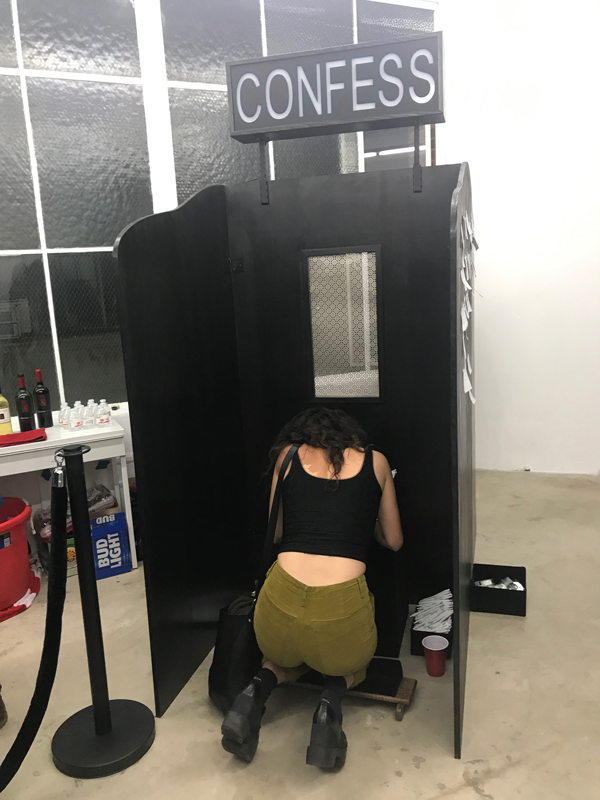 Ringing in the New Year
Durden and Ray; SoLA; San Pedro Walk, Gary Brewer
The new year got off to a rousing start on the LA art scene this week, with a wide variety of exhibitions all around town.
At Durden and Ray, viewers were encouraged to "cleanse your soul" through the art of "Disclosure." Curators Dani Dodge and Alanna Marcelletti shaped an exciting group exhibition focusing on the acts of confession. From Dodge's confessional with a throbbing red sign inviting attendees to "Confess" on small post-it notes, to the silvery reflection of Kimberly Brooks' wall-sized painting The Looking Glass, there was no lack of spiritual insight.
And there was plenty of fun to be had, too. Champagne flowed as Alyshia Marcelletti, the sister of curator Alanna, served up thematically appropriate and tasty eats, including stigmata gingerbread men and deviled eggs. The gallery was packed and buzzing with hip art lovers despite rain drenching DTLA outside.
Across town at  SoLA Gallery, a nonprofit space run by Peggy and Ben Zask, there was another packed house for guest curators Anita Bunn and Francesco Siquieros, with their printmaking show featuring the work of 21 female artists, "B.A.T. State II."
As the master printer of the exhibition, Siquieros' work exemplifies the meaning of the show's name, Bon à Tirer, or "good to go." Guests – including tiny tots – enjoyed snacks and wine while taking in the unique works, some figurative, many abstract. Notable artist guests included Susan Silton, Lisa Adams, Judie Bamber, Carolyn Castano and Artillery Editor Tulsa Kinney with staff photographer Lynda Burdick.
As an early start to the weekend, just three days after New Year's Eve, on Thursday evening, coinciding with the San Pedro Art Walk, two group shows took over The Loft space on Mesa under the auspices of the Venice Institute of Contemporary Art. Curated by Juri Koll, both "Far & Near" and "Intangible Paint" focused on the work of highly skilled painters and sculptors, working on both large and small scale. Nature and humanity were the subjects, and a joyous crowd of artists and art lovers explored both exhibitions while sipping wine and sparkling water. "Art is back fast this year," one attendee enthused.
On Sunday evening, Gary Brewer's stunning solo show, "Infinite Morphologies," vibrated with color and light in the Fashion District at the Marie Baldwin Gallery. As the artist's dream-like, often floral, abstract images danced with color, viewers nibbled elegant hors d'oeuvres and filled the gallery space with excited talk about the year in art that's just beginning. Art is back indeed.
Photos by Genie Davis, unless otherwise noted.