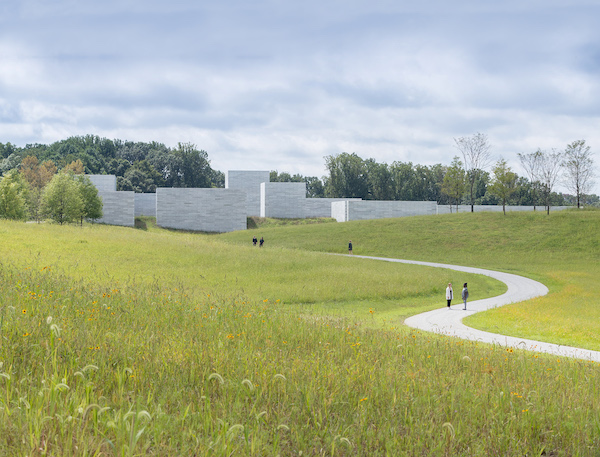 ON A COUNTRY ROAD: Glenstone
The Glenstone in Potomac, Maryland
In a short drive into the countryside of Maryland, about half an hour outside Washington, DC, is an exceptional private museum sited on 230 rolling acres, with buildings and outdoor sculpture thoughtfully tucked into the landscape. The Glenstone is the brainchild of Emily Wei and Mitch Rales. He began collecting in 1990, and she was a former director of Gladstone Gallery in NYC; they married in 2008. In 2006 they opened with one building on the property in Potomac, MD, overlooking a pond, then last October they unveiled $200-million worth of additions, including two new buildings plus a cafe, with a number of outdoor sculpture and installations as you walk around the pond and beyond. The works are by very well-known contemporary artists such as Roni Horn, Brice Marden, Jeff Koons, Martin Puryear, Yayoi Kusama and they even have choice examples of Jackson Pollock and Mark Rothko.
This is one of the best places ever to see that art—the galleries are minimalist and restrained, and many rooms focus on the art of only one artist. You enter through the Arrival Hall, then take a short walk outside to the Pavilions—the design by Thomas Phifer provides visitors repeated reminders of the natural setting, both through having to walk from place to place and through large windows which provide glimpses of the outside. The galleries of the Pavilion are built around an interior pond, and you can walk out and sit and take a breather. Another distinctive feature of the Glenstone is that there are no didactic labels on the walls. If you have questions you can ask the gray-clad "guides" who linger discreetly about. They are quite well-versed, and can even engage in a discussion if you are so inclined.
Here are a few of the highlights when I toured last fall:
Untitled (1992) by Robert Gober is a room-sized installation with walls covered with forest scenery; mounted onto the walls are several 3D sinks with faucets with running water (real), and stacked newspapers seem randomly arranged on the floor.
Book of Time I (1961) by Lygia Pape during her neo-concrete period. The 365 small square tiles are in colorful primary colors, with 365 different geometric patterns, like semaphore flags. In a room by themselves, the presentation feels like entering into a temple of signs.
Ever is Over All (1997) by Pipilotti Rist is a two-channel video, in which a glamorous woman in blue dress and red shoes walks down a city street and swings a flower on a long stem. Every so often she stops and whacks the window of a parked car with that flower, smashing the glass, and laughs gleefully. Clearly, not your usual bloom.
Clay Houses (Boulder-Room-Hole) (2007) by Andrew Goldsworthy. Walk to the edge of the property, and you'll find three small huts hidden behind a berm. Each contains a clay installation—in one, for example, sits a giant sphere that is cracking as it's drying. I suppose that one is the "boulder."
Please note that the museum does change out art on display and also has temporary exhibitions. This fall, marking the first anniversary of the expansion, are new presentations including a mixed-media installation, Fear Eats the Soul (2011), by the Argentine-born Thai artist Rirkrit Tiravanija, and a video installation, Turbulent (1998), by the Iranian artist Shirin Neshat. Each work is "radical and astonishing in its own way," says Emily Wei Rales, who is also director of the museum. "In the sprawling Fear Eats the Soul, our visitors will discover how Rirkrit Tiravanija breaks down barriers—physically, socially, spiritually—to create an art that is smart, democratic, satisfying and engaging. In Turbulent, visitors will encounter a landmark video work by Shirin Neshat that established her as one of the most powerful artistic voices confronting the situation of women today."
Admission is free, but reservations are required. For more information see www.glenstone.org.