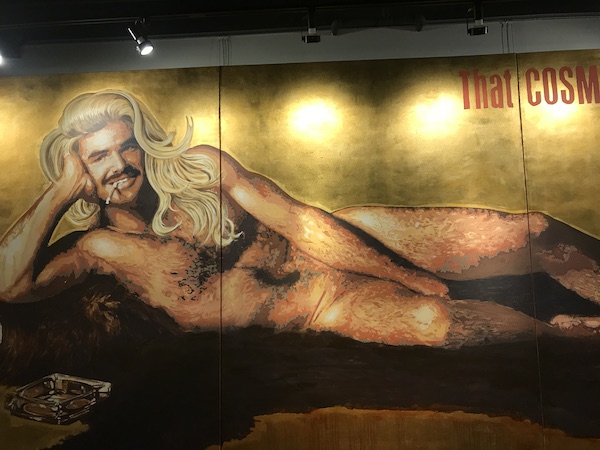 No Vacancy
Art-Filled Rooms For The Night
If you've ever wondered what it would be like to spend a night in a gallery or a small museum, and wished you could walk down a motel hallway and see original murals on your way to the ice machine instead of prints that could have—and possibly did—come from a Walmart catalog, then staying in an art hotel is the perfect option. Art hotels exist in exotic locales from Paris to Israel, but there are spots more easily reached from Los Angeles.
In Phoenix, the industrial-chic FOUND:RE Hotel is blissfully filled with art—in the lobby, in the hallways, in the rooms—all chosen by the hotel's own cultural curator, Michael Oleskow. The bevy of delights served up by local artists includes Randy Slack's That Was Then, This Is Now, a life-size mural behind the registration desk that features a naked Burt Reynolds with long blonde hair; while by the pool there's Lucretia Torva's vibrant beach-themed mural. There are actual galleries off the lobby as well, with a terrific rotating collection of local contemporary art; even the room numbers are original mixed-media pieces designed by Cheryle Marine. Inside the lush, large loft-style rooms, original artworks hang on the walls. The property is a wonderfully hip yet welcoming repurposing of the long-closed Lexington Hotel.  
In a few years the FOUND:RE will be joined by another downtown Phoenix art hotel: a collaborative project from local developer True North Studio and Meow Wolf, the inventive and immersive art collective behind the House of Eternal Return installation in Santa Fe, NM. They're creating a 400-room art-themed hotel along with a 75,000-square-foot exhibition space. The rooms will be individually designed by local artists and offer everything from a faux-glamping experience to capsule rooms.
Down towards the border in Tucson, the McCoy Hotel, like the FOUND:RE, is another environmentally adaptive property—it was once a 1960s-era motel. Now the exterior is covered with gorgeous murals from a wide-range of Arizona artists, including 13 of them in the vibrant colors of local artist Jessica Gonzales. The hotel's catchphrase is "Art. Wine. Coffee." Each airy room features a memory-foam mattress and lively aluminum-backed artworks from Tucson-based Andrew Burgess. According to hotel co-owner Nicole Dahl, "Our hotel has showcased over 50 Tucson artists, many of whom have never displayed their work before; others are world-renowned." In-room and lobby gallery art is for sale, and the hotel doesn't take a commission, so 100% of the sale goes directly to artists.
Stefan Ashkenazy, one of the founders of the Bombay Beach Biennale arts festival, is in the process of building a shipping-container-based art hotel, The Last Resort, on the edge of the Salton Sea. Set to open in 2021, with permanent art installations such as Randy Polumbo's dazzling upended airplane, Lodestar, which seems like the perfect, quirky choice. Ashkenazy says "I will have an opportunity to turn my focus away from the conventional needs of a guest, such as comfort and convenience, and hone in on the experience only. I wholly expect some of the rooms to be a bona-fide challenge to stay in, and it will not be an experience easily forgotten. We are aiming for a new echelon in the world of 'star' ratings, and believe we may actually achieve the coveted 'black hole' award if such a thing exists." Each room will be designed by artists involved in some of the larger Biennale projects. "For the exterior, I hope to rearrange the architecture of the resort on an ongoing basis so that the entire experience can shift as often as we like."
In the meantime, art-seeking guests can visit Ashkenazy's 79-room luxury space, the Petit Ermitage, in West Hollywood. Co-owned with his brother, the hotel holds more than 150 artworks, including pieces by Miró, Rauschenberg and Dalí, all from the Ashkenazy family's personal collection. 
Hotel information:
Contacts:
The FOUND:RE Hotel
1100 N Central Ave, Phoenix, AZ 85004
Phone: (602) 875-8000
www.foundrehotels.com
Hotel McCoy
720 W Silverlake Rd, Tucson, AZ 85713
Phone: (844) 782-9622
www.hotelmccoy.com
Petite Ermitage Hotel
8822 Cynthia St, West Hollywood, CA 90069
(310) 854-1114
https://www.petitermitage.com/home/
Coming soon:
Meow Wolf Hotel, Phoenix, AZ
Art collective website: https://meowwolf.com/
The Last Resort, Bombay Beach, CA
Bombay Beach Biennale website:  http://www.bombaybeachbiennale.org/