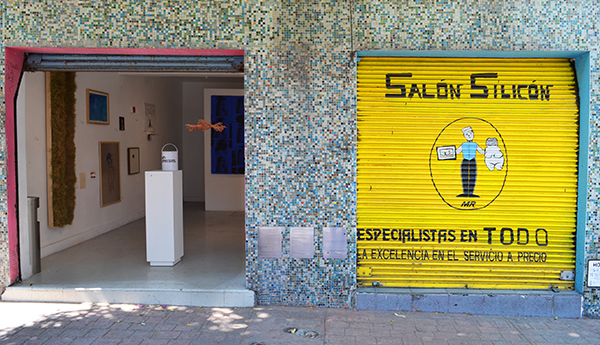 Mexico City: Bursting with Vitality
Mexico City's sprawling and dizzying art scene
On a narrow one-way street in San Miguel Chapultepec, it's impossible to miss the disparate wood-paneled exterior of Kurimanzutto. Surrounded by modernist apartment buildings in a rich palette of burnt sienna, robin's-egg blue and royal yellow, the gallery's presence is pronounced—much like how it is positioned within the vibrant art scene of Mexico City. Kurimanzutto is one of the most distinctive galleries in the city, and is a good example of how both local and international artists are part of the burgeoning scene.
The gallery's roster includes such international artists as Akram Zaatari (Lebanon), Adrián Villar Rojas (Argentina), and Alexandra Bachzetsis (Switzerland), and is currently exhibiting Mexico City native Miguel Calderón. Calderón's collection, "El Placer Después" ("Pleasure Afterwards") explores themes of disaster through video and sculpture as inspired by the 2017 Puebla earthquake, which left 220 dead and 44 buildings collapsed in Mexico City. Like the rebuilding after that disaster, the city has gone through many iterations and rebirths from the time it was first founded in 1325 as Mexico-Tenochtitlan.
There's more to a successful art scene than cheap rent, but, as Mexico City is finding out, it surely doesn't hurt. The combination of affordability, magnetism, local history and culture have proven to be an enchanting allure. The sprawling city, made up of neighborhoods with their own distinct identity, is dizzying, inspiring, at times frightening, and undeniably attractive to international and home-grown artists alike.
"Like any city with a mega-population, there are always a lot of people seeking to come to the city to work. There's a real vibe and energy that taps into the city's history and a buzz that can get anyone creative going, so there are a lot of people moving here from all over the world," says Los Angeles artist Nilay Lawson, who has been coming to Mexico City since 2009, initially in an exchange show with Garash Galería.
Mexico City has long been a mecca for artists and intellectuals. It was a hub for Modernism, the Muralist Movement, and the post-Revolutionary Mexicayotl movement, with artists like Luis Barragán, Diego Rivera and Frida Kahlo calling it home. While far from being a new hotspot, it has morphed dramatically over the past couple of years. As an influx of artists has moved in, new collectives, DIY spaces and galleries have followed in their wake, changing the landscape of la Cuidad des los Palacios.
To explore everything that Mexico City has to offer would be impossible. The city itself is massive, with a population bursting toward the 9-million mark—a little bigger than New York City and twice the size of LA. It hosts 150 museums, which makes one of the most museum-rich cities in the world, and there are countless monuments and art centers. 
While contemporary art is the plato principal, a visit to Museo de Frida Kahlo is obligatory, and sleepy Coyoacán offers a reprieve from the busier parts of town. Not far from the brilliant and iconic Kahlo museum is Mercado de Antojitos, where delicious street food like pozole and fried quesadillas are to be had, and Cafe El Jarocho brews unpretentious coffee that makes a nice afternoon digestif. Nearby Museo de Arte Popular showcases Mexican folk art and offers historical context for local and indigenous handicraft from around the country.
Similar to the narrative surrounding the art-centric metropolises of Los Angeles and New York City, Mexico City is facing gentrification, notably in the Roma Norte, Condesa, Santa María La Ribera, and San Miguel Chapultepec neighborhoods. Unsurprisingly, these are neighborhoods where many galleries reside.
A stroll through the lush Chapultepec Park leads to Museo Tamayo Arte Contemporáneo. The museum houses the permanent collection of Olga and Rufino Tamayo as well as a rotating exhibition of contemporary artists such as Carsten Höller and Maria Loboda. Less than a five-minute walk through the botanical gardens is the Museo de Arte Moderno, which highlights modern and contemporary Mexican artists. The park beams with purple jacaranda trees during the spring, and is a jumping-off point to nearby stalwarts Casa Luis Barragán (the former residence of Luis Barragán) and Archivo Diseño y Arquitectura, a design and architecture museum housed in a gorgeous modernist dwelling. North of the park is Plomo Gallery, which recently exhibited local artist Pilar Córdoba Longar's "Donde Hubo Fuego Motañas Quedan," a collection of delicately cross-stitched pieces that navigate the line between tapestry and drawing.
South of the park in Roma Norte lies Galería OMR—a blue-chip gallery that recently showed French artist Yann Gerstberger's solo exhibition,"Ice News & Freeway Fetishes." Gerstberger covered the space in bright, tropical-themed chalk murals that served as backdrops for tapestries and sculpture. Nearby, newer galleries Proyectos Monclova and joségarcía, along with the aforementioned Garash Galería, are worth a stop before hitting swanky Azotea Acapulco for cocktails and Tacos Lolita for what may be some of the best tacos in the city. Queer-friendly La Cañita isn't much of a walk and is a must-visit for seafood and dancing.
Programming by queer collective and art space Salón Silicón, bizarro-punk collective Biquini Wax EPS, queer music and performance-art collective Traición, and art collective Ladrón are good starting points for those interested in the nebulous and often difficult-to-track DIY scene. Meanwhile, Galera's calendar of music, community workshops, lectures and performance art offers events reminiscent of those hosted by LA's now-defunct Pehrspace and Non Plus Ultra.
"In Mexico City there's everything and anything when it comes to art. You have underground queer-art parties to museum galas to state- and city-funded events. There is so much that it's difficult to even tap into it," adds Lawson.
Because it is a concern, yes it is safe to visit Mexico City, although "safe" is indeed relative. It is true that Mexico City and the country as a whole have been plagued with violence and kidnapping, with no indication of letting up. The entire country has a level 2 travel advisory, which means caution should be exercised. The city has about the same crime index as Chicago, but a lower crime index than New Orleans and Atlanta, which means one should use normal city-smart behavior. Don't walk around alone in unfamiliar areas at night, don't flash expensive objects, and remember that anyone who seems too nice probably isn't.
To say that things are tense between the U.S. and Mexico right now would be an understatement. Whether it's children being separated from their families at the border and then being lost in our system, threats of closing the U.S. border completely, U.S. citizens being detained by ICE, or images of Border Patrol tear-gassing migrant children, news is constantly pouring out about dysfunctional relations between the two countries. Other Mexico stories, positive ones, can easily get lost in the chatter. While Mexico does have it's set of issues, the cultural and artistic value offered by the country and Mexico City in particular is not to be dismissed. The growth of the city's international art presence has been percolating for the last century, and it appears to be far from reaching its peak.