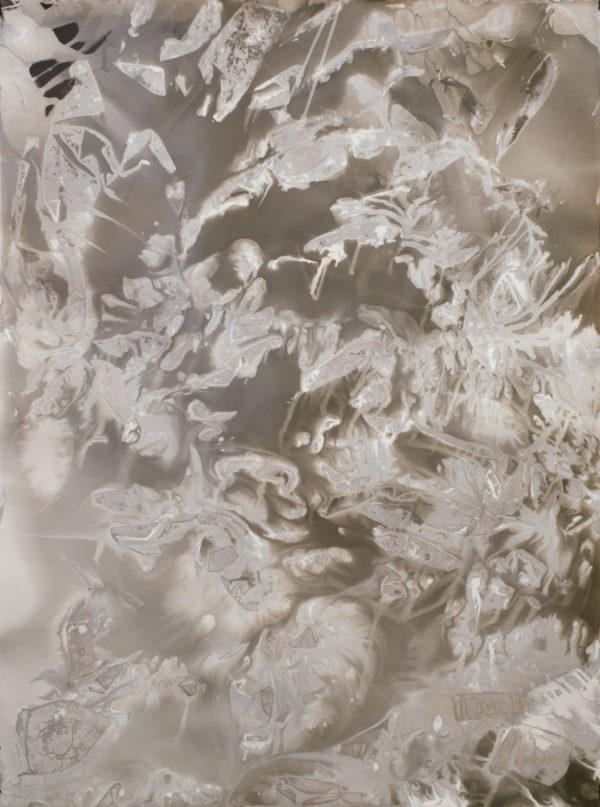 Lauren Marsolier, Rachelle Bussières
Robert Koch Gallery
The endless deluge of photographs from digital cameras—one trillion photos were taken in 2015—seems to have made everyone in the online world both a photographer and photo consumer, with mixed results. Lauren Marsolier, living in Los Angeles, and Rachelle Bussieres, living in San Francisco, make a strong case for the survival of serious photography in the egregious selfie age in their contrasting but complementary works at Robert Koch Gallery.
Marsolier's seven large digital color photos are presented under the title, "Dislocation," a word that usually connotes deprivation. That is not the case for these semi-abstract urban landscapes, bathed in clear, even light, and suggestive of the ideal cities imagined by visionary architects crossed with the metaphysical landscapes of Giorgio di Chirico with their empty plazas strewn with mysterious objects and shadows, meditations on exile, nostalgia and cultural dislocation. Marsolier composites images from different places and times, as Renaissance painters composed ideal landscapes from exemplary features separated by geography.
The dislocations here, then, are deliberate and aesthetic. While Photoshop makes visual mashups easy, Marsolier's mastery of form, color and composition, combined with her poetic sense and dry humor, lend her unpeopled landscapes—contemporary buildings, signposts, lighting poles, foliage and manicured lawns—the authority of heightened reality rather than the shock of disjunction. The twin mattresses leaning against a wall in Two Roads (2016) mirror a blank sign in the distance, horizontally bisected, and the beige wall above, split by the diptych format; while a stop sign, illuminated from behind, reads as a shadow rising from the ground. The gently curving grass-covered slopes in Landscape with Lawn (2015-16) contrast and harmonize with the wedge and diamond shapes of pavement surrounding them, counterpointed by the humorous grace notes of telephone poles in the distance and a squiggly sine-wave bicycle rack in the foreground. The large multipane window in Reflection (2016) reveals a view of road and trees behind the viewer, while in front all we see are white doors, grids of tiles and a lawn of gray gravel surmounted by a small island of unrolled sod.
If Marsolier makes the most of digital technology without falling into its clichés, Rachelle Bussières' 14 abstract, medium-sized works in "Strata" combine a painterly approach to materials—inks, plastics and glass substrates, I am guessing—with silver-nitrate photography and solarization, to create subdued landscapes that are not quite landscapes, or are more than landscapes, in delicate grays and browns that recall the albumen prints of early 19th-century photography. Solarization, i.e., the flashing with light of a partially developed photographic print, causes strange tonal reversals and halations, and was used by Surrealist photographers. Bussières' composite landscapes (which may be related to Surrealist Max Ernst's experiments with decalcomania) are thus completely fabricated, with the organic form deriving from the physical properties of the materials—and Bussières' interpolations (again, I conjecture) of traditional photo transparencies. Each of the prints—e.g., Dilemme Synthétique (2016), Materia (2015), Caverne II (2016), Untitled (Mirror) (2015)—is unique, as are these two visionary photographers.