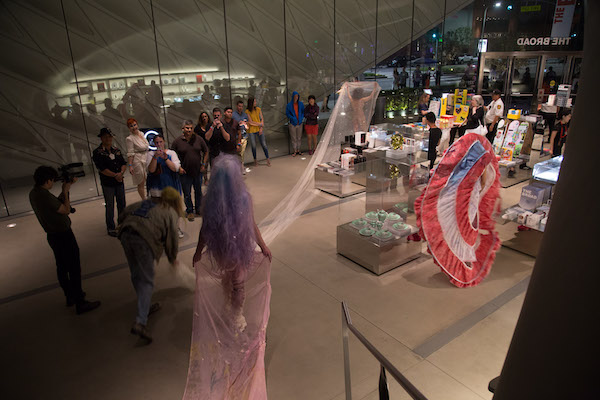 Hot Summer in the City
Under the Broad-Walk
Summer festivities abound in the warmer weather. There's New York's Shakespeare in the Park, the Pitchfork Music Festival in Chicago, and Cinespia Cemetery Screenings at LA's own Hollywood Forever. Museums are no exceptions putting on events. LACMA used to host summer jazz fests. The Hammer hosts dance parties. In the last few years, The Broad took advantage of this beach-season custom. From 2016 to 2018, director of audience engagement Ed Patuto, along with curators such as James Spooner and Brandon Stosuy, allowed a host of iconoclastic artists to run wild through the museum's pristine halls. These events were deemed "(Non)objective Summer Happenings."
"Happenings" first appeared on the art scene in 1963, when Allan Kaprow held an anarchic New Jersey–based "Tree Happening" that he hoped would abolish the "artist-audience" divide. The Broad's update of this fest worked to dismantle gender barriers through the inclusion of queer and nonbinary artists. Still, it didn't seem likely that the Broad could achieve its radical goals, since the museum is a luxury behemoth riddled with disciplinary mandates. Happeners would arrive at the Broad's scary, Death Star-esque building knowing that if they crossed the artist-audience divide by hugging a Murakami they would be arrested.
But Ed Patuto pulled off great shows. When reached by telephone, he explained that the Happenings were inspired by his life in New York circa 1970s and 1980s. "Back then you'd go to gallery shows and performances in lofts and then go hear music," he said. "It's not like any of these things were separated from each other, and the core of [the Broad's] collection is a lot of art from the '80s created in LA and New York. I wanted to give people a flavor of what was the environment that helped produce all of that artwork that they're seeing on the walls of the museum."
One of the finest examples of Broad hybridization occurred in June 2016, when the LA-based Mutant Salon collective occupied its Oculus Gallery. Here, Happeners encountered a beauty parlor filled with gender "mutants" who fashioned themselves out of merkins, makeup and pantyhose play. Just as fantastic was Brontez Purnell's August, 2016 action, when Purnell skateboarded around the Broad's foyer dressed in BVDs and threw toilet paper rolls at the audience while accompanied by a Ronald Reagan soundtrack.
But could anything have been more fun than the Kembra Phaler's concert the following year? In June, 2017, members of Phaler's art band, The Voluptuous Horror of Karen Black, jammed around the Broad dressed like troll dolls, while inserting reversed crucifixes into their orifices and screaming tunes like "Ghost Boyfriend." Later that August, radical Catholic Linda Mary Monsato appeared in the lobby dressed like Mother Teresa. Happeners approached Monsato looking for blessings, which she administered by yanking them back and forth by the neck while singing "Lullaby and Goodnight."
"I think that what it did is it put LA artists in a context with other artists from here in the U.S. but also internationally," Patuto said. "I also think that it showed that LA is a place where the community supports greatly innovative programming."
The Broad continues to host vivid summer programs, and this year expanded its repertoire to harmonize with its blockbuster show Soul of a Nation: Art in the Age of Black Power 1963–1983. It held a series of jazz concerts (one of them curated by Quincy Jones) meant to complement the thrilling range of artists featured in the exhibit. Music had always been part of the Broad's summer scene, and the Soul concerts upped the ante with galvanic performances by artists such as saxophonist Roscoe Mitchel, pianist Brett Carson, and the galactically talented vocalist and dancer Eryn Allen Kane. With its burgeoning tradition of hot-weather entertainments that merge politics, song, movement, sculpture, video and painting, we will be excited to see what the Broad plans next summer.