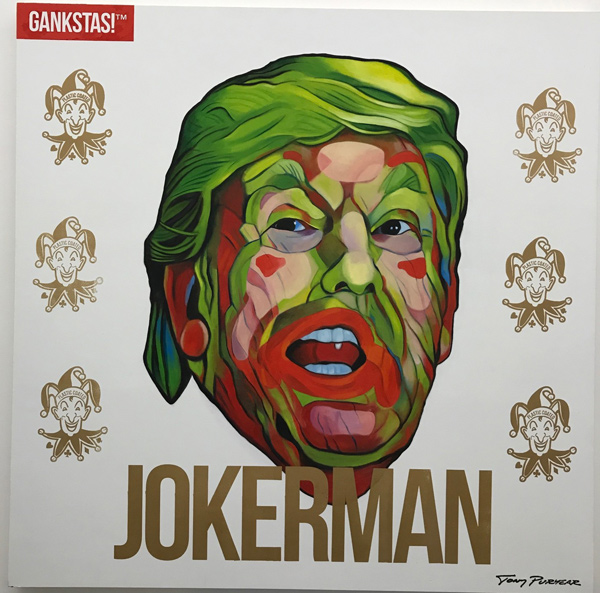 Gankstas, Hipsters, Art Lovers
SoLA, Radiant Space, Jason Vass, and Coagula
From an immersive psychedelic installation to on-trend political art, the first Saturday night gallery openings of the new year were bursting with visual and social pleasure.
At Jason Vass in DTLA, artist Tony Puryear's weekend pop-up, gankstas! Know Your Thug, skewered what may be America's least-loved "crime family," the Trump syndicate. Wearing the exhibit's eponymous Gankstas black and gold T-shirt, gallerist Vass presided over a boisterous scene that included a hot dog cart and artist Puryear, holding court near limited edition prints of his satiric political portraits. Puryear has been creating the series since the election and terms it "my march and my sit-in…the work I'm compelled to do."
In West Hollywood, a doorman regulated a two-block line at Radiant Space. The reason for the wait: artist Laurie Shapiro's walk-in installation, Before You Were Born, on view until February 3. A glittering textile-based mixed-media Aladdin's cave, every surface was transformed by sewn and painted materials. Alien flower-like lamps glowed, foil covered the floor, a dancer—a painted artwork herself, moved through the exotic mix of rich palettes bedazzled with gold and silver, packed with hipsters and art lovers.
Coagula Curatorial, always a flashpoint for art in Chinatown, offered the first exhibition in the gallery's 2018 New Curators series, The Abstract Power Show, on display through the 14th.
Sea-bright blues dominated the work of curator and artist Loren Philip; Emily Elise Halpern dazzled on canvas with sharp shades of green, and in person, clad in leather. Jimi Gleason's metallic palette shimmered with light while Steve Seleska's sculptural work, fissured with black canyons, evoked images of an alien world. Farzad Kohan and Michael Torquato DeNicola also offered lush works.
LA-based photographers Ray Carofano and Anita Bunn presented visceral and atmospheric images at South Bay Contemporary's SoLA gallery.
Bunn's dramatic, elegiac trees and sky were painterly and rich; Carofano's 23-years-in-the-making black and white Broken Dreams focused on images from the Mojave desert, hinting at tragedy and redemption. Gallerists Peggy and Ben Zask and a convivial crowd chatted with both artists. The show is on display through February 4.