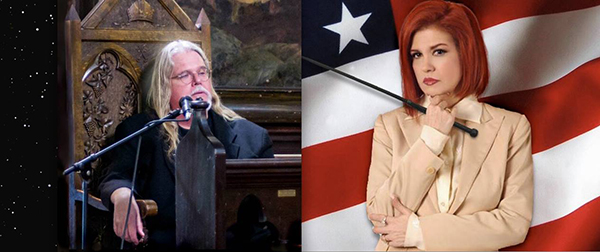 Dominatrix Debates Artist
First Presidential Debate Between Dominatrix Tara Indiana and artist Jeffrey Vallance, September 3, 2016, Chinatown, Los Angeles
The event invitation to the art performance piqued my interest; after all, who wouldn't want to see an artist and a porn-star dominatrix in a motel room "presidential debate" smackdown? Plus, there was the added attraction of an older, established "grande daminatrix" presiding over the proceedings. It seemed like the perfect use of a low budget motel room so I quickly spent $40 to assure myself, and my date, of bedside seats.
The week before the event passed quickly; so quickly in fact, that I never fully explained to my date what was going to happen until we crossed the motel parking lot. "It's not your usual motel room," I said, "The bed sheets are made of rubber and there may be blood on the walls, but not much. Anyway, only a limited number of people are allowed in so you can get out fast if you feel threatened."
We arrived at the motel room where a man in a suit stood blocking the door. He looked at us with quizzical laziness so I told him we were there for the debate and he slowly opened the door and ushered us in. Two double beds took up most of the small room, and the remaining space was occupied by the eight other people sitting and lying on the crumpled sheets and pillows. The event maître d' went back outside after confirming our right to be there, saying nothing and showing no interest; the door shut. We fared no better with the occupants of the room, who were all staring at a flat screen monitor on a table. It already didn't seem right at all to me, so I tried to focus on what was on the screen.
The monitor was divided into four live video feeds, each offering a different view of the same room, somewhere else in the motel. The first camera showed a bed covered with black rubber sheets, vibrators and dildos as the porn-star dominatrix lounged on top of everything, looking bored and distant; which is, to be fair, what a dominatrix is occasionally asked to do. The second view was of the artist reading from some text as a scrambling audio feed cut in and out; near him sat the grand dame mistress. The third feed was a view from behind of two semi-nude people kneeling and facing the wall by the bed; and finally, the fourth camera was pointed toward these two slaves' faces, which were covered by animal masks.
The garbled audio feed was becoming intensely annoying to me but no one else in our room seemed to notice. In addition to this, every now and again the door would open and another person would be let in; soon the beds were crowded with people and the whole scene was getting more and more irritating to me. I finally got up and went outside of the room where our host stood watching two iGirls squealing about their clothing and beseeching him to take their photo for Instagram or some shit. My presence didn't seem to register in their reality at all, so I tapped him on the shoulder and asked him outright, "So, this is it? Are we going to see any live people? Or are we just supposed to watch this on TV?"
The man turned to me and said with droll annoyance, "No, that's pretty much it," then turned back to the iGirls. At that moment the door opened and my date stepped out, looking at me questioningly. "C'mon, let's go," I told her, "This is bullshit." The doorman shrugged, as if to say he agreed, or maybe he just didn't give a fuck since we weren't asking for any money back. "Not much bang for the buck, is it?" I said as we left.
All I could think of as I drove home was how such events give Art a bad name, resulting only in turning people off something they really need to access. I guess I should have known that for 40 bucks all I would get to do is watch the performance on a small screen with shitty audio; after all, the other people in the room seemed satisfied they were getting their money's worth. It's a fucking insult and yet the art world is full of, to quote Jim Thompson, "people who go around sniffing crap with their mouth open, and acting surprised … when someone kicks a turd in it." So, shut your mouth and feel free to judge harshly; you may improve things for all of us.