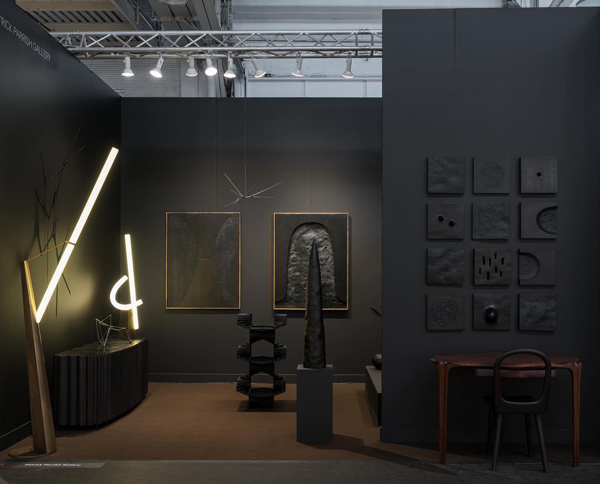 Design Crosses Art: SF Art Fairs
FOG Design + Art; UNTITLED
Sometimes art looks like design, and sometimes design looks like art. It's hard to know the difference these days as both artists and designers seemingly want to merge one with the other. Either way, the 5th edition of FOG Design + Art was the perfect hybridization. FOG likes to promote the D for design to attract non art fair patrons; however, the A was in full force this year filling a majority of the 45 booths. The presence of established New York galleries was palpable, among the few booths from Los Angeles and San Francisco, and a sprinkling of international galleries.
Walking into Fort Mason Center the first gallery you encountered, up front and center, was David Zwirner, from New York, with an unbelievably precious installation of six small tied-and-looped wire hanging sculptures by San Francisco's beloved Ruth Asawa. The gallery now represents the artists' estate. Across the aisle was PACE from Palo Alto with show stopping works by Kohei Nawa from Japan of taxidermy animals encased in large glass beads including a deer, a penguin and a baby chick. This was a surreal spectacle especially in the nature rich Bay Area.
Another high profile booth from New York was Cristina Grajales Gallery, with four large seating sculptures by Mike and Doug Starn, made from bamboo and rock climbing cords, inspired by their Big Bambú installation on top of the MET in 2010. Marian Goodman presented a large semi trompe-l'œil tree sculpture made from Carrara marble and bronze by Giuseppe Penone. Nicholas Kilner, a design space in Brooklyn specializing in 20th Century Italian artist, architects, and designers, presented unique modernist furniture and lighting fixtures that were of such high quality, they seemed to be awaiting delivery to the nearest museum. Patrick Parrish, although a smaller booth, made a strong but subtle statement with an all black display, including a delicate wire-like sculpture by Julian Watts of Oakland, made from ink stained hand carved eucalyptus. And, one of the more exciting booths from the moment the fair opened was Gavin Brown's Enterprise with a neon wall sculpture by Martin Creed in glowing letters stating "Fuck You," which reportedly sold and was removed quickly as it was attracting the selfie crowds, and causing too much distraction.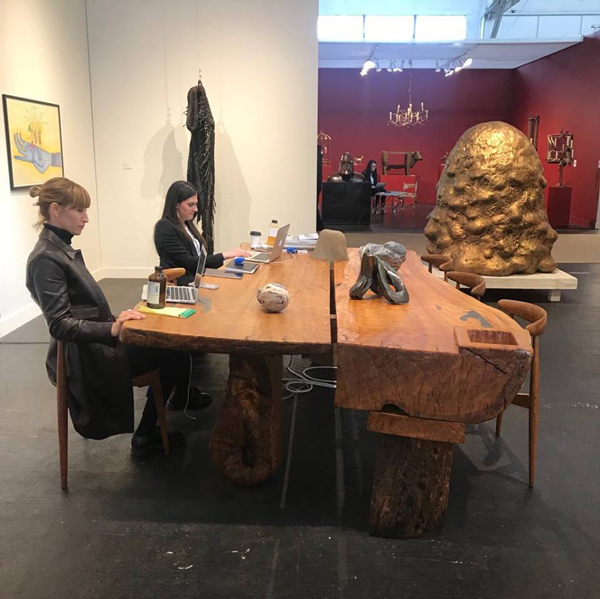 Blum and Poe from Los Angeles made a big Bay Area statement with a massive J.B. Blunk table formerly owned by Sam Francis. The 1985 hand carved slab of redwood seemed reasonable at $350,000, almost the same price of a large freshly cut Redwood tree. Reform/The Landing, twin Los Angeles galleries that represent several Northern California artists also had a large river rock sculpture on a redwood plinth by J.B. Blunk from 1982, although the nearby c.1960 mobile drink cart by Paul Tuttle, made for Baker Furniture, appeared to be stealing the show. Edward Cella Art & Architecture in Los Angeles presented renderings by Lawrence Halprin, Buckminster Fuller, Neutra and Soleri. Casati Gallery from Chicago showed important work by Italian self-taught artist Carol Rama. And, Volume Gallery from Chicago presented a synthetic long blonde hair wall sculpture by Los Angeles artist Tanya Aguiñiga, which fairgoers could not stop petting.
Of the San Francisco galleries included, Hosfelt Gallery presented one of the ultimate examples of artists working at the interstice of design and art, showing several perceptual pieces by Emil Lukas including his thread paintings and hanging tube sculpture. There were thought provoking programs throughout the four days, including panels on female artists rising in representation and marketability, artists as social activists with Theaster Gates, and a provocative public art presentation by Jill Manton discussing plans for the upcoming Treasure Island development situated in the San Francisco Bay. Although FOG is small compared to most art fairs, they still managed to allot space for two smaller cafes and a large dining area (Fog Scape) that occupies at least three booths. Foodies were lined up at all times, often blocking the isles. Compared to your typical art fair, FOG feels like an exclusive luxury living experience. You can even buy earthen dinner plates, as you are leaving the fair, designed by Stanlee R. Gatti, FOG producer and party designer to the mega elite. Very Bay Area.
Last year UNTITLED arrived in San Francisco for its first West Coast edition at the cavernous venue, Pier 70, an undeveloped shipping site in Dogpatch. With the fair came several galleries from around the world that had been unknown to many in the Bay Area. At that moment San Francisco felt like it had finally achieved international status in the contemporary art world. However, for the 2nd Edition, they quickly decided to move the fair to the Palace of Fine Arts, the old Exploratorium space, and closer to FOG at Fort Mason. This year evidenced a greater presence of local nonprofits. It appears a reset was in order.
Gallery highlights included DENK from Los Angeles, featuring work by Tim Hawkinson, including a multi-appendage urethane "thing" of pink mushrooms and a single human hand. Onestar Press from Paris installed a playful installation by artist Daniel Gordon titled Plant & Vase Shop. It included shelves of three dimensional photo sculptures of vases and plants that the artist uses to photograph different still-life compositions, also on the adjacent wall. The Instituto de Visión from Bogata presented work by Carolina Caycedo of London, an ecological neo-colonization plan with hanging netted sculptures retaining natural resources including ore mine-tailing stones extracted from her home country of Columbia.
David Zwirner at FOG, was the only gallery that was also at UNTITLED this year. At the Palace he presented paintings by Oscar Murillo from Columbia including several large-scale colorful action paintings with fragments of text and ephemera. Chambers Fine Art from New York was buzzing with fairgoers looking very closely at the pinpricked handmade paper works by Chinese artist Fu Xiaotong. Also mesmerizing were psychedelic needle work paintings, with words and phrases camouflaged inside the embroidery, by Korean artist Kyungah Ham at Tina Kim Gallery. Eduardo Secci Contemporary from Italy presented ethereal semi abstract paintings by Rome artist Sabrina Casadei. They were as colorful and yummy as a landscape of gelati.
Two New York galleries presented work by under-recognized mature artists. Eric Firestone Gallery from East Hampton had a unique work by Howard Kanovitz titled The New Yorkers from 1967, a plex light box with photographic cut outs of the artists' friends including Alex Katz and Larry Rivers. Todd Merrill Studio included several bold large-scale abstract paintings from the 1970s by Knox Martin, a member of the New York School who is mainly known for his large scale murals.
Zilberman Gallery from Berlin had a large display of diverse ceramic works by Burçak Bingöl of Istanbul, including reworked and compressed clay, sliced, cut, and heavily glazed. Anita Beckers Galerie from Frankfurt had a few transparency light box works by Kota Ezawa, who is also represented by Haines Gallery in San Fransisco presented at FOG. And, Anglim Gilbert Gallery of San Francisco hung a nice display of works by Jacob Hashimoto of New York who makes wall sculpture with a layering of kite-like paper discs tied to wooden pegs referencing Japanese constructions.
UNTITLED offers lots of sensory engagements with art installations, a lounge with couches where you can browse through art books, a bar, a radio station with live interviews or UNTITLED RADIO, and a cinema with films or UNTITLED CINEMA. They even have a booth, UNTITLED POSTERS, that offers free tear sheet posters and plastic covers to carry them in. All these features,  organized by curators named on the walls, engendered feelings of special spaces for special people. With so many programs and free spaces to hang out in—and not to buy art—it was easy to forget you were at an art fair.