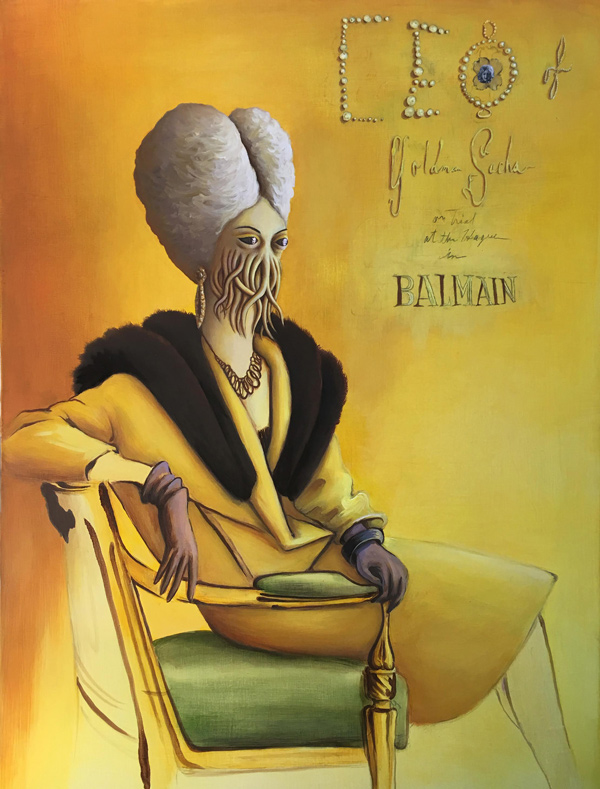 CB1 Gallery: Georganne Deen
Georganne Deen did not become disillusioned by recent geopolitical events—she's been feeling that way for a long time. It's just that her newest paintings reflect certain newly topical aspects within the widening gyre of social entropy, expressing in both style and content the psychological effects of cultural oppression.
The protagonists of her dystopian fantasies look, and feel, sketchy. They are hybrid creatures merging human, alien, and ghost which are rendered in a fractured, fraught, gestural style that visually communicates their existential fraying. An array of fancy ladies, outlaws, and meat-faced businessmen express, in their retro fashion sensibility, flatline attitudes, mottled physiognomies, and postures of wistful resignation, the frustration and dread that roils their innards and manifests outwardly in mutation and decay.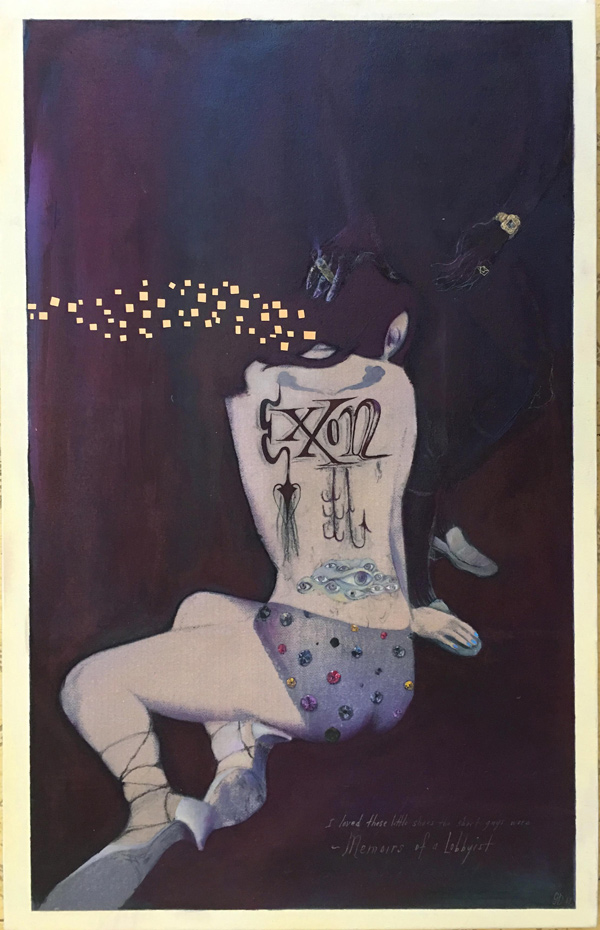 Georganne Deen,
Memoirs of a Lobbyist
(2017), courtesy of the artist and CB1 Gallery.
Working in various combinations of oil, graphite, collage, and photo-transfer on muslin, linen, and canvas, Deen situates her characters in textured, aged-looking monochrome grounds in predominantly earth tones with the occasional brighter jewel tone. These are not empty spaces. They are color-keyed abstract settings that reference the shades of the clouds and fog that envelopes the checked-out citizen. Whether by serving shady masters, chasing false promises of youth and beauty, pushed into fossil fuel complicity or pharmaceutical comas by aggressively cynical marketers, disgruntled by their own gilded cages, or victimized by their greedy brethren, all Deen's characters share a suspicion of both themselves and the world around them.
Where Deen excels is in putting those feelings into the style and form in which they are depicted, so that the paintings themselves adopt a kind of decayed aesthetic, with moments of tightly rendered clarity amid shifting planes of disintegration in visual corollary to her narratives.
Georganne Deen, "Psychic Violence in America," January 6 – February 17, 2018, at CB1 Gallery, 1923 S. Santa Fe Ave., Los Angeles, CA 90021. cb1gallery.com