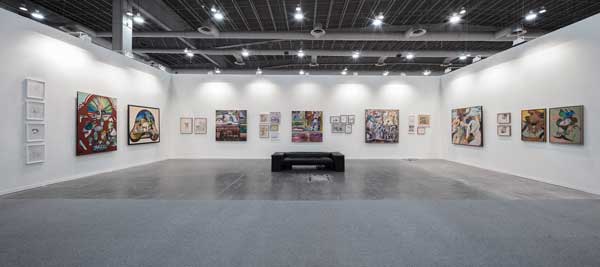 Zona Maco Art Fair Report
Latin American window from Mexico City
As every year, since 2004, Zona Maco, one of the most important Latin American art fairs, was carried last week in Mexico City with the participation of more than 150 galleries. Founded by Mexican Zélika García, Zona Maco is such a big and social event in a city plenty of museums—170 according with the Ministry of Tourism—and with an increasing number of contemporary art galleries.
Besides international and well-known like Americans Gavin Brown, Gagosian, Sean Kelly and David Zwirner, or the Parisian Laurent Godin, this edition was characterized for the prevalence of Mexican galleries like, Luis Adelantado, Arredondo/Arozarena, Patricia Conde, Hilario Galguera, kurimanzutto, OMR and Proyectosmonclova from Mexico City; Curro, Páramo, Tiro al Blanco and Travesía Cuatro from Guadalajara; GE from Monterrey; and Yam Gallery from San Miguel de Allende. RGR+ART (Caracas), Vermelho (Sao Paulo) and Walden (Buenos Aires) were among the few participants from South America.
Galleries from LA had also a meaningful presence. Overduin & Co., Regen Projects, Luis De Jesús, Marc Foxx, ltd los angeles, Steve Turner and Mama gallery, attended.
Mexican House of Gaga, which recently opened a space in LA, drew attention with its exhibition of Juan José Gurrola paintings. Gurrola (1935-2007) was a Mexican artist, best known by his theater plays, performances and extroverted personality. The artworks presented honor artists like Philip Guston.
On the other hand, Puerto Rican Galería Agustina Ferreyra and Cuban Servando Galería de Arte were part of New Proposals section. Based in Havana, Servando showed artworks of Leandro Feal (photography) and Osvaldo González (light screens).
And for the lovers of modern art, Zona Maco had a specific section with the participation of galleries like Galería de Arte Mexicano GAM (Mexico), Jean Mathieu Martini (Paris), Smith-Davison Gallery (Miami/Amsterdam) and Galerías Cristóbal (Miami), among others. Artworks of Mexican classics like Diego Rivera, David Alfaro Siqueiros, Rufino Tamayo, Mathias Goeritz (German-Mexican artist), Jesús Guerrero Galván, Agustín Lazo, and Chucho Reyes Ferreira were exhibited.