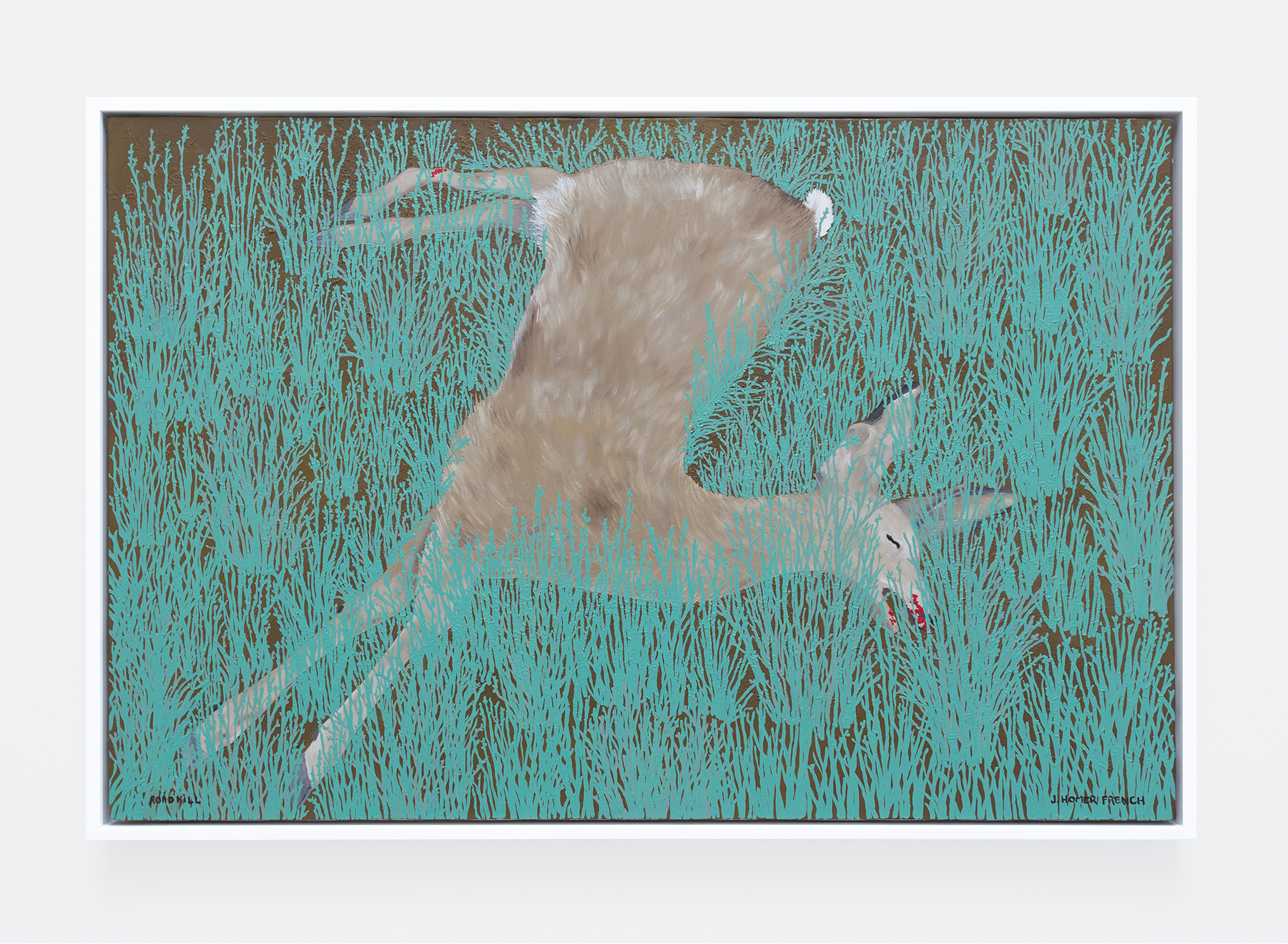 Various Small Fires: Jessie Homer French
Jessie Homer French's paintings nullify categories like sophistication and naiveté; embodying aspects of both, they fit into neither. As implied by the show's title, "Food Chain," harsh realities figure prominently in French's depictions of subjects that include fishery, graveyards, road-kill, trash-ridden trailers, and burning paintings. She often portrays these unappealingly somber actualities with such tenderness that they seem almost bucolic.
Simplified forms and flattened perspectives evince sui generis painterly adroitness in line with French's diaristic personal vision. For instance, in Road Kill (again) (1998), the texturally raised painted outline of a dead deer subtly connotes a scab, while embroidery-like grass blades echo the movement of fur and dripping blood. Grandma Moses is an obvious reference; but French's scenes are grimmer; existential unease is embedded in their quaintness, or sometimes vice versa.
For example, two cemetery paintings depict nicely dressed buried bodies. Shown in cutaway, some gaze outward as though in suspended animation. Never having skeletonized, they seem more dormant than dead. In Frozen Ground (2003) shows a leering wolf looming over interred corpses as though guarding them. Somehow, this canine cliché of naive art works. 
Like those of Moses, Fairfield Porter or even Emily Carr, French's paintings document her localities. Regional references abound; and titles prominently written on each painting affect a vernacular ambience reminiscent of margin-captioned snapshots or old postcards.
The sole indicators of population in Lee Vining, California (2000) are "SCHOOL" painted on the focal stretch of asphalt road, buildings among snow and barren trees, and a few branded signs typical of the seemingly disproportionate prominence of large retail chains in rural areas. This scene's bleak familiarity transcends time and place. And with its combusting pyre of paintings, Three For the Fire (2006) reflectively symbolizes its own transitoriness.
Jessie Homer French, "Food Chain," April 15-May 27, 2017 at Various Small Fires, 812 North Highland Ave., Los Angeles, CA 90038, vsf.la