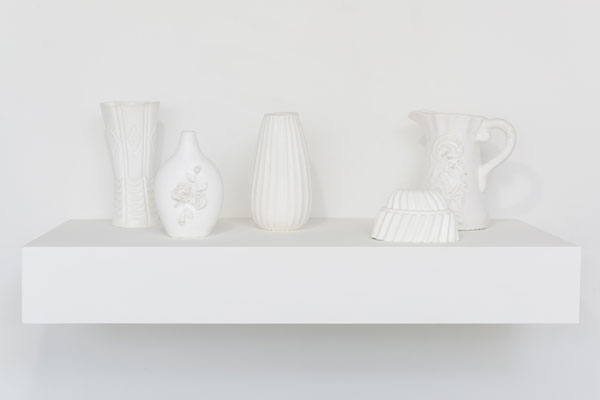 A Universal History of Infamy: Virtues of Disparity
18th Street Arts Center
Much like the Jorge Luis Borges book after which it is named, the 18th Street Arts Center's PST: LA/LA exhibition addresses history and its delineations, whether entirely or partially fictitious, in order to question the role of master narratives in general, and particularly in the case of the LA / LA (Los Angeles and Latin America) diaspora.
In his collection of stories, Borges gives the "histories" of such infamous people as Billy the Kid and John Andrews Murrell—fictionalized by Borges as Lazarus Morell; while much of what he writes is relatively factual, an ongoing intrusion of invented and modified details causes a reader to question the overall veracity of his accounts.
This ambiguity ties into the small-scale works organized for the gallery at 18th Street Arts Center in that through  various modes and utilizing diverse genres, they deal with investigating the shortcomings and inexactitudes of different systems of transcribing and historicizing an authentic telling of the tales about what constitutes Latin America(ness) and its dislodging into the United States.
As with Borges' writing, these works provide an indexical entrance into the processes and histories being studied, allowing the viewer to follow the deviations and divergences of this art from a "neutral" historical retelling. In fact, these works together reject any pretense of making history neutral.
Carolina Caycedo's Dependencia / Dependency (currency insertions) (2012), uses ink stamps on banknotes that carry the respective values of the minimum monthly wage, a gram of cocaine, and a liter of gasoline in six different cities (three Western and three Latin American) to show both the varied costs and question the means of establishing material values across a globalized culture.
The set of projected color slides that comprise Runo Lagomarsino's ContraTiempos (2010), faithfully track the artist's search in the Ibirapuera Park of São Paulo for cracks and stains in the concrete pavement that resemble forms looking like the South American continent.
Josefina Guilisasti creates Objetos Light (2014) by juxtaposing a shelf of white cast silicon rubber objects such as vases or pitchers with a video loop in which these solid-looking objects are dropped and become surprisingly fluid things that bounce and shimmer as they hit the ground. Here, the genre of the still life gives way to alternate understandings of objectness and the tracking of unforeseeable histories.
In the end, much like Borges said of his text, it is in the value of contrasting the different versions presented that the meaning of this work is revealed. Its aesthetic bearing reveals the relations that underlie the various and differing interpretive axes, as it disassembles and scrabbles the underlying historical markers. These visual works offer a glimpse into larger research processes, and the viewer is invited to observe and appreciate or to go on musing and extrapolating meaning. If the audience follows through, they will discover a mutable set of historical accounts, which is exactly the point and the virtue of noting the disparities.