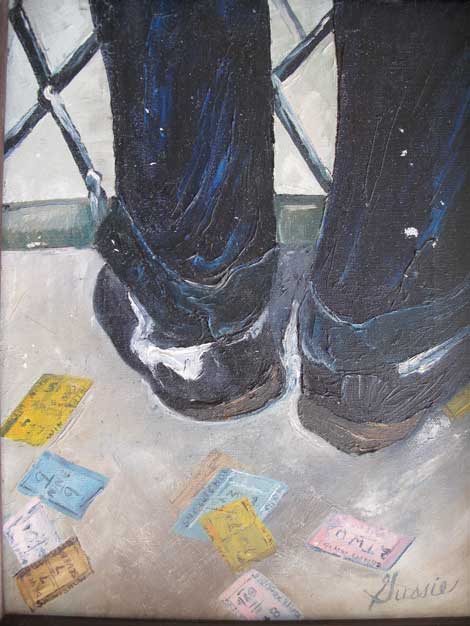 TOTTENHAM CORNER
Go, Baby, Gone: Requiem for a Fallen Racetrack


The horsemen will move along. Santa Anita and Del Mar will pick up more dates, while Los Alamitos will expand its oval to thoroughbred dimensions. The locals will remain and use the OTB section of the casino as a venue for satellite wagering. The descent into an exclusively virtual world will continue as bigger than life pageantry dissolves into video game dimensions. The plaque commemorating such Gold Cup winners as Native Diver and Lava Man will remain standing in the midst of a housing development, while the bones of Landaluce and The Great Communicator will be exhumed and moved to equine gravesites elsewhere.

"Pave paradise and put up a parking lot": Hell, most of it already was a parking lot. Seagulls swoop over empty tip sheet booths. Purgatorial lines stretch in front of teller windows, the faded patchwork tile worn down by the soles of a billion losers—who always come back for more. The apron itself, overlooking the home stretch, where case-hardened horseplayers shuffle in pent-up anticipation and slump against walls in sullen resignation, resembles a prison yard. And it is a sort of prison, with no get-out-of-jail-free card. You're stuck there, knowing you can't leave until the last race is over, until you are spat out at the end of a riveted afternoon, sometimes elated, usually deflated, always drained: the high price exacted for such a reliable method of escapism—the suspension of time and worldly cares; and reality sinks in on the familiar empty-pocketed walk of shame through the parking lot as you realize you weren't playing with Monopoly money after all, and once again you vow in vain, never again. The site of countless defeats, when hope was quickly and cruelly extinguished, and afternoons of madness when all the pieces of the puzzle fell into place so simply that you laughed, almost derisively, at the ease of it all. Yes, they let you win sometimes, or you wouldn't keep going back to lose.

It is remarkable that such a pursuit is legal: this parallel universe where, while the rest of the world is at work, you can sit at a racetrack bar on a Thursday afternoon, being pulled this way and that as you watch figures flickering hypnotically on the odds board, completely immersed in the sanitizing purity of numbers; "the action," if you will. Senselessly, it makes sense, like sex, only the rush is repeated many times throughout the course of a race card: a dozen petit morts and deflated afterglows that are nullified by the next race, as you fade into that exquisite dead end feeling, the place emptying as you stick around to play the last few simulcast races with a few stragglers, unwilling to leave the closed world behind, to let go of its fundamental sanity, its refreshing but devitalizing lack of ambiguity. As they say, sport matters because it doesn't matter. Despite its baffling unpredictability and attendant crookedness, the lack of artifice, compared to art, politics and almost everything else, is refreshing.

I had been hoping to bid a fond farewell with a measured tribute to the special flavor of Hollywood Park, to the slashing drives down the lane, the horses that ran their eyeballs out, their daring young jockeys, and the singularly vocal Jamaican contingent who yelled vicious curses at them—bloodclat this and that—such intemperately raised voices as will never be heard at its more glamorous crosstown counterpart; to the many unique and stirring qualities of this historic venue. With this in mind I ventured out on the last weekday of racing. Now that the place was on its way out, the usually empty facility was swarming with the kind of camera-wielding crowds whose presence on a more regular basis would have kept the place alive. Once there's no more of you to go around, people can't get enough of you. A sentimental journey was my intention but instead of savoring the atmosphere, I was immediately sucked into the usual irresistible betting frenzy.

Once tapped out, in a familiar frazzled state, I attempted to appreciate my soon-to-be-razed surroundings. From high in the stands I blurrily surveyed the kingdom of regret, too drained and disgusted to wring any poignancy from this parting occasion. I just wanted to get out and begin the long and uselessly painful process of decompressing that wouldn't really be over until I woke up the next morning. Staring downwards, I realized that throughout the hundreds of afternoons I had misspent out there, I had always been too distracted by "the action" to pay attention to the delights of the infield with its long, narrow lake—not much smaller than the one in MacArthur Park—surrounded by palms and drooping willows, with a charming little wooden jetty and mingling migratory bird life: signature pink flamingos, gulls, cranes and ducks floating peacefully in a strange island of verdant stillness, untraversed by man (other than the maintenance workers who operate out of the inviting-looking building behind the odds board) that surely warrants preservation as a nature sanctuary which might continue to flourish in the midst of the encroaching development, with the birds as oblivious to their new surroundings as they were to the rundown racetrack and its patrons. The giant "Go Baby Go" floral arrangement on the side of the hill, however, will have to go.