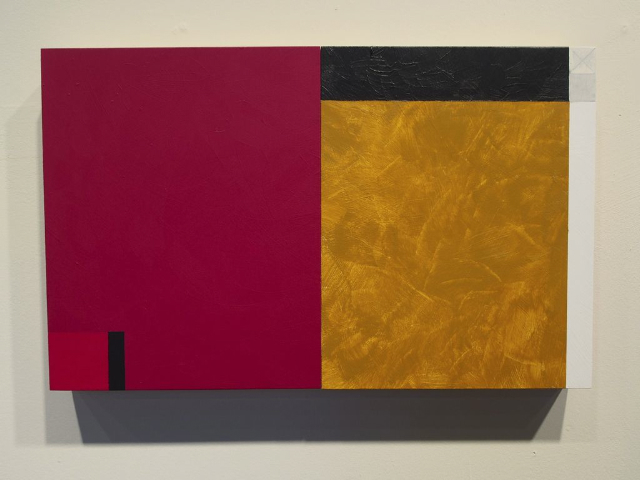 Tom Dowling
Brett Rubbico Gallery / Los Angeles
Two dozen drawings, paintings, constructions and hybrid pieces from 2011-2012 express Tom Dowling's keen knowledge of architecture and art history. These pieces allude specifically to theories of modernism as expressed in early 20th-century architecture and in mid-century visual art, the latter including German Bauhaus, Minimalist and Hard-Edge movements, and artists Mondrian, Rothko and Diebenkorn. Within Dowling's deliberately non-painterly works, circles and squares are elevated to visual harmony, grace, and even to meditative and iconic states. Further, the configurations of these are pared down to their basic elements, resulting in impeccable design that bridges reductive aspects of modern art with the simplification and "form follows function" aspects of modern architecture. Indeed, many of his paintings suggest architectural depth, while his constructions employ paintings within three dimensions. As a collection, they provide "Insider Information" (the exhibition title) about the nature and beauty of architecture reduced to its essence.
Four drawings on paper in the series "Sacred Geometry" each contain a small abstract, colored design made of circular and square shapes interacting. These organic drawings reveal myriad ways to reconfigure simple shapes. A second series of double panels, with titles like Equinox and Solstice, features circles and squares and other basic shapes intersecting at odd angles. Several pieces—Chiesa, for example—have conceptual elements, revealing just a segment of the circle, leaving the empty space to our imaginations. Aventino is dramatic with a deep magenta rectangle dominating the left panel, contrasting a textured gold panel on the right. Isoloa Tiberna and a few other pieces are playful exceptions with flowing strokes on solid backgrounds.
The hybrid constructions in this exhibition are miniature architectural masterpieces and attain coherence for the show. Several, 30 inches wide or less, are created from wood, metal and cardboard, with acrylic paint and graphite; each is a reductive version of a building that the artist has visited. Dowling's interest in architecture, particularly Italian, compelled him to spend a year in Rome, perusing Baroque churches, paring the buildings down to their essential, classical shapes, using his imagination to remove the flourishes. Along with his understanding of modernist art movements, the artist has distilled the nature, beauty and harmony of classical European buildings in these sculptures.
Apparently serving as models for larger constructions to hopefully be created in the future, each maquette features a wooden platform and frame, while several have slender linear "zips," the term used by Barnett Newman referring to lines that traverse his canvases. But "zips" in this exhibition are free-standing, painted wooden sticks that the viewer is invited to pick up and move. In Frieze, Tower Gateway, Golden Path and Passamezzo the artist again employs circles and squares in his designs, several echoing the configurations of the smaller two-panel paintings. Yet with warm wood for the framework and platform, and inclusion of the zip—to engage the viewer, to be moved in any desired direction—the hybrid work is its own world, a minimal version of Joseph Cornell's assemblage boxes, welcoming the viewer inside.