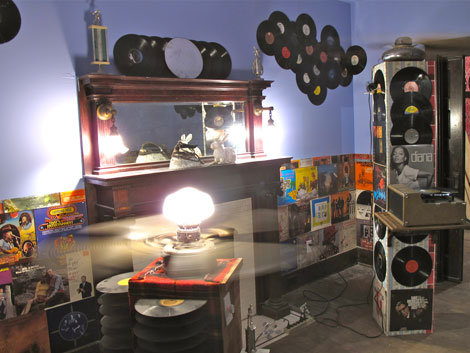 Thorsten Brinkmann
1812 Rialto Street / Pittsburgh
The exterior of 1812 Rialto Street is entirely unremarkable, but venturing into the building provokes a discordant experience akin to tumbling through the looking glass into a fantastical and foreign world. The 100-year-old brick house in a run down area of Pittsburgh—previously home to a booming steel industry—is the perfect setting for a large-scale art experiment that aims to help the city re-imagine itself. Plans are to expand this endeavor to include additional house installations by other artists, as well as an artist residency program.   
In this project, Thorsten Brinkmann, inspired by Kurt Schwitters, has combined found objects left by squatters, his own photographs and readymades to create a surprising, haunting and immersive participatory experience that leaves one contemplating layers of space, lives and time. Brinkmann sought to cocoon visitors, amplifying a disconnect from the world outside as they become increasingly ensconced in the installation.
Ringing the doorbell sounds a gong, and it seems that the gargantuan prayer bell restricting the entrance area is the source of the sound. Light filters into the first floor through "curtains" of records assembled in a pattern across the windows. Brinkmann discovered these objects abandoned by a squatter who worked as a DJ. Found album covers are plastered in a grid covering furniture and walls. Records decorate the sides of plinths atop which ceiling fans whir, creating an unsettling soundtrack; in their movement the fans emphasize the otherwise still silence of the surreal experience.
After climbing stairs to reach the second floor, one is confronted with overwhelming choice. The walls and ceiling of this hallway are constructed of doors. Some are locked, while one gives a glimpse into another realm: a surprisingly convincing campsite in which filtered light gives a dappled effect and architecture disappears behind the forest wallpaper. Only one portal is the correct route forward. Initially, it seems that this former bedroom is another dead end, but crawling into the fireplace, comparable to following Alice down the rabbit hole, leads further into the house. 
The wallpaper designed by Brinkmann and his photographs displayed throughout the home almost disappear amongst the visual cacophony. The artist's self-portraits as curiously dressed faceless people evoke diverse references—a photograph of a reclining figure is reminiscent of an odalisque, an orientalizing element that complements the nearby decorative peacock but is discordant in this cramped space, which resembles the sleeping quarters of a boat.
Progressing towards the attic destination, where a home theater shows a film of a faceless Brinkmann performance, spaces become increasingly difficult to negotiate, necessitating crawling, climbing and moving sideways. Brinkmann successfully constructs a highly controlled experience through compressed, artificially lit spaces, including a hallway, which simultaneously evokes the dizzying stripes of a Daniel Buren installation and the compression of Bruce Naumann's Green Light Corridor (1970). The effect of these spaces is perhaps most jarring as one exits the home to re-encounter daylight in a residential neighborhood.