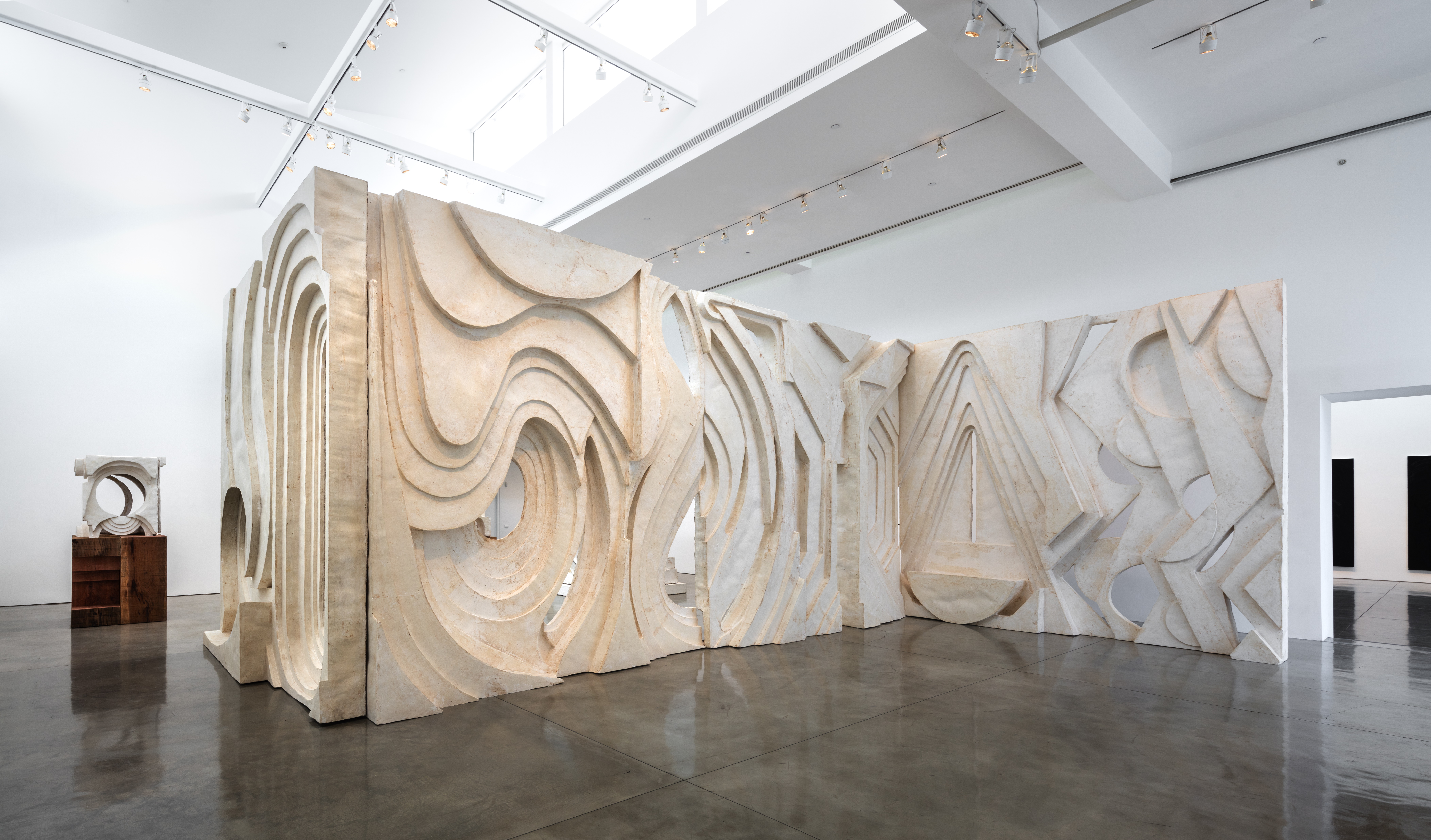 Thomas Houseago
Gagosian Gallery
The first and most physically imposing work in Thomas Houseago's exhibition, "The Ridge," on view at Gagosian Gallery, is Open Wall (Beautiful Wall) (2016). According to his Instagram, Houseago built this wall in response to the election of Donald Trump. This alone is worth pondering.
The wall, cast from plaster, stands 12-feet-high with the patina of plain concrete. Irregular shapes undulate out from the wall like a topographic model turned sideways. Houseago bolted the wall's four panels to the gallery floor, leaving the structural rebar visible and reinforcing the sense of immovability. The wall zigzags 50 linear feet through the room and, like any good wall, bisects the expanse, thus determining walking paths around it, obscuring sightlines, and segregating the space. The wall contains gaps and holes and only one sliver might be big enough for a body to shimmy through. The openings provide fleeting and oblique glimpses of the other side—no transparency here. Besides, no one will try to scramble through the openings; if a visitor were inclined, the monitoring of gallery guards staves off any potential act of transgression.
Meanwhile, behind the wall are three other Houseago sculptures, including one—Untitled (abstract I) (2015)—which elicits a how'd-he-do-that? fascination. Visually imposing, it resembles a giant rectilinear onion whose innards have been weathered away by time, a kind of ashy Brancusi gone wrong in a good way. A dozen of Houseago's paintings hang in Gagosian's South Gallery, each one depicting a malformed black visage that emerges from variations of matte and gloss brush strokes. The stare emanating from the faces, or masks, follows viewers around the gallery not unlike the giant faces of Big Brother described in 1984. The paintings' imposing scale and bleak depictions of a countenance in turmoil makes sense in such inauspicious times as these.
As for Open Wall (Beautiful Wall), the history of walls within art tends to veer towards the divisive. Richard Serra's Tilted Arc, elicited such an outcry from its surrounding community that after an extended legal battle, federal workers cut down the wall and trucked it off to a scrapyard. There's no mention of Houseago's political intentions in Gagosian's press materials, but his social media presence shows he's no fan of Trump. If Houseago wants to protest xenophobia and ultranationalism as exemplified by Trump's border wall, why reify these concepts by building a wall in response?
Trump's wall is no mere aesthetic problem. While Mexicans are fleeing a decade-long drug war and Central American families are so desperate they send off their children to seek asylum, Houseago presents a "beautiful" wall. To approach it with irony fails to address the very real consequences Trump's border wall and policies will have upon immigrants and refugees, thus it does not really address the racial resentment and xenophobia that are driving its construction in the first place.
ADDENDUM: Thomas Houseago's Open Wall (Beautiful Wall) also features a functional bench as well as a door, is a porous, tactile piece with which public interaction, including moving through its door, is encouraged. Our reviewer was not made aware of this at the time of his visit to the exhibition.