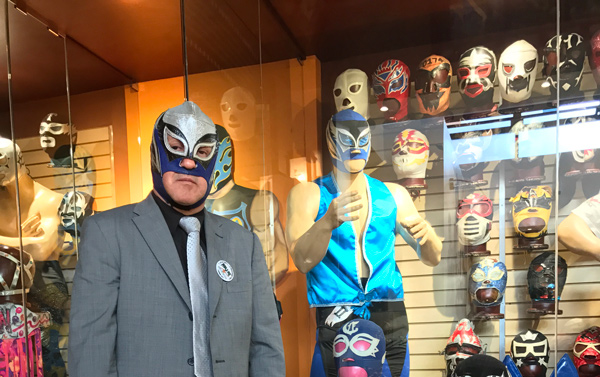 South of the Border Down Tijuana Way
24-Hour Arty People
Tijuana's most famous contribution to art is the painting of zonkeys: combining donkeys with zebras so the pale Equus would stand out in black-and-white photographs. This is a paraphrased version of what I'm told when I mention I'm heading to Baja for cultural endeavors. The other thing I hear is advice not to go because I will be killed. Both responses are related. Founded during Prohibition as a city for Hollywood's sin-loving denizens to escape to, Tijuana has never shed its desperado reputation. Tourism remained the city's lifeblood until, near the end of the last decade, blood began spilling from cartel wars. Tijuana's main strip, Revolución, usually rife with tourists, became a façade of boarded-up buildings. But then, as is often the case, artists entered where others feared to sell cheap souvenirs. Now, the revolución of Revolución is in full effect. Though the language border isn't always easy to cross, the cheap food, craft-beer renaissance and burgeoning art community will make you wish had more than 24 hours to enjoy the zonkeys.


MORNING
PARKING
Driving into Mexico requires Mexican insurance; it's cheaper to taxi or Uber around the city. Either park near the border (for $$$) or park further north (for free) and take the trolley ($5), which drops you off at the entrance to Mexico. You shouldn't need more than a backpack or small rolling luggage for your time there, so I recommend walking the mile or so from the border to your hotel. (TIP: When returning, if the lines are long and you're impatient, there are people who wait and give up their primo space-in-line for money.)  

Hotel Ticuán
Calle Octava 8190
Tijuana's main drag is Revolución, which is always buzzing with bars and taco carts. With the current exchange rate, an upscale two-bedroom queen room is around $100 on weekends. (Rooms can be rented for $10 or $15 in other parts of the city—or rented hourly in the Red Light district.) Needing a central location, and traveling with a friend who needed TJ after a bad breakup, we stayed at Hotel Ticuán. It's about a 20-minute walk from the border, but you'll get an entrée to the street art and murals of Tijuana during your please-come-in-my-store-and-buy-souvenirs trek. You'll also pass bars, discount pharmacies and the aforementioned donkeys (eating corn husks). Though overpriced, Ticuán's location makes it an ideal hub for your art adventures. Breakfast (for one) is included in the reservation, but everyone in your party can eat here on the cheap tomorrow morning. Today, drop your luggage off, get on the hotel's Wi-Fi, alert your friends/family you made it to the hotel safely, then head out to…

Museo del Coleccionista de Tijuana (MUCOTI) y el Museo de la Lucha Libre Mexicana (MULLME)
Calle Hermenegildo Galeana 8186, Zona Centro
Tijuana is a city of discovery. Leaving hotel Ticuán, I walked past a large green gate and heard shouting and slamming beyond it. Finagling my way inside, I came upon a luchador match. It was opening weekend for TJ's newest cultural attraction, a museum dedicated to Mexican pop culture.

MUSCOTI takes up the museum's first floor: display cases filled with pogs, toys found in Fritos, Chespirito merchandise. MULLME, on the second floor, is a hagiography to lucha libre: costumes, movies, clippings of hair.

Perhaps to add more culture to the pop, the museum's top floor is an open gallery space. Silvia Tejeda is the current artist-in-residence (she also designed the museum's window displays). For one series of paintings, Tejeda asked students about their public bus experience. She then covered her canvas with a collage of red tickets (student pricing) and painted their responses—aliens, zombies, sacks of potatoes. The museum plans on hosting local artists—of all disciplines—in this space.    



LUNCH
Telefónica Gastro Park
Av. Melchor Ocampo
Leaving MULLME, taxi/Uber to Telefónica. This trailer park of upscale eateries truly has something for everyone, including La Taqueria Vegein, which serves up vegan and vegetarian versions of the signature street tacos. (An alternative is the Colectivo Nueve off Revolución, which does the same-as-above in a food courty setting.)

Pasaje Rodriguez
In early afternoon, head to this alley off Revolución between Third and Fourth streets. Its history is a microcosm of Tijuana's: originally part of the Foreign Club Hotel and Casino, Rodriguez later housed tacky souvenir shops. Once tourism declined, the alleyway became vacant. But then artists raised their paintbrushes and now Pasaje Rodriguez boasts dozens of murals, hand-crafted artisanal gifts, boutique restaurants and studio spaces. Silvia Tejeda—the artist exhibiting at MULLME—runs Pieza: during the day, kids paint clay statues; at night, it's her studio. 
 
Give yourself more time than you think you might need here. Once you start talking about your interest in art, Tijuaneros who feel the same will take you on side tours. Haydeé Jiménez, after translating for Tejeda at MULLME, invited us to her studio/office above Pasaje Rodriquez.  

Visitors slip on a pair of headphones and lie on a mattress embedded with transducers. Haydeé then sits beside her patients and "paints" on an iPad that translates her circles and finger-spreads into vibrations both sensed and heard. It is unlike anything you will ever experience; even cynical art journalists feel a loss of body. Head to vibroacustica.co and arrange a session before your visit. (Haydeé also invites musicians whose music would complement the vibroacustica to contact her.)

You're not far from your hotel. Check in, bathroom, then walk, or taxi, to La Casa De Tunel.

La Casa De Tunel
Calle Chapo Márquez, 133 Colonia Federal
In outline: an art-loving lawyer built this boat-like house in the 1950s. Later, one of the building's tenants dug a 150-foot tunnel to a parking lot in the U.S. Illegality ensued. In 2004, authorities discovered the underpass and everyone involved was imprisoned. Following years of litigation, the heirs of the original owner "liberated the building and decided to provide the space… for the establishment of an international center for the arts." Now, The Tunnel House intermittently hosts exhibitions and special projects. Check its website (cofac101.org) before visiting, though it's worth the short trek regardless—artists have decorated the outside walls with artes y manualidades (arts and crafts).

Norte Brewing Co.
Calle 4TA
It's difficult to meander around the city for more than a minute without passing a pharmacy or craft brewery. Aficionados should research which brewery carries their favorite blend of yeast and hops; indifferent to alcohol, I ceded the choice to Mantingas, who offers tours of the city at TijuanaAdventure.com. Norte's located off the 5th floor of a parking garage, and the giant pole bisecting the space alludes to its former life as a strip club. Beer or (distilled) water in hand, enjoy the panoramic and pigeon-eye views of Tijuana and the hills beyond the border.  


BEFORE SUNSET
La Frontera – Airport Section
Cuauhtémoc 118, Centro
"Head towards the airport." These are the directions you'll likely need to provide your driver in order to visit this section of the border wall, known as "La Frontera" to locals. When highway 1 hits the border, it banks east; tap your driver and request they let you off at the roundabout.  Admire the red obelisk sprouting crosses, then walk east to understand the sculpture's meaning. Soon, you'll come upon wooden crosses mounted to the rust-stained wall. Upon each cross is a name, city and age. These are the person, the city in which they were born, and how old they were when they died trying to escape into the United States. The crosses have been there for years.  The "Chinga Tu Madre Trump" ("Fuck Your Mother, Trump!") is new.
 

NIGHT
Centro Cultural Tijuana (CECUT)
Paseo de los Héroes 9350
Open each night until 9 p.m., and often hosting evening concerts and lectures, CECUT should be saved until you've maxed out your daylight hours. CECUT is, and will likely remain, the cultural nexus of Tijuana; if you ask taxi drivers where to go for "artes y cultura," they'll drop you off here. Regardless of whether you enter the building, admire from outside the OMNIMAX cinema, referred to by locals as "La Bola"—"The Ball."

In 2008, La Bola was joined by El Cubo, a space to showcase international exhibitions. Check the website (there's an English version) for the current offerings, but previous shows have included Gabriel Fugeroa, Proyecto Civico, and, when I was there, Botero.


DINNER
Caesars
This is the actual birthplace of the Caesar salad, and they treat it accordingly. Vest-wearing waiters wheel a cart to your table that is a double-decker of ingredients to create the salad and dressing. Fresh eggs, lemon, Parmesan, et al, are mixed in a silver bowl and gently painted on four pieces of lettuce. Vegetarian? Just ask them to forgo the anchovy paste. Caesars' remaining offerings are par to sub-par. Their olive tapenade, however, may be better than the best-salad-you'll-ever-eat, and it—and the associated bread—is complimentary. My suggestion: order the large salad (around $6), finish off the tapenade and bread, order more of each, then head out and get street tacos from any of the endless carts ($1) to fill up your remaining stomach space.

Traveler's Choice
Depending on your interests, and ethics, Tijuana offers various late-night activities. While I am opposed to sex workers and strip clubs, I fully support feeling wanted by strangers. It's worth visiting Zona Norte to take in the flashing neon lights and to be endlessly propositioned for sex. (You can try explaining to the prostitutes why they should charge more, but they're not likely to understand and may grab your friend's crotch.) Other options are art-house movie theaters, clubs, breweries, meandering around and taking photos of graffiti and murals, or arguing with your significant other that it actually is completely safe to do any of the above.


MORNING
La Frontera – La Playa
Av. Del Pacífico 4,
Sección Monumental Playas de Tijuana
Near the airport, the border wall is made of corrugated metal. By the beach, it seems made of towering prison bars that wade out into the high surf of the Pacific. Artists and activists use this section of La Frontera as an ever-evolving gallery. When I visited, in late April 2017, someone had recently painted a half–American/Mexican flag with "Love Trumps Hate" and "Al Amor Vence Al Odio." Taxis/Uber should drop you off at the top of the parking lot leading down to the sand. Walk the short trail while admiring the wall art and community gardens, then head south on the boardwalk, enjoying the churro carts, views and graffiti. The smells, and sights, are the perfect souvenirs to take back home.

Photos by Josh Herman