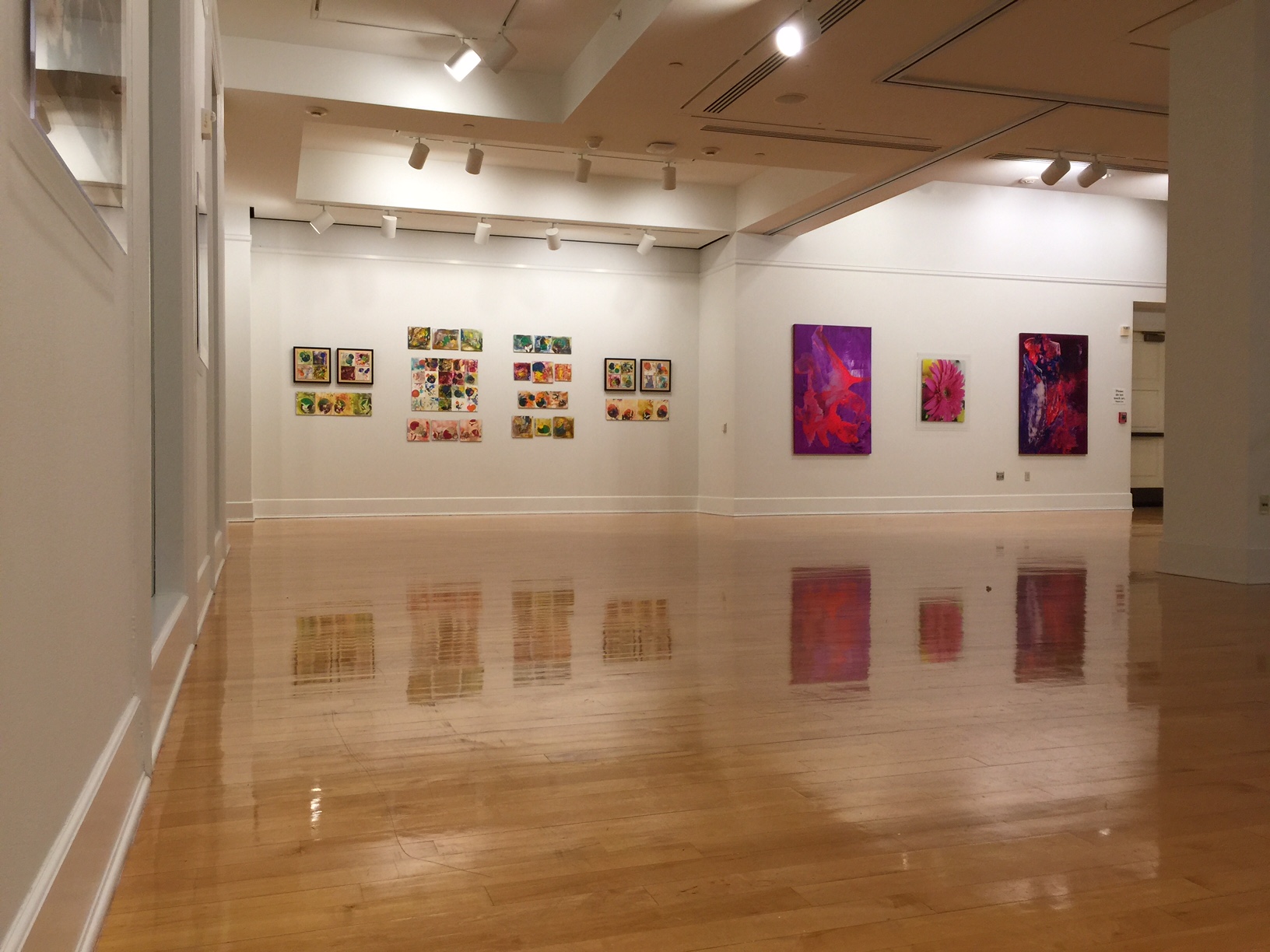 Soka University: Natasha Shoro and Anushe Shoro
If walking into the crypt-like rotunda of Soka University's Founders Hall is a bit chilling, entering the world of Natasha and Anushe Shoro is a return to nature. Within the glistening, well-lit space of the Founders Hall Art Gallery, this mother-daughter exhibition of recent paintings (Natasha) and photographs and poetry (Anushe), flows with a visual logic akin to a walk in a well-tended garden.
Moving through the two-level gallery, pausing before pairings of large abstract paintings and  detailed photographs, one gleans the meaning of "The Essence of Being," their exhibition title: the relationships and experiences of our lives are composed of thousands of interactions in the moment—with one another and with our environment. Natasha and Anushe's artistic expressions are as distinct as their media, but what resonates here is the duo's shared fascination with color as, and within, landscape. While Anushe's 34 mounted photographs, ranging in size from 15 x 15" to 30 x 30", of plants and water give the viewer a chance to inspect the details of the known with fresh eyes, Natasha's more than 80 paintings expand the known through juxtaposition with the abstract.
Whether oil, acrylic, encaustic, works on paper, or collage—Natasha Shoro's work has, for the last two decades, been all about the expressionist gesture, but one that lives far from those of the New York School. Her fascination with the interplay of color and line, fluidity and form, developed out of a love for Helen Frankenthaler, Morris Louis, Julie Mehretu and Paul Jenkins. The daughter of Pakistani parents, Shoro, who was born in the US and lived in Pakistan for many years, reveals multiple influences of her Muslim background, such as script-like line work and intricate patterning of jali screens and henna designs.
One particular wall-sized installation stops this visitor during her walk. For Embrace (2016), Shoro has installed a series of 4 x 4 inch mixed-media works as a vivid collection, using to full advantage the aerial perspective she is known for in her large works. This multiplicity of viewing perspectives, from distant to scrutinizing, also link the Shoros. It is, as Anushe writes in "Caught Up in the Moment," a prose poem of 2013: "that fine-tuned moment of being, moment of seeing" that they seek—and find.
Natasha Shoro and Anushe Shoro, "The Essence of Being," February 1 – May 7, 2016, Soka University, 1 University Drive, Aliso Viejo, CA 92656, www.soka.edu.