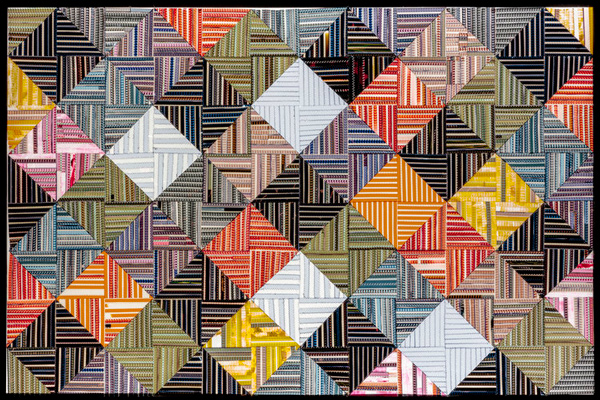 Shoshana Wayne Gallery: Sabrina Gschwandtner
Sabrina Gschwandtner's second solo exhibition at Shoshana Wayne Gallery continues her exploration into intricate quilting motifs, expanding on her already complex imagery with the addition of deaccessioned celluloid film strips of female hands hard at work—sewing, threading, knitting and crocheting their way into our human consciousness. These eleven "quilts" constructed entirely of pieces of film, which the artist procured from the Fashion Institute of Technology's Anthology Film Archives, are radiant visual explorations into human history, specifically the undervalued work of female laborers and artisans, largely overlooked.
Gschwandtner's celluloid quilts, exhibited here in light boxes, focus very specifically on the actual images of women's hands as they move through space and time—pulling, stretching, crimping the fabric into new forms. Also, many of the works are conjoined through subtle color variations as in Untitled (Bradford Dyeing Hands at Work) (2017), where the content of the piece is revealed through a seductive palette that draws you deeper in.
There are obvious nods here to artists like Louise Bourgeois and Eva Hesse, both of whom utilized alternative materials including fabric and textiles to speak to a larger context about female identity and sexuality as well as women's invisibility in the greater world at large. Gschwandtner's work is both beautiful and poignant as one is aware that the precise delicacy that is inherent to the quilting tradition has all but been forgotten. The sheer repetition of hands transforms these works into a kind of obsessive montage of an altered reality wherein "women's work" transcends gender to become something altogether vibrant and necessary.
Sabrina Gschwandtner, "Hands at Work," June 3 – July 29, 2017 at Shoshana Wayne Gallery, Bergamot Station, 2525 Michigan Ave, B1, Santa Monica, CA 90404, shoshanawayne.com.