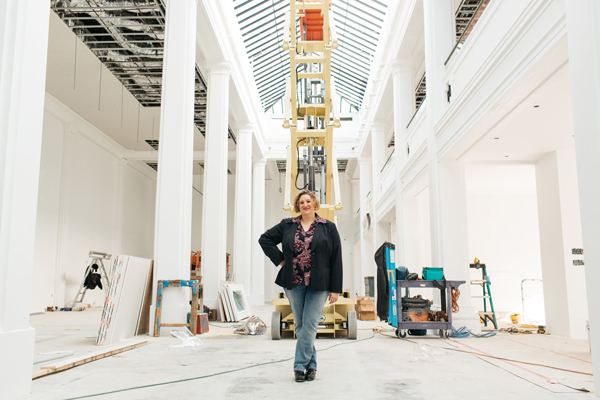 SHOPTALK
Interview with Jenni Sorkin; New CAAM Director; PST; Orange Blossoms
LIVELY UP LA ARTS DISTRICT
INTERVIEW WITH  JENNI SORKIN

Hauser Wirth & Schimmel launched with a bang on Sunday, March 13, opening its doors in a former flour factory in Downtown LA with the exhibition "Revolution in the Making: Abstract Sculpture by Women, 1947–2016" (through Sept. 4), featuring the work of 34 women artists. Hundreds crowded the galleries and courtyard, where food was actually served to visitors, one and all. 

HWS broke ground in more ways than one. First, a bookstore and a restaurant (under construction) are part of the complex. Second, the opening was on Sunday, and they will maintain hours on Sunday, which will liven up the Arts District. This reveals thinking outside the box of what it means to be a commercial gallery, but of course even more radical is mounting an inaugural show that is so spectacularly museum-standard—much of the work, especially in the historical main gallery, is on loan from museums and foundations. The show was co-curated by Paul Schimmel and Jenni Sorkin. Schimmel is the much-respected former chief curator of MOCA LA—pushed out under the unfortunate administration of The One Who Cannot be Named, who seemed to think he could and should program everything. Wrong. Sorkin is an art history prof who previously worked on "Doin' It in Public: Art and Feminism at the Woman's Building" for Otis College of Art and Design and the Beatrice Wood retrospective for the Santa Monica Museum of Art during the first PST extravaganza.

The gallery has a strong percentage of women on its roster, including Louise Bourgeois and the estate of Eva Hesse, who are both well represented in the show. However, the show also features works of artists they don't represent, such as Ruth Asawa—the array of her dangling crocheted spheres occupy one end of the main gallery—and Lee Bontecou, whose large masterpiece Untitled (1966) takes up the right wall as you enter. That work, a turbulent wall sculpture of canvas stretched over welded steel, is lit from within and speaks eerily of Cold War tensions.

A couple years ago Schimmel, now a partner at HWS, invited Jenni Sorkin to co-curate "Revolution in the Making." When they began "it was not yet a worked-out exhibition," says Sorkin, "just a conception of an all-women show as an homage to Ursula Hauser's collecting and passion for women artists." Ursula Hauser was one of the original founders of the Swiss gallery, which counts LA as its sixth outpost. "It wasn't even necessarily a sculpture show at that point," she says, "but the idea of taking up space through sculptural objects seemed apt for such a massive building."

"Paul's a visual thinker, I'm the more theoretical thinker," says Sorkin, who teaches art history at UC Santa Barbara. "In that sense we complemented each other." The show is largely borrowed, with about 80% borrowed from institutions and private collections—and the rest for sale. It is pretty mind-boggling how many museums said yes, including the Whitney and the Museum of Contemporary Art Chicago, which must have something to do with Schimmel's past life at MOCA LA.

"We had a much bigger list that got narrowed over a span of 18 months," says Sorkin. "It really had to do with trying to hit the parameters of the show, what kind of argument we were trying to make." The show is divided into four sections, starting with what Sorkin calls the "progenitors" in the main or South Gallery. That space features Ruth Asawa, Lee Bontecou, Louise Bourgeois, Claire Falkenstein and Louise Nevelson—all active in the post-WWII period. Women artists broke boundaries both in materials used and how they used them. Rather than stone or bronze, Sheila Hicks arranged bundles of linen and wool thread in Banisteriopsis and Banisteriopsis II from 1965/66, and Eva Hesse famously used latex, a newly available material, in Aught and Augment from 1968. These two are across the courtyard in the '60s and '70s section, which flows into the postmodernist generation in the North Gallery. Finally, a new generation of work is featured in the East Gallery.

Sorkin herself had a few discoveries, such as Swiss artist Heidi Bucher, who worked in LA for five years in the mid-'70s. "She had an early show at LACMA, and also made sculptural works which she wore as performative objects, and then made short films," Sorkin says.

For me, all this raises the elephant-in-the-room question: Why hasn't this exhibition been done before, at least on this scale? The work, much of it, is exceptional, and will include discoveries for just about everyone, even if you don't plan to be an art collector. Adding to the novelty is the international net the curators cast, incorporating works from South American artists Gego (Gertrud Louise Goldschmidt) and Lygia Pape. I'm sure there's a long answer to this question, but isn't it fabulous that somebody has had the guts and the means to do it?



SPRING IS HERE
NEW CAAM DIRECTOR, PST & ORANGE BLOSSOMS


It's spring; we're having some very welcome rain in SoCal.There's also welcome news on the art scene. First off, Naima J. Keith has joined the California African American Museum as Deputy Director of Exhibitions and Programs. Previously, she served five years as Associate Curator at The Studio Museum in Harlem, where she organized such noted exhibitions as "Charles Gaines: Gridwork 1974–1989," a show that traveled to the Hammer Museum last year. And before that, while a curatorial fellow at the Hammer, Keith worked with curator Kellie Jones to put together in 2012 the groundbreaking "Now Dig This! Art and Black Los Angeles 1960–1980," one of the best exhibitions to come out of the Getty's "Pacific Standard Time: Art in L.A. 1945–1980" initiative, in my humble opinion. Her focus is on American and international contemporary art, especially themes of identity and conceptual practices.

And speaking of PST, here comes the next installment—"PST LA/LA," with LA standing for both Los Angeles and Latin America. In a jam-packed press conference on March 30 at the Vibiana downtown, the Getty Foundation announced $8.45 million in grants to 43 arts institutions across Southern California for exhibitions and publications exploring Latin American and Latino art. That's on top of the $5.5 million they've already given out for development and research the past three years. The exhibitions "are grounded in significant original research carried out by teams of curators—including scholars, artists and critics—in the United States, Latin America and Europe," says Deborah Marrow, director of the Getty Foundation. "The exhibitions will also leave a lasting legacy of scholarship through numerous catalogues and other publications."

"PST LA/LA" covers a pretty broad range of projects, unveiling as early as September 2017. Exhibitions include monographs such as LACMA'S exhibition on Chicano artist Carlos Almaraz and Santa Barbara Museum of Art's exhibition on Brazilian-born artist Valeska Soares, as well as theme shows and surveys like Laguna Art Museum's exhibition about the mixing of Mexican and American culture in California in the 19th and early 20th centuries.  Personally, I can't wait to see the Hammer Museum's "Radical Women in Latin American Art, 1960–1985." The Getty has done so much to bring attention to LA, the city, as incubator of and showcase for important contemporary art and art movements—thank you, thank you!

Meanwhile, down in Orange, Chapman University has opened both a new museum and a new performing arts center. The 7,500-square-foot Hilbert Museum, across from the Orange Metrolink Station, will focus on representational art about California history, and has opened with "Narrative Visions," curated by Gordon McClelland. The Musco Center for the Arts boasts a state-of-the-art theater seating for just over 1000 people. The acoustics are superb, as Yours Truly can attest as she had a chance to attend the inaugural program featuring opera stars Placido Domingo and Deborah Voigt, plus a number of talented Chapman alumni. Honestly, I did not know they had such a terrific music school! Their alumni work in both classical and musical theater. The acoustics were designed by the world-famous master of theatrical sound Yasuhisa Toyota, who also did Disney Hall. While the shell of the Center looks rather institutional, the interior is quite comfortable, with terrific sightlines even from the rear. Kudos to Marybelle and Sebastian P. Musco, who funded the Center.