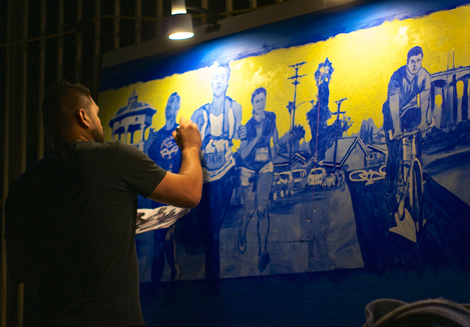 SHOPTALK
Maccarone Gallery; LA Art Fairs; Film Series at Hammer; Gallery Moves
DANGEROUS TERRITORY
LOCAL HOMIES ANSWER MACCARONE GALLERY

Sometimes gentrification can backfire, especially if you crow about it too loudly. Last September New York gallerist Michele Maccarone told The New York Times that Boyle Heights, where she was opening her LA branch, "still has a dangerous quality—I kind of like that. I like that we spent a fortune on security." She was quoted in Melena Ryzik's article "New Art Galleries Enjoy a Los Angeles Advantage:  Space," which with its breezy tone suggested that the area was a bit of a frontier with "an anything-goes feel." (Ryzik usually writes about celebrities.) It's true that Maccarone is in an industrial section of Boyle Heights, but students at CALÓ YouthBuild, a charter school, didn't like the implication that the area had been "discovered"—as if it didn't have a culture and identity before.  

So they decided to protest. They didn't just picket and march, they did something really creative: they decided to mount their own art happening, Ambularte. On Saturday Nov. 7, YouthBuild students and neighborhood artists put together temporary displays in front of the gallery on South Mission Road. There were banners, paintings, a "displacement altar." A "poster" was projected onto the outside walls of the gallery, with the words "Art is community is resistance." Graffiti artist Vyal Reyes showed a large airbrush painting featuring a giant eyeball and the words, "Keeping our eyes on you… "

Yours Truly has tried to reach Michele Maccarone for comment, leaving messages with her gallery and her publicist, but she did not respond by press time.
FILM SERIES AT HAMMER
 
For film buffs the Hammer Museum presents "The Contenders" (Jan. 6–20), a film series organized by MoMA New York of films they believe will "stand the test of time." Each of the 10 films will be followed by a Q&A with someone connected to the film. On Jan. 6 is the hard-hitting Beast of No Nation with director Cary Fukunaga, followed by Room on Jan. 8 with actors Brie Larson and Jacob Tremblay, director Lenny Abrahamson, and writer Emma Donoghue, and Carol on Jan. 12 with director Todd Haynes.  Not surprisingly, advanced tickets for the much lauded Carol are sold out, but there apparently limited "day of" tix. NOTE: These screenings are individually ticketed, so you'll have to buy a ticket outside of museum admission. Check out the list and schedule—http://hammer.ucla.edu/contenders2015/. Yours Truly is going to fit a couple of these into her busy sked!
LA Art Fair News
 
Photo l.a. celebrates its 25th anniversary at The Reef, Jan. 21–24. (See interview with founder Stephen Cohen on page 78 for how he started and where he's going with this stalwart art fair.) The behemoth of our fair city's art fairs, LA Art Show, returns to the Convention Center, Jan. 28–31, while the smaller and more focused Art Los Angeles Contemporary returns to the Barker Hangar for the same dates.

Also, we've got a new kid on the art fair block—Fabrik Expo, Jan. 29–31 at the Willow Studios. This is a fair promising "groundbreaking works from artists that blur the boundaries between art, design, architecture, environment and media," according to the PR—that's quite a few artists these days. This fair is a "sister" to Photo Independent, so perhaps some artists will be representing themselves. The new venture is backed by Fabrik Media in collaboration with Gen Art, the art and fashion promoters.
GALLERY MOVES
LEAVING CULVER CITY AND HW&S
They come, they go. The gallery world is a revolving door. One gallery we are very sad to see go is Koplin Del Rio—I still remember when Eleana del Rio moved the venerable gallery from West Hollywood to Culver City in 2006. This month they're relocating to Seattle, Washington, partnering with Prographica to do alternating shows in their established space. This means one of the top galleries specializing in figurative art is gone. Forum Gallery closed its Beverly Boulevard branch a few years ago (apparently, an office for the gallery remains).

Del Rio, a native Angeleno, says the decision was a longtime coming. "My husband and I always thought we'd settle there in our retirement years, but then we thought, why not move there now?" She feels positive about "the art community and what I can contribute in terms of the art scene" in Seattle. She'll continue to represent about 20 of the same artists, including Sandow Birk and the de la Torre Brothers, and maybe explore taking on new ones.  Good luck, Eleana!
Last February Cirrus Gallery had to move from their longtime downtown space on Alameda—abruptly displaced by a marijuana dispensary offering much, much higher rent! They did manage to find a new, raw space on Sante Fe Avenue, and reopened Nov. 21 with a group show "This is Not a Connection" (through January 30). "This points to a new direction that we'd like to go in," says Salomeh Grace, one of the gallery directors, "works that show how technology influences the artistic process."

Also in a new space is Cory Helford Gallery, formerly in Culver City since 2006. (Oh, those high rents in CC! It's that old familiar cycle, isn't it? Artists and art galleries spiff up a neighborhood, make it cool. Property values go skyrocketing. Artists and art galleries move out.) The press release says they've moved to "Downtown Los Angeles," but it looks like Boyle Heights to me. On Dec. 12 they flung open their doors at 571 South Anderson Street, with a show featuring New York painter, designer and street artist Ron English. The new 12,000 square-foot space is seven times bigger than its former space.

And yep, here it comes, our own mega gallery. Hauser Wirth & Schimmel opens in DTLA with a splash on March 13. The inaugural show, "Revolution in the Making: Abstract Sculpture by Women, 1947–2016," is co-curated by heavy-hitters Paul Schimmel, former chief curator of MOCA, and Jenni Sorkin, assistant professor of contemporary art history at UC Santa Barbara. Some 100 works by 34 artists will explore how women have transformed the language of sculpture; it's also a tribute to Ursula Hauser, one of the gallery's founders. Hauser was especially dedicated to collecting and promoting women artists. The ambitious show promises to be museum-quality—museums are among the 60 lenders—and new works will be included. HWS is located at 901 East 3rd Street, in a former 19th-century flour mill. If you ask me, they'll soon be rolling in the dough, too!