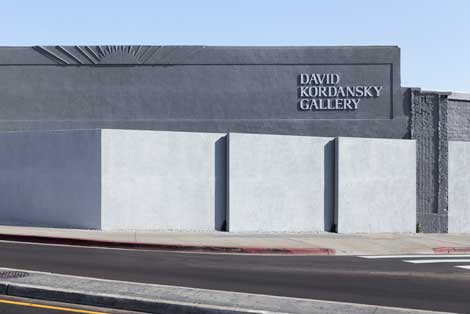 SHOPTALK
Gallery Moves, LAXART, Laemmle Theaters
Gallery Moves
It's a Californian Kinda Thing
By Scarlet Cheng
 
It's hard to keep up with the rash of new and relocated galleries this year—is this because of the economic rebound, or because Los Angeles continues to become more important in American's cultural configuration? Or maybe, as Thomas von Lintel who moved from New York and took over Nye + Brown's space on La Cienega Boulevard says, "I moved here to be here, in Los Angeles." That is, he likes the spaciousness and the availability of space, and of course, the weather. To get into the groove, they inaugurated their new space in last March with a show featuring California artists, including Ed Ruscha, Cathy Opie and Melanie Willhide. So far, so good. "The traffic has been lovely, the response has been enthusiastic," says gallery director Dana Sorman.

While von Lintel moved his business lock, stock and barrel, Sarah Gavlak opened an LA outpost on Highland
Avenue in June—keeping her Palm Beach gallery running, especially in the winter months when Florida is swarming with snowbirds (collecting ones). Gavlak also handles several Angeleno artists, including Lisa Anne Auerbach and Mungo Thomson.

Recently several LA galleries decided to move into new—bigger and improved—spaces. In May, Kohn Gallery opened a new 12,000 square-foot gallery designed by architect Lester Tobias on Highland Avenue. With 22-foot ceilings, skylights and a large window, the space offers plenty of natural light. In September David Kordansky opened on a more unusual stretch of real estate— on South La Brea, below Wilshire Boulevard. Specifically, it's on the corner of Edgewood and La Brea—not far from Kayne Griffin Corcoran—and boasts 20,000 square feet in a redesign by Kulapat Yantrasast of wHY. I think that number counts the outdoor courtyard, but it does include two voluminous exhibition spaces with very high ceilings. Kordansky seems prescient in knowing where the "hot spots" of the gallery scene are—he started in Chinatown in 2003 during the Chinatown art boom, then moved to Culver City in 2008. 

In early October Various Small Fires gallery debuted their new space on North Highland, moving from Venice Beach to a space designed by the noted architectural firm of Johnston Marklee, which is designing the new building for the Menil Drawing Institute in Houston. It's a modest (compared to the previous two, anyhow) 5,000 square feet, with 3,000 of that in the gallery space, the rest an open courtyard. That seems to be the trend now, to have some kind of courtyard or open space, suitable for outdoor sculpture and of course the spillover party that is part of the opening festivities. On opening night about 100 people milled about outside, enjoying generic beers, while the gallery itself was trying to close down for the night.

Then there's more to come, with Spruth Magers of Berlin and London about to open at the end of the year, and of course Hauser Wirth & Schimmel of Zurich, London and New York, which purchased a former flour mill on East 3rd Street earlier this year—it's a 100,000-square-foot complex, slated to open sometime in 2015. The press release describes its future as a "dynamic multi-disciplinary arts center" that will include public programs along with exhibitions, naturally.
Next year there will be more movement afoot as the two galleries (Edward Cella, Steve Turner Contemporary) and the A+D Museum on Wilshire, across from LACMA, have been given notice to leave next spring. They've known of the move for some time, as Metro will be tearing down the block and using it as a staging area for a new station, but now the move date is firm—probably. It's a boon for LACMA, but has proved difficult for those who have to find suitable next homes.
Cella has been looking since the beginning of the year for a somewhat larger space than they have now (substituting something over 2,000 square foot) with proximity to other galleries and reasonable foot traffic. He's looked in Culver City, Highland/West Hollywood, downtown, "and as far as Frogtown," Cella says, adding. "The LA real estate market is pretty hot right now." Which means everything is more expensive, and harder to get favorable terms on long-term leases. Still, he says, "I'm excited by the possibilities of the move, of a new space."



I COULD HAVE DANCED ALL NIGHT
LAXART's First Biannual Gala at Greystone
By Scarlet Cheng

Art events are veering more and more towards the aesthetics of "happenings," and it's hard to decide what's good or what's bad—instead we end up just measuring what engages us. Or not. The first LAXART Biannual Gala at the Greystone Mansion in Beverly Hills proved well-planned and highly engaging, sufficiently crowded for a party atmosphere but not thronged like the PST event Lauri Firstenberg, director of LAXART, helped organize at the same location a few years ago. Some 30 artists participated in the one-night bash, some with newly commissioned pieces, which contributed to the sense of discovery, and some with pre-existing work moved to this venue. The raw pottery vessels of Galia Linn (Shulamit Gallery) were placed in the Motor Court, and a Brian Bress diptych video (Cherry and Martin) was inserted into two windows in the back of the mansion.

In the Powder Room was Molly Surno's "We of Me." Seated before a large mirror, three young women with long tresses were slowly and narcissistically brushing their hair—that brush was wired up and created a thunderous, rather intolerable noise in the room. In the mansion's former office Odeya Nini performed an improvised dance with an amazing vocal accompaniment in "VOICED." The room's walls and ceiling were covered with video footage she had shot of ocean and rocky shore, and one felt engulfed by those images as she moved through the space, emitting sounds of birds and perhaps the wind.


In the pantry, attendees were offered slices of Matt Merkel Hess' "head"—bread loaves baked in the shape of his head. Served up with butter and jam, these slices gave a literal definition to "consuming" art—yes, it was creepy.  Outside by the reflecting pool, a harpist played while a video of a female form, sometimes being touched by a hand, was projected onto a nearby screen in Lauren Merage's "Prelude to a Ritual." Also outside, near the koi pond, "I Am Pink" was a meditation led by Kathryn Garcia, which proved quite restorative.

Perhaps the most elaborate and enjoyable performance piece was Liz Glynn's "Waltz No. 9 (Blindness)." In a hallway guests were invited to dance with costumed actors—then blindfolded with a black kerchief and led into a darkened room where the waltz was playing. Okay, the waltz is difficult enough when you haven't done it in eons, doing it blindfolded is a challenge. "So, go one-two-three," my partner said, and I eventually got into the rhythm. Enough so that he gave me several twirls and spins—and even a dip at the end. Fortunately, I had had a massage the night before and was more limber than usual. We managed not to crash into other dancers—you could hear them shuffling about—or into the wall, and it was rather fun once I realized I was not going to trip and fall. My bottom line is that I think they should bring back the waltz, it's a wonderful socializing ceremony and good exercise, too.



Moving Pictures
Laemmle Theaters Paint the Town
By Charles Rappleye

The crowd milled anxiously outside the seven-plex movie house in North Hollywood, waiting in the cool of a September evening for the star to arrive and the curtain to rise.

But when Artillery's own Mary Woronov took the stage it wasn't to reprise her work on the silver screen. The night was devoted to celebrating Woronov's other oeuvre, 20 years of paint on canvas. This was another installment of Art in the Arthouse, a program offered by the venerable Laemmle theater chain to foster creativity and enrich the experience of a night at the movies.

The program was launched early this year by Greg Laemmle, third-generation scion of the chain clan and custodian of the family's longtime commitment to culture. At a time when many family theaters fell prey to corporate multi-screen chains, Laemmle survived and thrives. They currently own and operate seven theaters with 34 screens, and plan to open in Glendale, Newhall and Inglewood.

"To be successful, independent theaters need to contribute to the cultural life of the community in a significant and relevant way," says Laemmle, who was on hand for the opening. That's been the guiding philosophy for the family chain, known for featuring foreign and independent films. "Now we are excited to do the same with fine art."
Movie houses traditionally plastered foyer and corridor walls with posters of upcoming attractions, but Laemmle is switching over to digital poster frames, leaving blank space free for more expressive fare. Greg Laemmle drafted Los Angeles abstract painter Joshua Elias to curate the exhibitions, which feature artists from the area and stay up for three to four months—long enough for repeat patrons to get familiar with an artist or a particular work.

Exhibitors have included Dave Lefner, Bea Husman, Taylor Negron and Javiera Estrada; Woronov at the NoHo 7, and Xi Hou at the Pasadena Playhouse, are the current attractions.