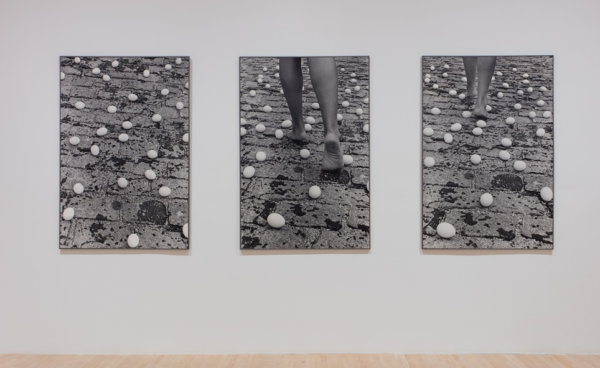 SHOPTALK
PST; New Art Press; Wine & Moses; Comings & Goings
PST & NEW ART PRESS
OK, Stalwarts, here comes… ARTMAGEDDON 3! That is, Pacific Standard Time LA/LA, with some 70 arts organizations participating, plus about the same number of commercial galleries mounting theme-related shows. The marathon officially gets started in September, but a few exhibitions have already jumped the gun, such as the big Carlos Almaraz retrospective at LACMA, "Playing with Fire," and MOCA's retrospective for Brazilian artist Anna Maria Maiolino. To prep herself, Yours Truly ordered a new pair of walking shoes from Amazon and will start doing laps around the local park. In the meantime, here's a little look backwards to what hath been wrought lately…
In June we saw the promising launch of a new small press in Los Angeles, X Artists' Books. The invite-only launch party at Neuehouse in Hollywood began with an SRO discussion with the founders—artist Alexandra Grant, actor/writer Keanu Reeves and designer Jessica Fleischmann, followed by a cocktail afterwards. Their mission is to specialize in artist books and collaborations, and they unveiled two of the four books they're publishing this year, The Artists' Prison by Grant and High Winds by Sylvan Oswald.

"Keanu and I learned a lot about book publishing with the inestimable Gerhard Steidl with our first two books, Ode to Happiness (2011) and Shadows (2016)," writes Grant in an email interview. "What we saw, specifically with Shadows, is that books create worlds. With Shadows, the book came first, then we printed the photographs in two different editions with Lapis Press and Steidl." The prints were shown in two exhibitions, with another to take place later this year.

Grant wrote The Artists' Prison in 2013. In it a commander interrogates a warden about the transgressions of various artists who had been in his prison, such as the Narcissist, the Hair Artist and the Pinhole Camera Artist. The text takes the form of a transcript, replete with blacked-out (or redacted) names and passages. Of course, it's part satire and much black comedy—artists being such a naughty bunch! Later Grant invited Eve Wood (yes, the artist and our own Artillery contributor) to illustrate. "It's the opposite of how I usually work as an artist, using literary sources for my works in painting and sculpture," says Grant. "Part of starting X Artists' Books was imagining a world for The Artists' Prison—a dark, humorous critique of the art world." Wood's drawings for the book were exhibited this year at Ochi Projects.

The books "all share a sensibility: concern about the social and political, engaging ideas through unusual collaborations that don't fit neatly in any genre, interest in material and design," says Grant. "High Winds is a collaboration between Jessica and Sylvan Oswald, a playwright who teaches at UCLA. I keep imagining it will become an opera!"
WINE & MOSES

Who knew that Ed Moses once designed a winery? It was in the mid-1960s when his friends Donn and Molly Chappellet, who had been collecting art by the Ferus Boys, moved to Napa Valley to pursue Donn's passion for wines. They bought a bucolic property on Pritchard Hill in Saint Helena, with a rambling house suitable for them and five children. Looking to build a winery, they interviewed a couple dozen architects, till one day Moses asked Molly what her favorite building was. She answered, rather off the cuff, "The Pyramids." Soon after
Moses presented sketches for a pyramidal-shaped building with a roof of corten steel that would rust. The Chappellets went for it. The finished building was only the second new winery built in Napa Valley since the era of Prohibition—the first was Mondavi in 1966.

So this year the Chappellets celebrated their 50th anniversary of wine-making with a Saturday luncheon at the facility—Moses himself couldn't travel due to health, but his son Andy, a painter too, attended in his stead. Also present was Ed's longtime dealer, William Turner of the eponymous gallery in Santa Monica. "Great artists are also exceptionally observant," said Turner, drawing a parallel between the making of art and of wine. "They really do celebrate this passion for life, connecting to the land and the environment." Six new labels were also unveiled for Chappellet wines, taken from Moses' abstract paintings. In July, Turner sponsored a crowded wine-tasting and celebration at his Bergamot Station gallery, with Ed himself holding court from his wheelchair—and happily autographing bottle labels with a Sharpie pen.
COMINGS & GOINGS

The redevelopment boom of Culver City has been a success story in many ways—the whole area is sleek with new condos and boutiques. It's also pushing out art galleries—unfortunate for some, but fortunate for Samuel Freeman, who bought his piece on La Cienaga six years ago and built his namesake gallery there. "It's the best business move I ever made," he says, "real estate here has more than doubled." So he's shuttered his gallery and is waiting on closing the deal as of this writing. Freeman has looked into several other locations on the Westside for a new gallery, but it will certainly be smaller. "The way people find things have changed," he adds. "You now do research online or at art fairs."

Not far away, in Century City, a major public sculpture was unveiled on July 4. The Freedom Sculpture by artist and architect Cecil Balmond was commissioned by the Farhang Foundation, an Iranian-American group promoting culture. Sited on a prominent traffic island along Santa Monica Boulevard, the sculpture is a large-scale interpretation of the Cyrus Cylinder, a document written on a clay cylinder 2,500 years ago. It's been hailed as the first declaration of human rights, even though it is largely a piece of propaganda promoting King Cyrus the Great, conqueror of Babylon, while at some level supporting religious tolerance. Over a million individuals from 50 countries contributed over $2.2 million for the project.

On October 25, Kim Schoenstadt's snowballing art project "Now Be Here" reaches Washington, D.C.—its fourth and final U.S. venue. Female and female-identifying visual artists will be invited to the National Museum of Women in the Arts (NMWA) for an historic group photograph, as in previous gatherings in LA, New York and Miami. The D.C. event is being co-organized by artist Linn Meyers, and will include a cocktail hour (hey, we coulda used one in LA!) and an artist resource fair. They're also planning a series of talks, lectures and panel discussions about women in the arts around the event. If you'd like to participate, email freshtalk@nmwa.org.