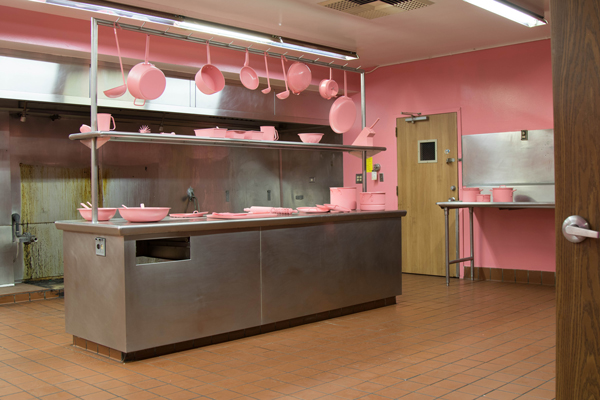 SHOPTALK
Now Be Here; Hospital Pop-Up; Gallery Moves
POP-UPS WORTH YOUR WHILE
Hospital Happening and a Traphouse
Kudos to art consultant John Wolf for throwing together one of the most ambitious and giddy art  projects this year—"Human Condition," a pop-up gallery at a former hospital, the LA Metropolitan Medical Center on Western Avenue, just south of the 10 freeway. That's the hospital that had to be shuttered three years ago after a fraud scandal. The exhibition (through Nov. 30) is loosely themed around aspects of human existence, from the subconscious to the conscious, and includes over 200 works by 86 artists on three floors. Yep, three floors, about 40,000 square feet.

Opening night was a lively Happening, drawing a mixed throng of the glammed-upped and casual-downed wandering in and out of rooms and offices looking at paintings, drawings, sculpture, video and installations. That evening three performances took place, including a dapper man in a Pepto-Bismol pink suit who roamed the pink kitchen with its pink accessories (Christopher Reynolds in his own "The Schauss Kitchen"). While much of the other work seemed of the emerging-artist level, there were also a few heavy-duty artworld names. There was a Jenny Holzer bench in the lobby, chiseled with lines that begin "What a show when they tell you it won't hurt… " (Did I mention how much I hate hospitals?) There was a large photograph by Gregory Crewdson in a hallway, and a gigantic ceramic boy by Matt Wedel in an operating room. Wedel's sculpture was poised in the middle room, as if being examined by the lights turned on him. This placement gave the piece a new context—the boy himself is not completely realistic, he has an  oversized head and a cartoonish body, but being placed in an all-too-real place gave the work an added poignancy. The creep factor in being where illness and sometimes death presided was pervasive. Yes, I hate hospitals, but this one has been transformed by Wolf's brainflash.

Another cool project has been the sponsorship of an art residency by tony retailer Please Do Not Enter on Pershing Square. This summer they sponsored French artist Frédérick Gautier for a two-months stay—and he set up a ceramics studio in a small building along the bike path in Frogtown. Inspired by stuff he found during walks along the LA River, particularly the industrial detritus in the river bed, Gautier has made a series of rough-hewn plates, bowls, teapots and other objects for "Eat the River." "I really enjoy being here," he said when I dropped in during an art walk, "but I'm working so hard every day." He managed to produce over 100 objects during his stay, with the help of an assistant, his daughter.

Think Tank continues to use its space in DTLA to produce art exhibitions and events, and the newest is timed for a little Halloweeny scare. They've put in an escape room, Traphouse, which includes a morgue replete with corpse (heeheeheee!) and clues and red herrings and, of course, locked doors! Okay, tickets are required for Traphouse (through Nov. 5), but the art gallery with work of the weird and macabre by some of movieland's monster and SFX makeup artists is free to see. Get their sked at http://www.thinktankgallery.org/
HEAR THEM ROAR
LA Women Artists Gather for Photo
Excitement, exuberance, and some excellent pride as 733 women artists of the LA art world gathered in the courtyard of Hauser Wirth & Schimmel on Sunday, August 29, for a historic group photo. It was the also the final week for the gallery's landmark first exhibition "Revolution in the Making: Abstract Sculpture by Women, 1947–2016," recognized as significant by many of the artists there. At long last, a major gallery has given props the considerable contribution of women in the creation and definition of contemporary art.

The project "Now Be Here" was the inspired brainchild of conceptual artist Kim Schoenstadt, who worked with HWS's head of education Aandrea Stang to make it all happen. Schoenstadt thought HWS presented the perfect "trifecta" of factors, she said in a phone interview, "They had the space, the show, the staff." In the spirit of inclusivity, the invitation was broadly distributed—artists, curators and galleries were asked to pass on the invitation. Schoenstadt noted that the galleries were the least helpful. (Perhaps the project seemed to promote HWS too much?)

When the day came, on-the-spot registration was also available. Photographers Isabel Avila and Carrie Yury got up on the roof overlooking the courtyard, and took their shots from there. At the registration desk, everyone had been given a unique number for identification purposes, and photos were taken with numbers up in front of the face, and then numbers down. There were emerging artists, and there were established artists such as Alexis Smith, Cathy Opie, Lita Albuquerque and Betye Saar, who just turned 90. "It was an amazing experience," says Saar, who had a front row seat in the photo and was greeted by admirers who knew of her formative influence on LA art. "When you're 90, it's nice to know you've made a difference to women artists. I thought it was important I should go there, to show that you can keep working in mind and in body."
GALLERY MOVES
Rosamund Felsen, Mark Moore, ACME
A fond farewell to two galleries which have been LA stalwarts. Rosamund Felsen Gallery has closed shop in DTLA, after moving there a little over a year ago from Bergamot Station. Felsen founded her gallery in 1978, at 669 North La Cienega Boulevard, the former site for a string of other noted dealers, including Eugenia Butler, Riko Mizuno and Larry Gagosian. Also quitting the retail scene is Mark Moore Gallery, with a history of 33 years in the business. They will leave their red brick Washington Boulevard space in Culver City at the end of this year.

Meanwhile, ACME is moving from its Wilshire Boulevard space to Frogtown in November. "We should have moved even earlier," says co-director Randy Sommer, nodding towards the Metro construction plugging up Wilshire Boulevard. "We have clients that just don't want to deal with the mess." Frogtown may be a bit off the beaten track, but they like the neighborhood feeling of it, as well as the growing presence of architects and artists.

The Main Museum of Los Angeles finally launches—with a "Beta Main" on West 4th Street in DTLA. Starting October 30 there will be a 10-day performance by Suzanne Lacy and Andrea Bowers in the gallery, with Lacy teaching Bowers all about performance art. One assumes this will serve as a tutorial for visitors as well. The museum will eventually occupy three historic buildings in Downtown Los Angeles—the Farmers & Merchants Bank, the Hellman Building, and the Bankhouse Garage. Check out themainmuseum.org for more info