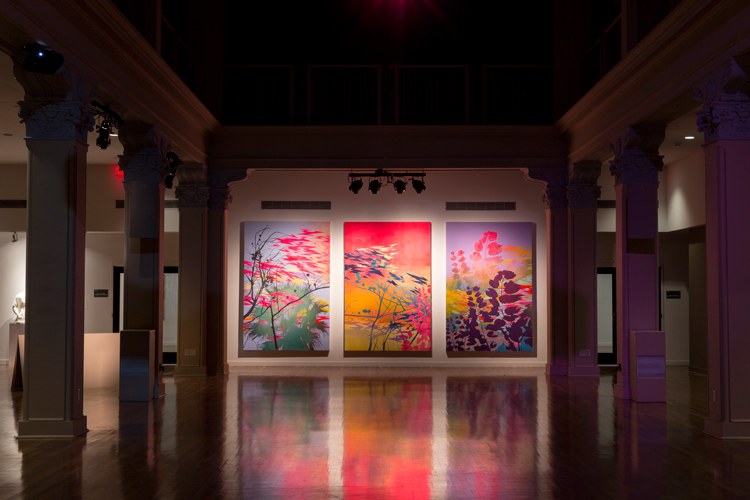 SECOND WAVE: Aesthetics of the '80s in Today's Contemporary Art
Interview with Curator Jennifer Frias
It's not every day that a public university art museum, outside the Hammer Museum, features an amazing show with cutting-edge artists. So when I saw the "Second Wave" exhibition at UC Riverside where I attend graduate school, I just had to chat with UCR ARTSblock curator Jennifer Frias about the show:
EMILY WELLS: Let's start general: Why the '80s? Did you notice a resurgence of the aesthetic organically, or did you seek out artists specifically for how they played into the theme of the show?
JENNIFER FRIAS: There seems to be a 20-year revival rule—about five to six years ago there was this surge of '80s "aesthetic" which found its way through music, motion pictures and fashion. In music, synth-heavy, lo-fi sound made its revival with numerous recording artists—M83, Daft Punk, Arcade Fire and others. In motion pictures, the style and grain of '80s film have resurfaced in movies like Drive and Enter the Void. There was also a flow of remakes that made it to the big screen like Robocop and Mad Max. And it was quite unavoidable that popular retail-clothing stores had some refined version of fashion from the 1980s like fabrics and prints, polyester and neoprene, hard/soft silhouettes.
It was also during this time that museums across the country began to pay homage to the 1980s by exhibiting works by prominent artists from that decade. One of the major exhibitions was MCA Chicago's "This Will Have Been: Art, Love & Politics" (2012), a show that traveled to other venues that surveyed the decade's social and political developments that changed the character of the art world. Others were "Take It or Leave It: Institution, Image, Ideology" at the Hammer Museum (2014), which surveyed the use of appropriation and institutional critique in art from the 1980s; and "Jack Goldstein X 10,000" at Orange County Museum of Art (2012) which was a retrospective on the artist who helped initiate an avant-garde art movement referred to as the "Pictures Generation." These exhibitions were significant in that they demonstrated the role that art had during that time to a new generation of museumgoers and artists. "Second Wave" came about as a response to a question—what about this generation of artists who were born and raised during the '80s who have come of age in this current decade? Because of this sudden surge of '80s influence in other artistic mediums, I began to wonder if particular artistic styles, movements and overall aesthetic from the decade are expressed in the works by artists today. I began looking at works by artists whose work I admired, Brian Bress, Pearl C. Hsiung, Chet Glaze, Conrad Ruiz, Shizu Saldamando, as well as others, and saw traces of the '80s aesthetics in their work.
I've heard you describe the show as a "response" to the '80s aesthetic. What is the correlation between the process of the artists in the show, who grew up in the '80s, and those who were making art in the 80s? For me, one of the most compelling aspects of art channeling the '80s aesthetic is the intersection of the personal with advertisement influence. Is this something you've noticed in the show you have curated?
During my studio visits and conversations with the artists, several have expressed how advertising and media has had an impact, the artists themselves, being a product of the 1980s and how that translated in their work. I remember the '80s advertising and product branding having such bold textures and colors, as well as having severe lines and forms. I remember how overtly "subliminal" commercial advertising was. We were also introduced to a line of household names that generated new trends and/or identity.
An example of work using '80s household references is Emilio Santoyo's paintings. Emilio unites the genre of late 19th-century equestrian paintings with animal logos on sportswear made popular by 1980s brand names such as Ralph Lauren, Lacoste, and Le Tigre. In the same regard as artists Jeff Koons and Ashley Bickerton parodied consumer culture in their work, Emilio lends an illustrative texture with iconic commercial products, creating his own version of Neo-pop paintings.
Another example is Valerie Green's "Screen Cleaners" series (2015) where she explores current digital technology and its impact on society. In this series, she employs the use of liquid elements to examine and amplify the nature of the digital. The resulting images are based on macro photographs of computer screens that reveal variations of bright-colored geometric abstractions and pixelated outlines, similar to Neo-geometric, Pop-art and Op-art aesthetics. Valerie explained to me that the designs by the Memphis Group and the visual branding of the popular '80s clothing line, Esprit de Corps had an influence in her early formative years.
Furthermore, (in my conversation with the artists), most have associated the visuals and designs generated through MTV or from video games consoles like Atari and Nintendo, as having some influence in the way the were introduced to art. This is evident in Conrad Ruiz's work particularly the piece in the show, Firebenders (2012), where he merges 2D design elements with repetitive layering of human bodies in action as a primary trope in video game culture. Mark Batongmalaque blends Neo-geo properties with mass media to create an auditory sculpture that touches on our selective perception, embedded, subliminal images or messages in television scramble or noise.
SECOND WAVE is on display at UCR ARTSblock through March 19.