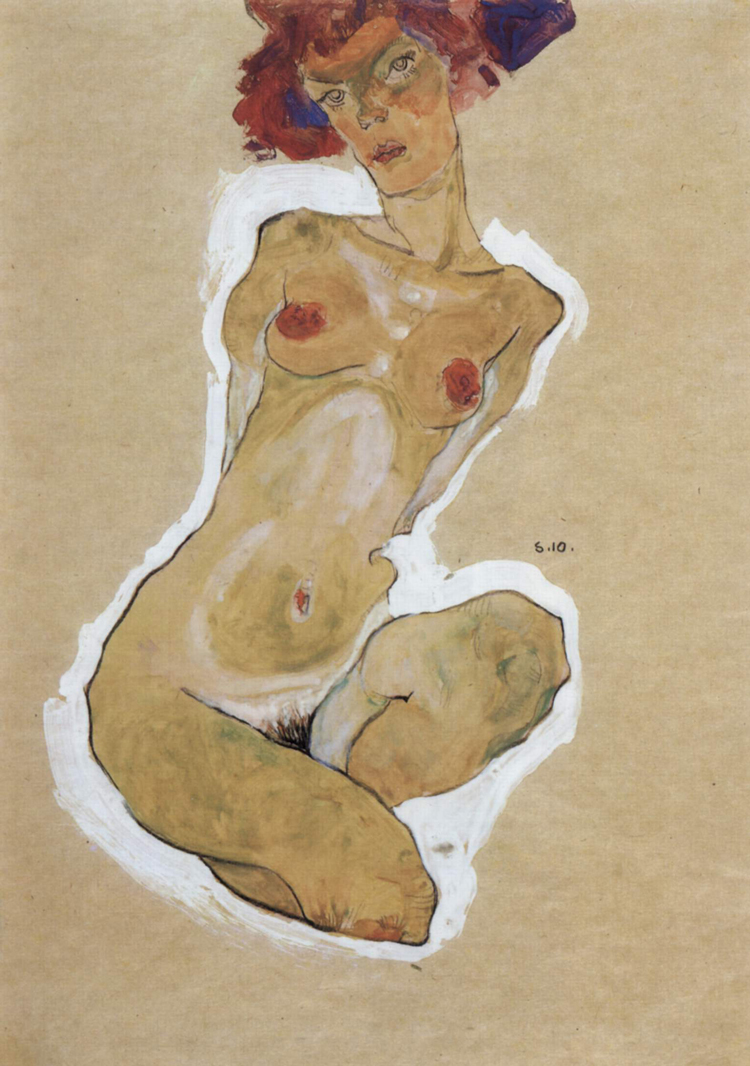 RETROSPECT
Egon Schiele (1890–1918)
It is depressing for me to think that most of my favorite art is a cold-hearted attempt at mind control. No, the Egyptians were not thinking only of beauty when they built the pyramids; they were thinking of death, and the power of intimidation. The little servant knew his place was cut in stone every time he raised his head. Since the cave paintings attempted to control nature and failed, art has been used to control us instead. Great painting was certainly the Christian church's velvet glove. I like to think that the Greeks invented beauty—or were their perfect temples just another Siren's song? Now we have advertising, movies and confusion.
LACMA's rock symbolizes man's power over nature. It appeals to the ego, not the emotions. It's a boast that we can put nature's finest rock in a zoo, and if we can do that, then we can run oil from Canada into LA. It's all advertising.
But on the other hand there are moments when art slips through the fingers of the powerful, rebelling against the salons, and is firmly in the hands of artists without any ulterior motive. In France, it was the Impressionists, in poetry it was the Romantics, and in Vienna it was Egon Schiele.
Many did not like his sexual obsession with his models and himself—they thought art should be for proper, self-controlled people, not just the self-absorbed artist—so they put him in prison. But subject matter doesn't really count. What scared people was the rawness of sexual feeling and the intensity of Schiele's line that scratched and clawed his images out of nothing. Beauty is not always in the eye of the frightened little beholder—it is in the undeniable human emotion you hear when listening to Wagner's music and which you recognize in young Schiele's work. It is a poem you relate to but cannot control—until after it has rearranged your heart from a tiny chamber to a Gothic cathedral.
Perhaps, forgetting our own pussy-driven youth, we wish young Egon had fastened upon a more distant and adult subject; perhaps the wretched unrelenting pain of being human combined with the sublime intoxication of being young is too much. But even if you don't like his paintings you must admit they are not boring. Boredom is not one of Schiele's problems.
Artists like Schiele, Munch, Van Gogh, emerge in times of upheaval and rebellion. The '60s was also one of these times. Along with the invention of the bomb, perennial war and nuclear power, Americans had decided to make their mark by eliminating the figure from art. But America did have one rebel gay artist who brought back the figure along with a few other American objects like the soup can, the car crash, the electric chair, the celebrity and even the Empire State Building. The new music was rock and roll, and the people managed to stop a war.
… After which art sank quietly into its conceptual grave.