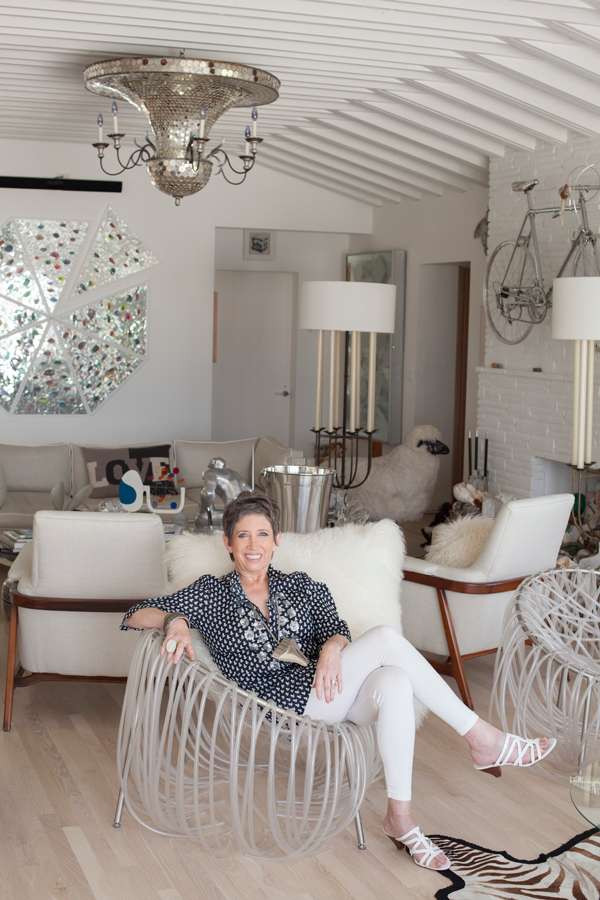 PRIVATE EYE
Collector Beth Rudin DeWoody
Native New Yorker Beth Rudin DeWoody may be one of the most energetic collectors in the world, with a collection that includes about 10,000 works, mostly of 20th and 21st century art. Collecting since the 1970s, Rudin DeWoody consistently makes ARTNews' Top 200 Collectors list, and is included in artnet News' list of The 100 Most Powerful Women in Art: Part Three.

Rudin DeWoody is notable for her support of young artists, including recently establishing the Norton Museum's Rudin Prize for Emerging Photographers. If Rudin DeWoody has an affinity with artists "because she has the sensibility of an artist," as Ross Bleckner noted, maybe it's because she spent her primary years making art daily, as a student at the first Waldorf school in North America, the Manhattan Rudolf Steiner school, in an era before art-making was socially acceptable. She went to college in California, worked on film projects after graduation and soon began collecting California artists such as Eleanor Antin, John Baldessari, Larry Bell, Billy Al Bengston, Vija Celmins, Guy de Cointet, Robert Colescott, Bruce Conner, Jack Goldstein, Robert Graham, David Hockney, Dennis Hopper, Douglas Huebler, Ed Kienholz, Lee Mullican, Helen Pashgian, Ed Ruscha and Beatrice Wood. She is currently president of the Rudin Family Foundation and executive vice president of Rudin Management Company, in her hometown, and serves on the board of many iconic New York cultural and philanthropic institutions, including the Whitney Museum of American Art, Brooklyn Academy of Music and Creative Time.

A lot has changed in the art world during the 10 years since I first interviewed Rudin DeWoody in this column. For Artillery's anniversary, I thought it would be interesting to talk again. Last time, she said she got "turned on to contemporary art in high school, from a teacher, and being exposed to museums, particularly Henry Geldzahler's landmark show, 'New York Painting 1940–1970,' at the Met." She ended up marrying an artist, moving to Tribeca and "plunging into it."

I reached the "architect of the collection herself" (as she's described in the program notes of a show from her collection on view this spring at the Norton Museum of Art) at her LA home, on a day she had just flown in from New York.

ARTILLERY: Your pace doesn't seem to have slackened at all. How does it feel to spend your life collecting?
RUDIN DEWOODY: It takes over your life. I have moments when I slow down a little bit, and then I accelerate again, despite my best efforts.

Have you tried to stop collecting?
Oh yeah, all the time. Then I get tempted by something fabulous. I'm still collecting in the same way, where I combine young artists with historical ones. What's happened, though, is the whole art world has exploded. There are more and more young artists; also new discoveries of artists who have been overlooked in time; and then the explosion of the art fairs, which bring out more galleries, and have gotten more globalized. You're seeing art from Eastern Europe, Poland, Romania, Hungary, the Middle East, which you didn't see as much of years ago.

So there's a lot more to collect.
And all of a sudden, art has become more acceptable, more mainstream—it's pervasive, which is kind of funny.

Funny, we never thought art would be mainstream.
I was reading the obituary of Alvin Toffler, who wrote Future Shock. Years ago, he wanted to do a book about how art was so influential, helpful in the economy—that arts and support of the arts influenced the livelihood of cities—kind of like we talk today, but his publisher rejected the idea.
So what are the art hot spots all over the world right now?
There are art scenes all over the place. I've got friends who are semi-consultant/dealers, who tell me about artists in Austria and Hungary, some of them mid-century, and of course, Japan.
I remember the first years of Miami Basel—just Art Basel and the Scope Fair. They cancelled in 2001, so 2002 was really the first year. You used to go down to Florida, go to the fair and have a few activities; now it's crazy down there. Miami becomes a whole nightclub and party scene. When you go to Art Basel in Basel [Switzerland], it's focused on the art, not the commercial, like who's going to promote what wine. But on the other hand, sponsors help promote certain projects. I was just at [Swiss artist Ugo] Rondinone's Seven Magic Mountains [a large-scale site-specific public art installation near Jean Dry Lake and Interstate 15, south of Las Vegas], and I was driven there in a Rolls Royce, because they were one of the sponsors of the project, with the Art Production Fund. That was great for the artist, and for the city, and the whole thing.
Just like Alvin Toffler predicted.
Yes. He was so ahead of his time.
In the past 10 years you've gone from collecting to curating, as well.
My first show was with Kathleen Cullen. I did two shows with her, then with Caren Golden and Cheim & Read. I want to express myself not just in consumerism and collecting, but also in curating. I've been doing themed shows [e.g., "It'll Cost You," "A House is Not a Home" and the "January White Sale"]. It's a way for me to focus on what I'm looking at and collecting, and say, "Oh, there's a theme running through it," and I'm able, in that sense, to put in more established artists and young artists, known and unknown.
I'm never going to pretend to be a professional curator; I don't have the scholarly background. I'm doing it from the point of view of a collector. I've also gotten to see some shows curated of my collection, which has been really great for the work to get out there in the world, seen through different eyes than mine.
What are some of the shows that feature your collection?
There was a show called "EST-3: Southern California in New York," during Pacific Standard Time a few years ago. It was a collection of my California PST artists; David Pagel, the art critic at the LA Times [and the Parrish's Los Angeles–based adjunct curator], curated it. I mentioned the thought to [Parrish Museum Director] Terrie Sultan, and she said, "Let's do it at the Parrish." A lot of people on the East Coast didn't know these artists, so it was a great opportunity to get them out. Then Cheryl Brutvan at the Norton (West Palm Beach, FL) did a show of painting and sculpture from my collection two years ago, and this year Tim Wride, who's the photography curator, did a show at the Norton of my photography and video, and that looked amazing. It was called "Still/Moving." It's fun for me to get the work out.
You went to UC Santa Barbara, so you're the perfect person to ask: what's happened in the LA art scene, and with LA art, in the past 10 years?
I've been living out here on and off, and it's really exciting. I was just at Erewhon, the health food store, and ran into a dealer. The scene is really nice. So many artists are moving out here because of the weather and because of the light, great place to live and it's less expensive. I got involved with the Hammer; I'm on their Board of Overseers. I'm meeting interesting people; the whole thing is really fun. There is a lot of art, a lot of galleries; the whole downtown scene is exploding.

That's a big difference from 10 years ago.
Big difference. A lot of people get intimidated, because you see this whole thing of really expensive art, the Basquiats, Warhols, Stingels and people say, "Well, I can't get into that," but if you go to LA, inexpensive art, $500 and under a lot of times—there's something for everyone. It's really nice to buy, to help young people and just to participate in some way.

What have you collected recently?
At Basel, my friend turned me on to this dealer who was selling a Japanese artist from the '60s and '70s, and then I bought a little Albers work on paper, so that was a big purchase, but it was an early '60s piece. That was just incredible. Then yesterday, Francis Frost, who's a dealer from Newport, Rhode Island, who I buy a lot of artists from who are not known—teachers and this and that—he brought over this sculpture, and it was fabulous, early, from the '60s, somebody I'd never heard of, and it was just cool. I love discovery.

Two days ago I went on a studio visit to an artist—well, he passed away, but I went to visit his widow—Stephen Antonakos. Incredible artist, who showed with Fischbach, is showing with The Drawing Room in East Hampton, with Lori Bookstein in New York. He did neon work in the '60s and '70s, and beautiful drawings. I knew a little bit, but I didn't really know his work that well. It was so much fun to meet his wife and hear his history and see the work. That's the kind of thing I really love.