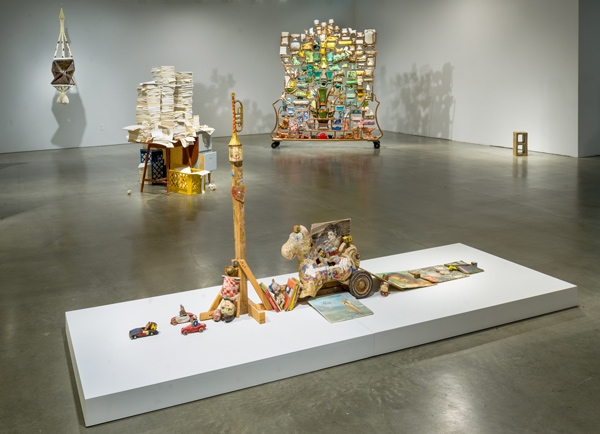 Pasadena Museum of California Art: Interstitial
Collectively, the works that make up "Interstitial," now on view at the Pasadena Museum of California Art, read like the detritus one might find in an abandoned time capsule. Curated by John David O'Brien (a regular Artillery contributor), the exhibition houses an array of objects made from everyday materials that transcend their original intent and leave viewers musing.
Among the seven contemporary Los Angeles-based artists whose work appears in the show, Joel Otterson's use of cliched tropes underscores this theme. Take American Portable Pottery Museum (1994). The roll-away piece made of copper tubing displays some 75 pieces of decorative pottery, categorically arranged by color and shape. While the piece conjures the economic boom of the 1950s that spurred the concept of mass production, the compilation of vases, planters and figurines, commonly collected for their kitschy aesthetic, exemplifies Otterson's use of domestic wares as a means to produce high forms of art.
Like Otterson, Aili Schmeltz integrates elements from the decorative arts into her work. Twisted Hourglass Generator VIII (2014) and Twisted Hourglass Generator VI (2014) both engender nostalgia for an era bygone. Appearing like old and abandoned macramé projects crafted by a 1970's housewife, both dangle from the ceiling like elongated chandeliers. Interestingly, the idea behind these works came from a New Age book about psionic generators (devices produced for the purpose of inciting psychic energy and paranormal activity). While summoning the supernatural wasn't Schmeltz's intention, per se, both of her pieces spur curiosity as viewers examine her mingling of woven yarn with an array of materials that include enamel, wood beads, oak and mirrored Formica. 
Of all the works on view, Kristen Morgin's are most reminiscent of assemblage. Hollywoodland (2013), for example, appears like a home-made toy train, compiled by a child who's scoured his home for random objects such as weathered record sleeves, tattered books, and vintage toys. Surprisingly, the sculptural ensemble contains no such items. Instead it comprises a collection of unfired clay facsimiles that prompt Morgin's audience to reassess with a heightened degree of awareness.
"Interstitial" also includes free-standing works by Jeff Colson, Renée Lotenero, Rebecca Ripple and Shirley Tse. Each representing a unique display of repurposed materials, these collected pieces express O'Brien's vision by shedding light on the interstitial space that subsists between an object's intended use and its ability to transform into something that carries with it an entirely new meaning.
"Interstitial," March 5 – August 6, 2017, at the Pasadena Museum of California Art, 490 East Union Street, Pasadena, CA 91101. pmcaonline.org.