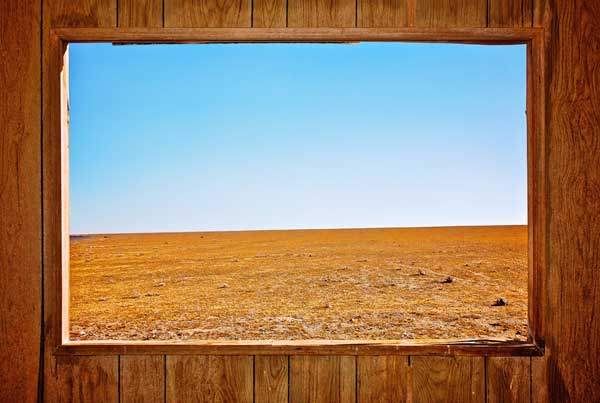 Osceola Refetoff: A Room with a View
Fresh Eyes on the Desert
An austere flat horizon is blanketed by intensely blue sky and bracketed by the remnants of an orange window frame, its rectilinear quiet slyly evoking Rothko. Gauzy clouds, piled atop a low mountain, are seen Magritte-like, through a thick wooden square—maybe a window frame or a picture frame. A diptych—or, rather, a window bisected by a thin mullion—opens to a desert landscape punctuated by low bushes and thin, bone-like ocotillos, then crowned by snow-covered cerulean peaks; the carefully described layers of spatial depth recall Renaissance masters of aerial perspective like Joachim Patinir. (Think of his Landscape with St. Jerome from 1524.) But these images are not expressions of mid-century angst, surreal plays on perception or historic records of holy hermits. Instead, this is the California desert as photographed by Osceola Refetoff.

Refetoff has "always been drawn to the desert." He has traveled through—and photographed—the desert for years, especially when he was driving Route 365 across the Mojave on the way to his "outdoor pleasures:" camping, hiking and various winter sports. Then in 2007, he was felled by a mountain biking accident and forced to spend a long period of recovery in bed. The artist's studies of various digital programs (the digital darkroom) during the eight months of his medically imposed quiescence served to nurture what has become Refetoff's rich oeuvre of desert images, an oeuvre marked by startlingly new views of a region that has been photographed repeatedly for over a century.

Although Refetoff is best known for his desert work, he has also done remarkable portraits, cityscapes and intriguing photographs taken through airline windows.

I sat down with Osceola in his studio in Chinatown to speak with him about his photography, especially his work in the desert.

Artillery: Tell me about your desert projects. Let's start with the "High & Dry" series.
Osceola Refetoff: I had been interested in collaborating with a writer for some time. I think that words and images are very effective when paired. In 2012, while scouting for a location, I met Christopher Langley, the writer and historian, who is also the Film Commissioner of Inyo County. [Refetoff—who studied at NYU's Graduate School of Film—segued into location scouting when he came to Los Angeles in the early 1990s. Much of the story-based nature of his work today reflects his cinematic background.]  We had long conversations about how it could work, looking at precedents like the books produced by Dorothea Lange and Paul Taylor, or Walker Evans and James Agee. We discussed how the words and images should complement each other and decided the project would be part art, part journalism, and part social activism. [The image and text collaboration is available at: http://www.desertdispatches.com.]
Sounds like the series is a bit outside your regular art practice. What is your goal with "High & Dry"?
We hope to draw attention to the desert so people will value it more. There is no direct activist appeal in the project. Instead, we tell stories about the residents and the historical events generated by the landscape. We want viewers to know that there are beautiful and interesting things out there.

My favorite series is the "Desert Windows."
Many of these are shot in houses and trailers that were abandoned by farm workers. I try to be as straightforward as possible with the framing and presentation, shooting the images straight-on to minimize any architectural distortion. That gives the most impartial view of what's outside. The images tend to be layered.

I think the layering is what makes these images so strong. The frame of the photograph is echoed by the rectangular alignments of the flanking walls and again by the window frame. I like the way they play with natural and constructed realities. Are your window images what North Dakota photographer Wayne Gudmundson calls "considered views?"
Absolutely. Several focus on windows above kitchen sinks. I imagine that's a view the resident looked out on a lot …but I realize I can only speculate about who lived there and what they did.

Windows—and your play of frame-within-a-frame—also appear in other series.
Yes, for example, "Flirting with Disaster." Being a desert photographer involves a lot of driving back and forth. Most of my work is very controlled, using the stability of a tripod, and very dialed-in technically. But not this series. "Flirting with Disaster" is a series of photographs I take while driving. I hold up a small camera and shoot the road outside the windshield. I only achieve success by taking a lot of unsuccessful images. I enjoy having different creative energies operating on chance and good fortune—and a lot of culling. I try to employ motion blurs, to make it obvious that I'm actually moving as I take the photograph. Getting the blur requires a long shutter speed, but the photos need a sharp middle ground. So it's a delicate balance, bound to fail most of the time.

Isn't the desert highway rather a cliche in photographic history?
Of course it is. Look, I'm washed over by images, lots and lots of images. And yes, that includes lots of desert images. Of course, I'm aware of Richard Misrach's Desert Cantos and Brett Weston's Desert series, as well as John Divola's ongoing work with the California landscape. Everything out there [in the desert] has been shot. There is no secret, off-the-beaten-path place yet to be photographed. The whole world is like that. It's less about finding new subjects than it is about finding new ways of seeing and photographing them.

Indeed, as Marcel Proust famously asserted, "The real voyage of discovery consists not of seeking new landscapes but in having new eyes."


See Osceola Refetoff's upcoming solo exhibition February 16–Mar 26, 2017, "It's a Mess Without You" at Porch Gallery, 310 E. Matilija Ave, Ojai, CA, 93023, 805-620-7589, porchgalleryojai.com